You Know I Love Activewear, But Here's a Reason WHY…
Hi guys! So, I know you already know that I am completely obsessed with activewear and wear it about 95% of the time. If you're new to this bloggy, 95% is not an exaggeration. I live in workout clothes, and I even wear them out to events and dress them up by piecing them with non-activewear items. You'd never know, but a huge percentage of my plain black leggings or basic black or white tanks are actually from activewear collections. Usually they're either some form of Carbon38, Lorna Jane or Lululemon, but I don't discriminate. I love it all.
And because I wear SOOOO much activewear, I get a lot of questions from you guys like: "how do I pick the right pieces?" "A lot of these items are pricey, I want to be sure I'm choosing the right one — what should I look for?" "How is the fit?" "Are they actually comfortable, or do you just buy them because they're awesome and you like the way they look?" "I want to buy that outfit, but I would feel bad sweating in it because its so pretty! How do you justify that?"
Well, guys. It all comes down to one simple answer, and it's simpler than you might think. Are you ready for this? It all comes down to cotton.
Comfortable, well-made, durable, trendy activewear brands all have one thing in common… they use cotton-rich fabric. Cotton isn't just used in activewear (obvi), but because it's such a versatile fabric it is something that has quality and benefits that are unmatched.
Have you ever worn really cute workout pants that end up being super itchy by the end of the workout (once you start sweating) and you regret ever buying them? Well, that happened to me a LOT before I started getting pickier and pickier about fabric quality. I started checking the labels while I was shopping & noticing a huge difference between high quality fabric and lower quality.
Also, running TBV Apparel alongside my two main men has taught me way more than I ever thought I would learn about fabric quality. When we choose fabric for our t-shirts, we make sure we are choosing high-quality, cotton-rich, natural fabrics. We tend to choose eco-friendly, ethical, made in the U.S. lines to wholesale from because that is what we are most comfortable with — but when it comes to the comfort of what I am buying versus what I producing my main staple is cotton quality.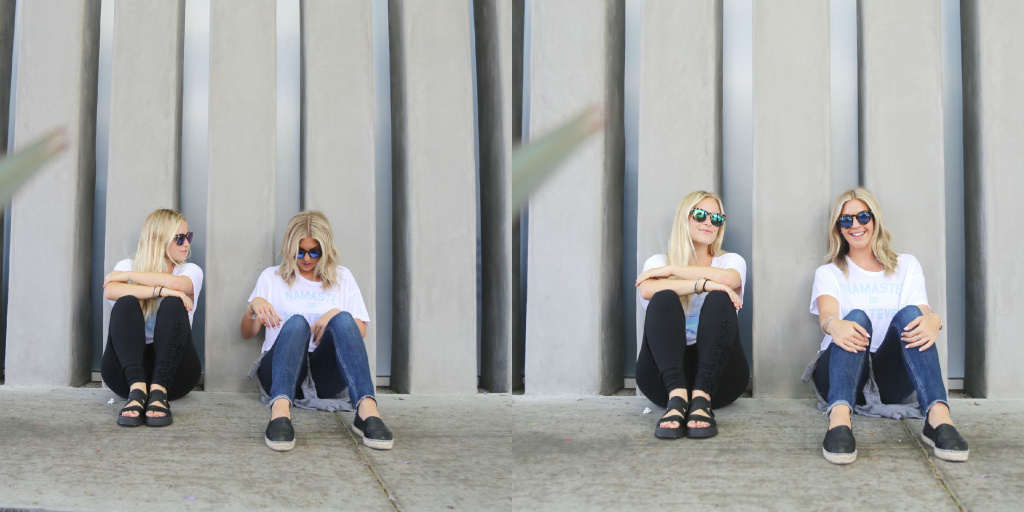 When you're looking for a cotton-rich fabric, you typically want to make sure that the item is 60% cotton or higher. Blends are okay! You're not always going to find 100% cotton item, and trust me it's not always necessary. Our TBV Apparel tees vary from 67% cotton to 100% cotton, depending on the style — but if you are looking for the COMFIEST tee, something that you could sleep in, workout in, live in… I always recommend the highest cotton percentage.
It's funny to be talking about cotton, right? It's honestly something a lot of us take for granted, since we are so used to having it as a part of our lives. It's in our home goods, active wear, beauty products and even DIY projects. But I am in the business of helping you take care of YOU as best you can, and when it comes to making good choices for ourselves, it's important to be knowledgable about all of the aspects of what we are putting on our bodies and into our bodies. These are our precious lives, and we've gotta treat them right!
Another suuuuppperrr cool thing about cotton is that it's so easy to take care of. My mother, the fashionista herself, always taught me that the best clothing purchases are items you can throw in the washing machine. Who has time to take their daily-worn clothes to the dry cleaners? I mean, for special occasions, yeah of course! But for the clothes you throw on every day, you want to be able to take care of them with as much ease as possible. Plus, cotton is breathable and doesn't retain odors… So that is a super huge plus.
ANNNDD last but not least, cotton is NATURAL. Since I am all about living as natural of a lifestyle as possible (ever notice I seriously don't wear makeup? Don't do a whole lot with the maintenance of my hair? Don't wear clothes that need to be taken to the dry cleaners every week?) — I look for natural fabrics to fill my closet with.
So, from now on, when you babes are shopping for your activewear (and anything else for your closet, really): check the labels! So important. If you have sensitive skin like me, it will make a world of difference. And even if you don't, it's a good habit to cultivate.
As far as specific cotton-rich products…
I am always a huge fan of my Lulu Lemon Wunder Under roll down pants that are specifically designed for yoga. They are made of four-way stretch Practice Cotton that is naturally breathable and feels soft against the skin. I love them because they are super comfortable and they allow me to do what I love: yoga. Beyond that, yoga has allowed me to fall in love with my body again post-eating disorder and has taught me to be kind and forgiving to my body, and fuel it with the best, healthiest foods to stay energized in a lasting way. Now THAT is a whole lot of meaning rolled into one single clothing item…. and ladies and gentlemen, that's how I roll.
Some other cotton-rich products I LOVE are t-shirts from Everlane and local LA brand Bella + Canvas. We have started wholesaling from these companies for TBV Apparel, and we love what they do. They also have great mission statements behind their brand, which is always a big plus in our book.
What are YOUR thoughts on the fabric of the clothes you wear? Specifically activewear, because come on… It's the best!! Huge thanks to Cotton Incorporated for partnering with me for this campaign. We love how easy you make it to be comfy, natural & trendy all at the same time!
This post is sponsored by Cotton Incorporated. Find your cotton favorites here.