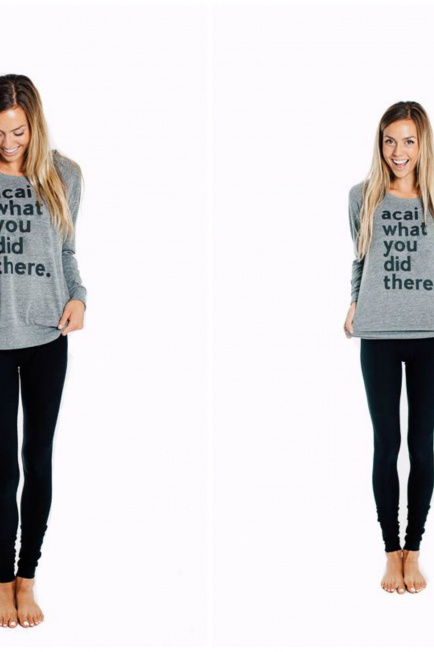 YO! How's everyone doing this week?
Today I have some pretty frickin' exciting news… And although I am getting down with nature right now in Seattle at Eddie Bauer's influencer summit, I am taking a break from kayaking in the crystal blue Whidbey island water & hiking the beautious western mountains to say, GUESS WHAT?!! Something SWEET is going down in TBV Apparel land right now. Yes, right now. As we speak. In this moment.
#acaiyou
Let me tell ya what it is… But first:
Who loves acai bowls as much as I do?
Whoooooo loves a good play on words as much as I do?
Who loves to be comfy as F in a ridic cozy pullover that makes you feel super cuddly and cute at the same time?
If you raised your hand for any one of the above, say hello to our newest (and my personal current fav) TBV tee.
In case you weren't positive how to pronounce the word "acai" (you wouldn't be the only one, BTW) that you may see buzzing around the wellness world in smoothie bars, trendy breakfast spots, health blogs & delish fruity recipes, here's how: "ah-sigh-ee" — a.k.a, in our case, a play on "I see…"
We are doubly excited about this launch because we've happened to partner with the crazy rad Elite Daily social media crew to launch this design, and word on the street is that they have a 10% off code you are able to use when purchasing to get you a sweet discount… ( Check out their Insta to find out more! )
This is our first new design since the launch of our Summer Collection a few months back, and as we gear up for Fall and a bunch of exciting new styles and designs, we wanted to hit you with something new and fun to enjoy in the meantime.
We have been doing a lot of brainstorming over here at the TBV Apparel HQ about what we represent and what our brand identity is moving forward. Since TBV started as a fun lil' off-shoot from my blog about a year and a half ago, it has grown rapidly and has far exceeded our expectations in more ways than one. I am lucky enough to be working with the talented Tynan Daniels & Cole Arutian to bring each and every design to life and into all of your hands, and we have quite a few ideas and plans to continue bringing you fresh designs & building a brand we so passionately believe in.
Here we are repping our Elite Daily gear below… Because we aren't the only ones with a t-shirt line. 😉
More to come about all of the above, but I wanted to give you a snapshot into what we do at TBV and why I get so unbelievably stoked every time we release a new design. We aren't some huge company with a bunch of employees, a corporate warehouse and distribution center. We are three friends, three creative minds working together to bring something to life that we hope will revolutionize the way you guys (and all of us) think about wellness, fashion, lifestyle and more. This blog is ONE element of what I do, the clothing line is another, and I hope to continue to be able to reach you all through many other mediums… Whichever happen to strike your fancy the most. 😉
With all of that being said, huge props to COLE for coining this acai phrase. You have one witty & visionary brain and I can't wait to see what you come up with next.
And guess what… We have it in ivory too! Head here to check it out in both colors!
Use the hashtag #acaiyou to show us YOUR acai bowl photos, and we will repost our favorite each week and give you your own personal TBV discount code! We can't wait to get this acai revolution going… Who doesn't love a delish & healthy acai bowl?!
PS, some of my favorite places to get acai bowls in Los Angeles are: Live Beaming, Kreation Juicery, FEED Body + Soul, Sun Life Organics, Liquid Juice Bar, Earth Bar & of course with my Philosophie superfood powders at home!
We #ACAIYOU, do you #ACAI us? (I crack myself up.)
Let's see the hashtags!
Love y'all, and can't wait to share updates on my week in Seattle, weekend in Palm Springs and upcoming Labor Day in NYC!!! Hitting a bunch of my favorite places this week. Feeling kinda (a lot) lucky & grateful for this beautiful, inspired, (sleepless, but that's okay for now) life full of people + career that make me the luckiest.