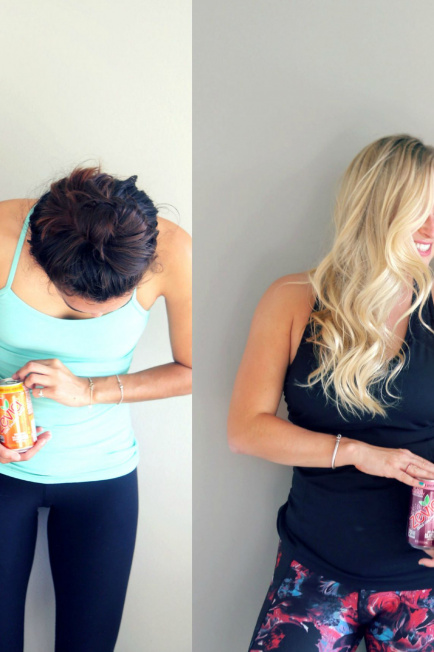 I've Never Liked Soda Before, But…
It's true. I've NEVER liked soda. Not in my whole entire life. When I was young, I thought that soda tasted spicy (my reaction to the carbonation, haha) and absolutely hated it. As I got a little older, I was so used to disliking it that I didn't even try a sip again until I was old enough to start drinking alcohol and oftentimes the only chaser around would be a bottle or can of soda.
Even then, I hated it. I had to pinch my nose to even down a single sip of Coke or Pepsi (Ewww). I was always a little more okay with clear sodas, but I still disliked them. Then, being the health freak that I am, the sugar content and over processed-ness ensured that I stayed away from it forever.
But, as with all things, I knew that there were healthy versions of soda out there. And trust me, I'm not the kind of girl who is fooled by a "healthy" label. You can't slap a label on something saying it's organic or gluten-free or fat-free or sugar-free and have me believing that I've just won the healthy food jackpot. (Although I will admit at one point in my life I had myself utterly convinced that gluten-free brownies MUST mean that they have zero calories, too…. LOL, but that was just wishful thinking at its finest).
So when I recently found out about Zevia, a sugar-free, zero-calorie, Non-GMO Project verified, clear in color, naturally sweetened "soda," I was like UMMM is this for real? I wasn't sure that I could believe it until I saw it / tasted it.
And then after yoga one afternoon I cracked open a few flavors with my friend Chloe (yes, the same Chloe that is my dear Huddy's kitten sitter whenever I am gone for a night!) and let me be the first to tell you…. ZEVIA is CRACK!!! In the best way.
Since I have never been a soda drinker, I've actually never had a cream soda before. It has always sounded delicious to me, so the cream soda flavor of Zevia was the first one that I cracked open with Chloe that afternoon. (She had the Strawberry flavor!). O M G is the cream soda good, like woah. Not only is it refreshing, light, fizzy and sweet– but it is HEALTHY and won't spike your blood sugar or pack on the pounds.
You guys know that ever since I recognized having orthorexia and have moved away from dietary labels, "zero calorie" foods aren't always on top of my list– for many reasons. But when it comes to beverages, the less calories, the better. I want to eat my calories, thank you very much. And those pesky high calorie beverages are the ones that get a lot of us and leave us wondering, "I eat so well, why do I still feel bloated & need to lose a few pounds?"
WELLLL my friends, drink Zevia instead and that problem will be alleviated. ESPECIALLY those of you who love soda and/or are addicted to soda. Soda addiction is a real thing.
According to the Global Healing Center: "There are toxins in soda that bombard your body and overwhelm the colon so much that your body can't always expel them efficiently. When you drink soft drinks you're voluntarily adding to the body's work. Retained poisons remain in the colon making it toxic. The damages that can be done to your body as a result of toxins built up are many, starting with the intestinal tract."
Well excuse me, but I know that NONE of us need that addiction in our lives, nor do we need the added sugar. So unbelievably not worth it. But all of my soda addicts out there (or even people who just enjoy the taste) are in luck with Zevia because it's a healthy and seriously delicious alternative.
And the best part — there is NOTHING bad for you in it. Nothing. And there are tons of flavors… even GINGER ROOT BEER!!! Can you say amazing? Can you say healthy root beer float? OMG can you say Ginger Root Beer + Dairy-free Coconut Ice cream withhhh my healthy chocolate sauce recipe (cacao powder + coconut oil)… Healthy and nutritious treat, calling our names!
GIVEAWAY OPPORTUNITY!
Follow @zevialife on Instagram and tag a friend who is #ClearlyDifferent to be one of 5 winners of a case of Zevia for you and a friend! Also, tag @thebalancedblonde so I can check out your post & choose some winners!

What are your guys' thoughts? Do you like soda / have you ever found a soda alternative that you're happy with? I can't wait for you guys to try this so I can hear what you think! You're going to thank me for this one. 😉