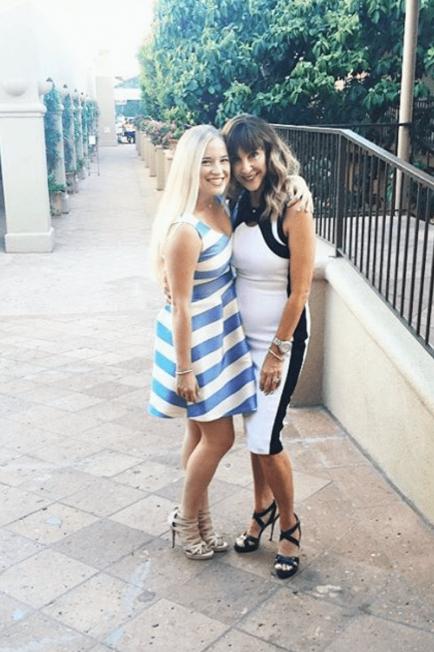 Loving Lately, September Style
Hi loves! It's been a little bit since my last Loving Lately post, but truth be told writing about what I am loving lately is probably my favorite type of post to write… Mainly because I freaking love lists, and if all forms of expression could be summed up in list form I would be the happiest person ever. Seriously, I sometimes write out lists to my friends and family of all the things I need to tell them or all the reasons why I love them — my brain functions in a list format.
I'm crazy, I know. But also SO STOKED to share this loving lately list with you!!!
▶▷▸▹► The Fact that it's Almost FALL!
And I swear I don't mean that in the most basic way possible. There are many layers behind why I am so thrilled for this new season to roll in. This summer was full of changes & adventure for me– I moved into my first-ever one bedroom living-alone situation, and it's been awesome, but the moving process has of course been hectic. In the last few months I've been to NYC twice, Seattle, Chicago, Sacramento, SF, Hawaii, Napa, Palm Springs, Laguna Beach, San Diego, Santa Barbara and more. The travel has been so much fun and it has also given me some fantastic blog content, but I am really looking forward to the quieter holiday months that will give me more time at home, with my kitty, writing, and getting acclimated in my new apartment!
Some summer memories from Chicago, NYC, Maui, San Diego and Create & Cultivate!
ALSO, with Fall here now, we will be launching our TBV Apparel Fall Collection in no time. Keep an eye out for it, because we have some new and exciting things up our sleeves (think not JUST t-shirts…) and we are unbelievably excited to share with you. AND now with Fall finally being here, it's officially the season in which my BOOK IS COMING OUT!!!! There is basically only a month and a half until Breaking Vegan hits shelves, and that will be the greatest day of my life, for real. You can still preorder it now, BTW. ! ! ! !
▶▷▸▹► Thinking About… Thinking!
Funny, right? I have been reading this fab book called Think Like A Freak, and although I'm getting through it crazy slowly (life as a new kitten mama doesn't leave a whoooole lot of time for leisure reading), the main takeaway I've gotten from it so far is that in order to think like a freak & tap into your true creative potential, the first thing you have to do is actually THINK!! So many people just go through the motions of life (I know a lot of you… and I've been there too) and don't actually live in the moment or sit down to think about what they need to do in order to chase their dreams, make positive changes in their life, or even know what it is that they want to make a change to. Making the time to sit down and "think," without distractions (no phone, no people around, no eating, nada) for even just 30 minutes per week can make all the difference between a creative-minded entrepreneur and a creative-minded dreamer. Think about it… No pun intended. 😉
▶▷▸▹► This jumpsuit. And everything from this exclusive collection from The Fifth Label — I told you, I'm seriously an Australian at heart. (The Fifth Label is an Australian line… and I am obsessed with it.)
Here it is in Ivory, & here it is in Navy — my monochrome version is out of stock! 
▶▷▸▹► Marathon training… Well, what I really love about is the consistency. And the thrill of such a big, new-to-me GOAL. I absolutely love setting goals and (trying not to obsess about them, lol) work toward checking them off of my list. Running a marathon has been on my bucket list for as long as I can remember, but it was one of those things that always felt very far off and like something I would do "when I was ready." But, funny thing is, I sit here all day long and explain to people why they should not wait to do things until they are "ready," because in most cases they're either already ready or they're never going to be ready… And now is the time. But I wasn't taking my own advice when it came to the marathon running…
And then I got lucky enough to meet some very seasoned & motivational marathon runners through my community at Orange Theory Fitness. One of those people is the fab Jonathan Albrecht who has already promised to run this race with me beginning, middle & end, even though I am FAR slower than him a million times over– he is just that wonderful. And another one of those people is the lovely Jimmy Dean Freeman who is now my marathon training coach through the NutriBullet Team! There are 100 of us on the team, we practice every Saturday morning (and Weds nights), and I am about to get my butt kicked in the best way.
SO STOKED about this goal and beginning to run more consistently. If you've had a goal on your list for a long time and are looking for an excuse to make it happen — now is the time. Let this be your motivation. 😉 
Here I am, in all of my sweaty glory, after our first running practice this past Saturday morning. It felt damn good to get out there — bright and EARLAYYYY.
▶▷▸▹► H Y D R A T I ON : Those of you who know me know that I am pretty much obsessed with hydration, especially now that I'm doing this marathon training. Not only do I run Liquid IV's social media account, which is a company that is centered on hydration and getting it into our bloodstreams 3x faster than simply drinking water, but I also drink a sh*t ton of water. All the time. I get dehydrated so rapidly because of the way my body is and also because I am so active, that if I don't drink water all day long I get dehydration headaches and start to feel lightheaded. Because of my water obsession, I've had to make sure to be extremely on top of which water companies are the purest, most economical and have the best policies and give-back initiatives (with so much of our world being deficient in water supply, that is.)
One company I can definitely stand behind is Waiakea Springs. Their three principles are to drink healthy, drink sustainably and drink ethically. Their water is naturally filtered through volcanic rock in Hawaii that gives it a variety of natural health benefits from naturally enhanced magnesium, calcium, potassium, sodium and silica, and it also has a naturally alkaline 8.8 pH balance. For those of us who need that extra alkalinity in our bodies, drinking the proper water is absolutely essential.
Waiakea also uses one of the most sustainable fresh water resources in the world, using only 100% RPET bottles, utilizing low emission shipping, and actively participating in regional carbon offset programs- all of which have led Waiakea to be the first Hawaiian bottled water to be certified CarbonNeutral®. SO COOL!
Lastly, to make them even cooler, for every liter of Waiakea that is purchased, they donate 650 liters of clean water to those in need in Africa and throughout the world, through their incredible partner, PumpAid.org. SWEET, RIGHT?
Check them out on Insta too, and show them some love!!! ANNDDD use **DISCOUNT CODE** "BalancedBlonde" for 20% off all Waiakea online orders! Do itttt. You won't regret it. (Plus that saves you $$ rather than buying it in-store somewhere!)
▶▷▸▹► My first ever article getting published on Elite Daily! Check it out! I have so many more fun ones up my sleeeeve– I love being able to share my writing in a public space other than my bloggy blog. When this was posted a lot of my friends & readers were like ummm what's the big deal, you have been on Elite Daily before?! But I have never gotten an article that I've written myself published on the site… SOOOO that's the excitement!! Would love for you to read it & "like" it. 😉
▶▷▸▹► Obvi, loving to the MOON & BACK being a kitten mama. But does that even have to be said? This little Hudson Riley bear is my life. I cannot get enough of him… And he is even changing my lifestyle — making this crazy kook of a blogger stay home more often & get to bed much earlier! How I adore him. #thoseeyes
▶▷▸▹► Weddings. Before this weekend, It had been awhile since I'd been to a wedding– my friends aren't quite at the getting married stage yet. Over the weekend I went to my cousin Marisa's wedding in Laguna Beach & it was just beautiful. First of all, Marisa and her new husband Greg are PERFECT for each other and their love makes me so happy. It really is inspiring to be in the presence of two people who are committing to spending the rest of their lives together… Especially when they are as blissfully happy and lovable as these two. I mean, look at them:
The other best part about weddings is being able to spend the entire weekend with your whole family and people that you love. It's so refreshing. And of course, weddings are always a great party. 🙂 We had the best time. If you follow me on Snapchat (username jojoyounger) then you knowwww I had a good time (lol)! Here's a funny one of me & my dad from the very end of the night–
▶▷▸▹► YouTube!!! I am releasing my new recipe YouTube video with the fabulous Talia Fuhrman tomorrow… Get ExCiTeD … Especially if you're a chocolate lover ! ! !
▶▷▸▹► Working with people who GET ME. Danika, my AMAZING intern/photographer/friend knew that I was having a rough week– and she surprised me yesterday and brought me flowers to my door. I don't know if this girl even realizes the impact she's had on my life or how incredibly grateful I am for her love and support, but every little gesture she makes shows me that she is one of the most selfless, talented & special people that I know. How did I get so lucky?
▶▷▸▹► This Topshop dress.
AND SO MUCH MORE. I guess this post is a testament to the fact that Loving Lately posts seriously are my favorite posts to write… So I guess I should start working them back into my routine. 😉
Don't forget to use the Waiakea discount code "BalancedBlonde" if you order any h2o from their site!
What are YOU loving lately?!?!