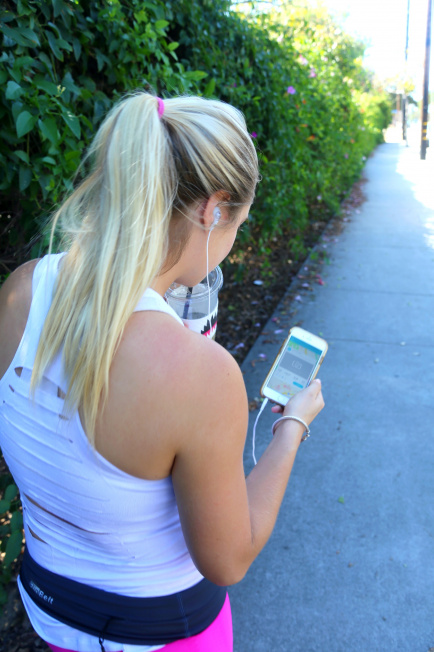 LA Marathon Training Update Numba One
Happy Thursdayyyy, my loves! I have mentioned it on the bloggy here and there, but if you haven't been reading super closely you may not know that I am training for the LA Marathon!!! The marathon is on Valentine's Day this year (so cute), so I basically have a full five months to train between now and then.
And to be honest, thank GOD there are five months left, because this whole 26.2 miles business is going to be wild for me. I've run a few half marathons, including a really fun half in Central Park last Spring, pictured below:
How and why did I decide to train for a full marathon, you ask, when I have only done half marathons in the past and I sort of always said that distance was enough for me? (A half marathon is 13.1 miles, btw.) On top of that, I have never properly trained for my half marathons and never ended up running more than about 8ish miles in preparation for the 13.1… So not good. So extreme of me to continue signing up and running them with no guidance!
WELL let me tell you. I truly believe that when you surround yourself with likeminded people who inspire you, you're much more likely to get motivated to try new things and take on new goals, no matter how big they are. I have been super lucky over the last year to have met a community of really awesome and inspiring people through OrangeTheory Fitness, where I work out and am an Ambassador for their Brentwood location.
One of my fellow Ambassadors is a marathon training coach, and he reached out a few months ago saying he'd like to talk to me about training for the LA Marathon. My first instinct was, "Yeah, no," and I told him I was much better suited to run a half marathon and train properly for once before I could ever commit to running a full marathon. He wanted to meet up to talk about it further, so I agreed, but I was still pretty much convinced that I'd never commit to running the full.
When we met up he told me all about the NutriBullet Training Program he was the head coach of, and it sounded like a pretty awesome way to train. The program focuses on running and nutrition, and there are a whole host of coaches and mentors to guide you through three weekly practices. One practice on the weekends, and one optional Monday and optional Wednesday. (Obviously people serious about being ready for the marathon should go to all three.)
I told him I'd like to do the training program and that is sounded great, but I'd like to only be a part of it up until the half marathon part of the training — which is this January. He probably hears that ish all the time, and he explained to me that if I were to take up a space in the program, I'd have to stick with it until the end.
Long story short, we talked about my fears and what was holding me back from committing. Then he assured me he'd coached thousands of people toward their FIRST ever marathon, and I started feeling like maybe it was an option. THENNN my good friend Kelly LeVeque (also an OrangeTheory Ambassador with us) committed to doing it, and there was no way I wasn't going to get in on the fun and the crazy goal.
When I decided to sign up, I was filled with SO MUCH adrenaline and excitement I could hardly contain myself. I knew that this would be such a different training situation than any other running commitment I'd ever made because of the team and the dedication to practicing — and that I'd actually work up to those long distance runs and prepare my body.
And then there's the whole food aspect which has been a CRAZY COOL experience for me to start really experiencing food as fuel and giving myself the tools to be as kind to my body as possible throughout this process. I will write a whole blog post on this next week… Because I am utterly convinced that running could be the best thing in the world for those recovering from eating disorders. (If done mindfully and at a certain point far enough along in the recovery process.)
So!!!! With all this running and my incredible #TeamNutriBulletInspired team by my side, I needed a way to map my runs to see how long each run was, to help me keep my pace, and to log all of my training hours so I can look back and see what the week / month was like, how I'm improving, how much distance I've covered, and all that awesome jazz.
You see, when you're a perfectionist like me, you don't just want to know you've run 5 miles because a course is supposedly 5 miles, you want to SEE that you've run 5 miles so you believe it and you can check it off in your head as truly having done it. Sounds #psycho, I know, but this is also such an incredibly large personal goal for me to be going toward that I want to be sure to cover ALL the bases.
The problem is, there are a lot of apps on the market that and I wasn't really sure where to start. I am very particular and I have tried several fitness apps over the years that have been confusing for me to use and totally not user-friendly. Recently I heard about Runkeeper… And from the sounds of it, it sounded like it topped the charts of all of the other apps by far. But I still needed to try it first in order to see if it worked for me.
Spoilers… I fell in love with it. It's SO NICE to have an app to keep track of all of the details of your run for you, and this app even has MUSIC inside of the app and tailors specific playlists for you based on your speed, mood and tempo. Yes, I'm serious. How cool is that?
So, there is the regular Runkeeper App and then there is the Runkeeper Go subscription service where you have personalized playlists, tailor-made training, and historic insights that show you just how much they're progressing. I highly recommend the Runkeeper Go portion of the app, even though it's $9.99 per month you couldn't pay for this stuff elsewhere– it's an investment in your health and fitness. Especially for new runners who need to learn how to log all of their info and stay on top of their training. You can also buy a yearly subscription for Runkeeper Go for $39.99. 
The app uses GPS to track distance and pace to help runners of ALL levels get started with a fitness routine and stick to it, which is helpful because in the past with other running apps I found it very difficult for the app to accurately detect my pace if I wasn't going fast enough or slow enough — the numbers would fluctuate wildly and never seemed correct. This app seems to really be on point with my pace at all times, so far.
They also have a DJ section of their app where Runkeeper will sync all of your music directly from your iTunes library on an iPhone, and then it will automatically detect the mood and tempo of each of your songs. LOVE!
Oh, you can also tell the app how far you can currently run and how often you want to work out, and the app will put together a new workout plan for you for every week that will help maximize your results and help you move forward. On top of my coaches and my team… This app is for sure keeping me on track toward my goal.
Also, a fun fact is that Runkeeper was one of the first apps in the App Store when Apple launched Apps in 2008… That's not something you hear every day, especially with a fitness app, and I think it's a testament to how awesome it is.
Check Runkeeper out in the App Store & give it a try! You can also find them on Facebook, Twitter & Instagram to check them out and see what they're up to!
And if you live in Brentwood… You'll DEFINITELY see me on my runs all week long, using this app and having a blast. Lots more updates to come, there is so much to say about this marathon training practice I hardly know where to begin. I'm going to be blogging about it at least weekly. Let me know below if you have any questions and I will try to cover it all in my upcoming posts— PLUS a Q&A soon with my running coach, Jimmy Dean Freeman himself!
Has anyone else trained for a marathon / Are you now training for a marathon?! Would love to compare notes and see what's worked for you!!!