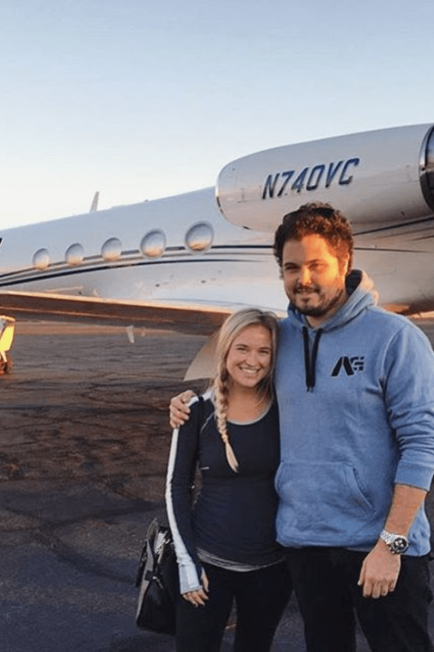 Funny Cabo Stories + TBV Cyber Monday Deals
Hello my loves! I hope that everyone is rejuvenated from the holiday and that you all got to spend lots of good quality time with your family, friends and loved ones. I had a nice little tropical getaway with my parents for the week, and it was one of those trips where we did nearly nothing at all except for relax… A.K.A the exact kind of trip that I needed right now.
& before I go on with this post and tell you all of my Cabo highlights, I want to let you know that we are offering a Cyber Monday sale on TBV Apparel today!!! Use the code 'CyberMondayLove' at checkout to get 10% off your order, PLUS free domestic shipping site wide. Get those holiday gifties in!!! There's beauty Natasia Lutes below glowing in our 'You Had Me At Savasana' tank below!
Cabo Highlights
I'm going to tell you about this trip in a bit of a different way than my normal vacation recaps — mainly through PHOTOS. That's for the sole reason that we were SO RELAXED on the trip that there's not a whole lot to talk about other than our epic long beach walks, some really good workouts, a killer massage that I got, some delicious food, and lots of soaking in each other's good vibes. So instead I'll tell you some funny stories, a little bit about what I wore, and how freaking great it felt to disconnect for a few days.
I will begin with the funniest story, because if you're anything like me and you find humor in people falling down as long as they're okay (I know there is a full-on GENRE of people who find this funny; I am not the only one), then you'll love this: My father is easily one of the most unassumingly hilarious people that I know. He has a cell phone only for "emergencies," he has never had a computer (despite running a business), and if you've read anything about him on the blog or in my book, then you know he has a huge obsession with being overly early / overly neat and super duper clean. All of that being said, you can imagine that my penchant for taking photos everywhere & always drives him absolutely nuts. And yes, I was obsessed with capturing every moment on photo even before this bloggy came to be.
For years my dad went crazy every time I wanted to stop and take a picture while we were doing something, or better yet, make him stop and take a picture of me. He didn't see the purpose in it and you've gotta love him for that, because he is so content and lives life so in the moment that it just never seemed necessary to him. And I suppose without having any form of social media to update, he simply could not realize where the heck these pictures were going once we took them.
But lately, in the last year or so, something has come over my dad and he not only enjoys my constant photo taking but he actually encourages it. (Yes, this is as funny as it sounds after all these years of his extreme rejection of taking photos.) If my phone isn't out and something cool is going on or there is a beautiful sunset or a big wave on the beach, he motions for me to take out my phone and snap a photo. Or if he spots a really pretty rock in the ocean, he instructs me to get on said rock, strike a yoga pose and hold it while the wave comes in behind me so he can get the best photo.
This goes without saying, but I absolutely LOVE his change of heart and get way too much amusement out of it. Not only do I love it because we've gotten some sweet photos out of his newfound love and appreciation for capturing the moments, but I also love it because it's a hysterical 180 from how he's been. I know a huge part of it has to do with the fact that he understands that I've built my business off of taking photos for this blog, and the man loves a good business opp. He also has grown to appreciate the photos that my siblings send back and forth to my parents of themselves and their kids, and he has started to like the fact that we can do the same just as easily — imagine that. 😉
So, with that background story in tow, now you can more fully appreciate the hilarity of what went down on our second to last day in Cabo. We were on one of our morning beach walks, and we had just wrapped up a mini photo shoot of me striking poses on a rock on one end of the beach. It was a beautiful and ominous day because it was only about an hour before a storm rolled in, so the clouds were thick and dark and looming. It might not sound so glamorous but man does that scene make for a good ocean photo. Here it is below…
(Sidenote: My mom is absolutely terrified of the ocean sweeping her away and will be forever traumatized by a wave a couple of years ago that she got slammed by on another one of our beach walks, so she was safely up-shore from us but nearby  when this was all taking place.)
As we were walking along and about to turn back to head toward the hotel, I notice my dad climbing on top of a rock in the ocean without warning — so I can only gather that he's doing this because he wants me to take a picture. He strikes a pose, I snap a photo, and BOOM — all of the sudden, I see this massive tidal wave coming UP OVER HIS HEAD and crashing down on top of him from behind. For a split second I was terrified because I didn't know if there was sand underneath him or more rock (there was no way to tell because the ocean floor had totally covered the area), and it was evident that this wave was totally about to knock him over.
He had only a second or two to think about it, and thank GOD he had the balance and quick enough reflexes to jump to the sand beneath him (not a small jump my friends) or else the wave totally would have knocked him into more rocks and bad things would have happened from there.
I know you can't fully tell by this photo but take my word for it that this wave only intensified as it came to shore — SO CRAZY.
After he jumped and it was clear that he was okay, we laughed about it for days because really, at the end of the day, he did this all in the name of a photo. So you can see how much his views have changed when it comes to snapping a good photo opp. 🙂
And in case you don't think it's as funny as I do when people fall but don't get hurt, here are some other photos from the trip that will hopefully peak your interest… 😉
Our first day on the beach, enjoying the sunset from the epic Sunset Beach. Wearing Jen's Pirate Booty coverup — Yes, the same dress I'm wearing on the cover of my book!
Gorgeous view from one of the many pools at our hotel — where we sat every day for lunch and watched the waves roll in from up high!
Chillin' on our balcony before Thanksgiving dinner! Wearing the Banana Republic shift dress of my dreams. (PS they're having a sale today for free shipping on $50+ orders, get on it!)
This beyond amazing cabana that I turned into my very own yoga hut on the beach. Heaven on earth. Wearing DKNY one piece + hat from Summit. 🙂
This perfectly wonderful view before the storm.
Flying home with some of our oldest & dearest friends — back in Sactown for a night before I flew back to LA!
How was everyone else's Thanksgiving?! Hope you all had an incredible time. I am excited for the weeks to come… It's the most beautiful and charming time of the year, in my opinion. 🙂