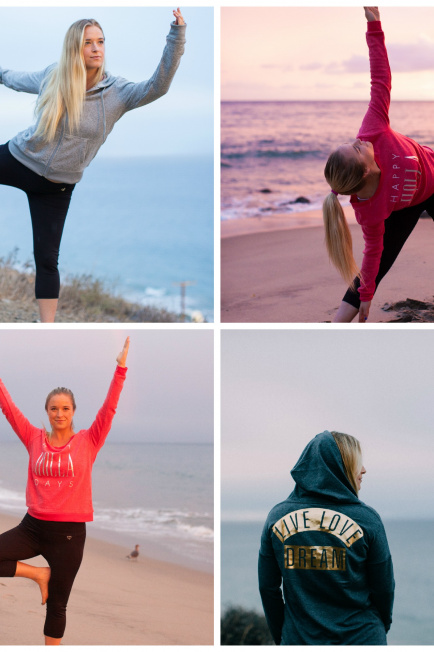 Gettin' Cozy for The Holidays + Seasonal Wellness Tips
YIPPPEEEEEE it's the holiday season and I for one am more stoked than life. Well, let's be clear: I am more stoked than life about the fact that it's finally no longer 90+ degrees in Los Angeles, and also about the fact that I get to celebrate and have fun with my family all season. We are going to Mexico for Thanksgiving this week — Woo! Not very traditional, but very us nonetheless.
Even though I will be in warm Cabo weather, I am glad it's cooling down here in LA. I am not necessarily a cold weather person, but I like to see a legitimate change in seasons whenever appropriate. The holidays are such a special, charming, inspirational, family-oriented time… And when the weather is still trying to trick us into thinking it's summer I sort of get really annoyed.
Rocking Live Love Dream in all below photos, and all photo creds to Tynan Daniels & Austin Daniels, the talented dudes who bring my visions to life <3 
To celebrate the upcoming holidays, I've partnered with Aeropostale's new Live Love Dream activewear line to showcase how fitness & this special time of year can converge and create overall awesomeness. Just because the holidays are coming up does NOT mean we have to surrender to the unhealthy foods & lack of time to workout and just accept that holiday weight gain / unhealthy feeling we all fear so much.
The truth is, this time of year is so heartwarming and beautiful if we let it be. There's no reason to fear it because of food insecurities, funky schedules that may not allow as much time to exercise, or because of holiday blues I know people experience when they don't have the greatest holiday memories to draw back on or because they're having a rough year. Trust me, as a deeply introspective and oftentimes anxious/overanalytical person, I UNDERSTAND the feeling.
Alternately, because the holidays always cheer me up no matter what type of shit is going down in my life, I can't even think about the months November and December without my heart fluttering a little and reminiscing on family memories, holiday parties, moments with close friends, hot chocolate by the fire… I'm one of those real holiday lovers.
Even in the depths of my eating disorder I found a way to enjoy the holidays with my fam and even though I was eating the strangest foods while they ate from the typical holiday spread (and a healthy version of it at that, because my family is a very healthy bunch). This year I want to help you guys not fall prey to fear of overindulgence of fear of calorie restriction over the holidays.
Because guess what?!?! The holidays aren't about that. They're for enjoying time with the ones we love. Take food out of the equation. Have confidence in the fact that you can still make time to exercise and keep your healthy routines in check. And here are some tips to keep from overindulging:
Tips to Keep from Overindulging over the Holidays:
It's not about the food, it's about spending TIME with your loved ones.
Eat slowly. On Thanksgiving especially, I find that people often feel like if they don't stuff themselves silly then they're doing something wrong. If you focus on taking small bites, chewing thoroughly, and engaging in meaningful conversation while you eat, your body will naturally give you the signal when it's full — then you don't have to let your brain do all the work.
Load up on side veggies! If you have a bunch of nutrient-dense, filling leafy greens on your plate, you'll be less likely to overindulge in the less healthy departments.
Don't beat yourself up! Holidays are for ENJOYMENT. Eat that dessert. Have some of that pecan pie. Whip up a dessert with your mom/dad/sister/friend/roomie and trust yourself around it. Enjoy, and move on the next day!
Make it part of your family tradition to exercise in some way before or after you eat: go on a walk, go on a morning run, catch a yoga class. My brother-in-law and I have made a morning Thanksgiving yoga class part of our tradition for years, and it's been awesome.
Another thing that will keep you happy, healthy and feeling good is rocking cute activewear clothes that inspire you to get active and stay active. These Live Love Dream clothes are ridic comfy, soft and they scream HOLIDAY. A bunch of them even have holiday phrases on them! And you know I'm a girl who appreciates a good graphic tee…!
Above all, as with all things wellness, don't get caught up in the tiniest aspects of the holidays that you may or may not be concerned about — just let yourself ENJOY.
When I let my fears and concerns go, awesome things seem to start happening.
Like this moment. We were shooting photos, it started raining, we witnessed a guy who was pitching a tent to stay dry from the rain because he was homeless and living on the beach, and then, above us, this rainbow appeared.
There can be so much beauty in a singular moment if we allow space for it.
Throughout this holiday season, my best advice for you is to let go, let yourself live in the moment and experience the tiny joys that deserve to have space in your life.
Starting this week. Happy Thanksgiving, my sweet loves. Grateful for all of you.