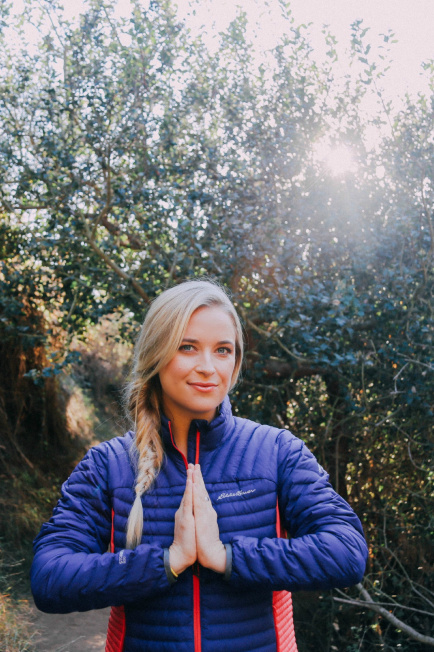 Why the Cold Weather Months Make Me Happy, Happy
I realize the title of this post makes me sound like the anti- sunny So Cal girl you know me to be. I live for the beach, warm weather hikes in the Palisades, and lounging at the pool with a good book and soaking in the rays. And it's not a secret that I think all blondes look better bronzed (in a natural, glowy sort of way of course), which pretty much only happens from natural sun exposure in the warmer months.
So… why the cold weather love, Jordan?!? Where does that even come from?
It comes from a few different places. For one, the span of early October through the New Year is hands down my favorite time of year. My love for the cozy charm of the holidays and the super positive, family-oriented, communal vibes that accompany the holiday season are completely unparalleled. The holidays are pretty much the only time that random acts of kindness seem to take place on a whole new level (think about it: it's true), and there is a buzz and energy in the air that you simply don't find in the Spring or Summer.
And I'm not even a gaga-for-holiday-decoration person, at all. So don't mistake me for that kind of holiday lover. I love, love when people get into the holiday spirit and decorate up a storm and host holiday parties, pumpkin carvings, gingerbread makings, holiday baking get togethers, etc. But I'm just not one of those people. I'll gladly attend. But in my typical TBB-ness I don't usually have my act together in time to get my own decorations up or go all out with hosting themed parties.
I wish I was one of those people, but I'm not. Maybe one day when I'm a mom and I have little kiddos to make the season super special for I'll get a little more into the decor side of things. But while it's just me and Hudson at home, not so much. Just da truth.
Wearing Eddie Bauer x Photos by Iseline & Hale
However, what I do love about the holiday season — other than the good vibes & the tradition of family time and gifting my lovers with fun little surprises — is enjoying the beautiful outdoors. Just like I love the beach in the summertime, I adore the mountains in the wintertime. There is nothing more gorgeous to me than snowfall on the mountains and cozying up with a blanket by the fire (and some almond milk hot chocolate — WHAT UP!) with people I love. I am ALLL about it.
I also believe that some of the best conversations take place when people are bundled up inside with the snow falling outside. Call me old fashioned, but there is something beyond charming and relaxing about it. I see some of my very favorite people who are usually wound SO very tight finally allowing themselves to relax during this time of year. Work life seems to die down, because even if you're on your email 24/7, there aren't a whole lot of people to correspond with as Christmas approaches.
To condense my thoughts a little better: holiday time = more time with loved ones, more time outside in nature, and less time being consumed by technology. 
Eddie Bauer Microtherm Jackets Here… A.k.a the best in the land, not to mention the very most original.
That's the way I feel, at least. So to celebrate this beautiful time of year, I've teamed up with Eddie Bauer to show you guys how I like to dress for the cold weather! Next week I am heading to BIG SUR with two of my best friends, Katie & Danielle, for a weekend of winter fun and adventure. I can't freaking wait. And we will be rocking Eddie Bauer head to toe… I can guarantee you that much.
So while LA isn't the MOST winter-friendly city, Big Sur will be sure to fulfill all of my winter wonderland dreams. Any suggestions for what we should do there?! I've actually never been, despite being from Nor Cal. Any good hikes we should check out, yoga studios, restaurants or shops?! I CAN'T WAIT to be there. Much needed girls' getaway.
Speaking of the charm & good holiday vibes… I want to see what you're up to this holiday season! Tag me in your wintery pics, and hashtag #liveyouradventure & #outerWHERE so I can see what you're all up to. I love to stay connected and spread the fun winter goodness around. 🙂 
PS… If ya couldn't tell, I am SO into the fishtail braid lately. Like really, really. Especially when I am outside & hiking!
Above I'm wearing the Eddie Bauer custom microtherm jacket. I'm waiting on my customized one to come in the mail, but the black & purple one is a variation of it. You can customize by putting whatever you want it to say on the front in a small, cute lil' font. I am obsessed.
Look beneath the bottom of my braid to see where your customized wording would go. 🙂
BTW, will all this awesome Eddie Bauer – ness going on on the bloggy, I think it's time I pay their headquarters a visit in Seattle again… I know I could get my winter wonderland on there! Who thinks I should plan a trip?!
Love you guys. Hope everyone is having a great holiday season so far. I know I write a lot about "the holidays rock because I'm surrounded by loved ones" kind of stuff — and I have heard from some of you that while you agree and wish you were surrounded by people who inspire you and love you unconditionally, you feel that that's something you're lacking in your life right now. TRUST ME — I get it. And that never a good feeling. I have worked extremely hard to surround myself with people who will remain in my life unconditionally, and people who understand me for me and make me feel safe and loved. People who support me and I support them in return. It takes work to find people like that in your life — and it takes being true to your SELF and being as authentic and honest as possible. I promise that a little bit of authenticity goes a long way when it comes to connecting you with your soulmates in life… Friends, families, loved ones, even pets. When you are being unequivocally YOU, good things happen.
Mark my words.
And this is the year to make it happen!!!
LOVE. YOU. Show me your #liveyouradventure & #outerWHERE pics! And pick out Eddie Bauer's site to enjoy some of my very fav active wear and winter outdoor options. 🙂 XO