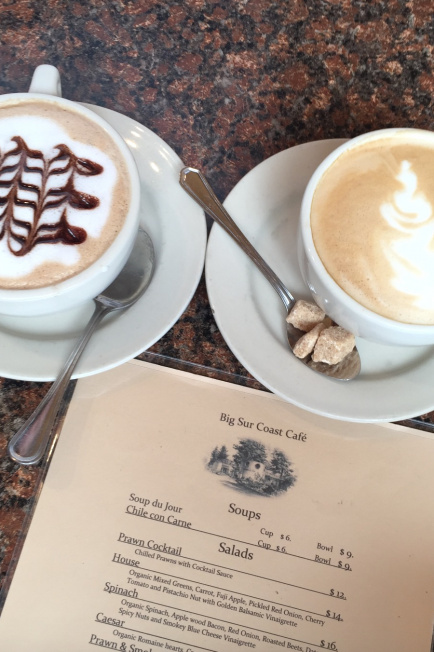 Big Sur Getaway: Live Your Adventure
SOOO if you follow me on social media then I'm sure you noticed that I spent the weekend with my girlfriends in the breathtakingly beautiful Big Sur. The trip was in collaboration with Eddie Bauer for our ongoing Live Your Adventure partnership, so me and my two BFFs were decked out in EB from head to toe — lucky us, especially because it was so chilly chilly freezing in Big Sur compared to what I'm used to in Los Angeles. I was finally able to wear my EB down parka & all my favorite fleeces!
There is nothing I am more passionate about carrying out in my own life and/or sharing with you guys than I am about LIVING my adventure. It is one thing to talk about living an adventurous life, pursuing your dreams and goals, and stepping outside of your comfort zone to see and try new things. And it's another thing to do it.
When I left grad school to pursue this blog full time, I was doing just that. And it was the best decision of my life. Now I am carrying out the ultimate dream of sharing that life with all of YOU on this bloggy, and working with brands that align so deeply with my own mission like Eddie Bauer truly makes my life/my work so, so fun and worthwhile.
So, shall we discuss Big Sur from beginning to end?! I think YES! For those of you who asked me again & again on Instagram, FB & email about where I stayed, where we hiked, etc, ALLLL info is below! Yippee!
TBB Takes Big Sur: The Deets
The view from one of the patios at our exceptionally beautiful hotel, The Ventana Inn & Spa!
THE WHAT:
If there is anything I love as much as a good adventure, it's going on a good adventure with people I love most. There's probably no one in the world I have more fun with than my two best friends from childhood, Katie & Danielle. You guys prob recognize them both from being all over the bloggy ever since I started it, and especially Katie because we lived together in New York (a.k.a she couldn't get out of my blog photos back then if she tried — lol.)
Katie, Danielle & I have been lucky enough to pretty much travel the world together. We all studied abroad in Italy at the same time, so not only did we get to explore the Italian countryside and the awesomeness of Rome & Florence, but we also got to do amazing things like see the show Wicked in London, have a picnic under the Eiffel Tower, and get tattoos in a tiny Italian tattoo parlor. Well, Danielle & I at least on the tattoo front… 😉
Anyway, when I heard that my partnership with Eddie Bauer included going on an outdoor getaway, I knew K & D had to be in on it. And I also knew that I wanted to go to Big Sur, because it's somewhere that is so close to where I grew up in Northern California yet somehow I had never been there. It is full of some of the most beautiful hikes in the universe, and has that distinct quality of being smack in the middle of the ocean and the redwoods. HEAVEN.
I was so excited to finally be able to wear my white parka from EB, especially after spending time at Eddie Bauer's headquarters earlier this year and hearing all about how EB invented the first ever down jacket all those years ago! They are the OG down jacket, you guys. They are the OG a lot of stuff when it comes to outdoor adventure gear. And their stuff is unbeatable in terms of comfort & cuteness. I got a lot of compliments on my parka all weekend — including K & D who made fun of me for wearing a "sleeping bag" all weekend. 😉 I am a So Cal girl, I get cold!
And we couldn't miss an opportunity to frolic in the gorgeous fields at the hotel after breakfast on our last day. The parka & EB beanie kept me warm even though it was completely storming outside! Even our umbrellas flew away… Hilarious vids on Snapchat (@jojoyounger) & on my FB to accompany it.
 Andddd despite the rainstorm we tried to smile & pose a little too. 😉 
Before the umbrellas blew away… lol!
THE WHERE:
We stayed at the absolutely fabulous + breathtaking Ventana Inn & Spa, a.k.a my dreamland a.k.a my future home a.k.a where I 100% hope and plan for my very much as-yet-unplanned future wedding to take place. The hotel was so great it made it hard to want to leave the hotel to explore, but Big Sur itself is so gorgeous and sprawling we made sure to get off property a bit to squeeze in some hikes and see some of the town's landmarks. Let me take you on a little photo tour of our hotel paradise…
OUR ROOM!
So, as you can probably tell, our room was straight up awesome. It was beautiful, light, bright, spacious & cozy with a lovely big tub & bathroom — some hotel room staples of mine. Oh, and we had a jacuzzi out back with views of the sprawling fields and the ocean. Yeah. Unreal is an understatement.
Hellooooo, backyard jacuzzi. Fun fact about this jacuzzi: it was so cold in Big Sur and I am such a wimp about cold weather that I was sort of afraid to strip down and get in this hot tub on our first night. I mean… Being outside in a swimsuit in freezing cold weather sounds sort of painful to me. But I did it anyway and the hot tub was so hot it didn't even feel remotely chilly when we got out. Now that is what I like to call a well-heated hot tub, my friends. Hard to come by! And so necessary in the cold. So peaceful.
This wasn't our room, but we went on a tour of the hotel and I had to snap a pic of this little bathroom window leading into the rest of the room. I loved the architecture at the hotel and how they were seamlessly able to combine the comfy, cozy, lodge vibe with a modern and upscale spin. The rooms were the perfect combo and I was super into it.
This was another adorable room at the hotel. I like the dark woods and the woodsy vibe. Ours was a little brighter because we were facing directly toward the water, which is even more TBB so I was in love, but this room is pretty darn amazing too!
THE SPA!!!
This was the outside of the spa at the hotel, and I am pretty sure the quaintness speaks for itself. I could sit in those rocking chairs all day and read the day away. So peaceful and heavenly. Also, around the corner was a clothing optional pool! Way too much fun to be had…
This little oasis was also right outside of the spa. During my stay I had the pleasure of getting treated to the Essence of Big Sur Massage Treatment… an 80 minute massage with Thai herbal infusions and traditional Thai elements. It was SO relaxing and even though I didn't fully realize it at the time, the massage relaxed my muscles so much that last night's sleep was one of the deepest I've had in months (maybe years). Even after my 6 hour drive back to LA! 
THE JAPANESE BATH HOUSE
There aren't exactly words to describe how sensational the Japanese Bath House at the hotel was. This little sanctuary is open 24 hours a day, and there is a women's entrance and a men's entrance that meet in the middle. We had so much fun coming here late at night and soaking in the tub — and warming up after a cold night out on the Big Sur town!
Another… because the bath houses were amazing. Now I want to go to Japan. Any recs? 😉
In case you ever wanted to go on a running jump into a perfectly serene looking hammock… Take note of Katie's fall & think twice. 😉 Hehe, love you Kates. Good thing the hammock was so close to the ground! Oh and if you know anything about me and how I feel about people falling (when they don't get hurt, obvi) you know I laughed my ass off about this.
THE MUST SEES:
My favorite place that we went while on the trip was to Julia Pfeiffer National Park, about 9 miles down the road from our hotel. Greg, the awesome hiking guide at Ventana Inn recommended it to us as one of the best coastal hikes & (the inland part) redwood hikes in the area. We all decked out in our EB gear & headed over… first making a detour or two to take in the a-m-a-z-i-n-g views off of the CA-1.
This view off the highway was unreal. We stopped here for a good 30 minutes to take it in because it was basically life changing. Oh, and there was a spectacular glass cabin right below where we were standing… If anyone knows who lives there, give them my digits because I think I need to move in.
These redwoods, though. And this EB fleece that I love a ridiculous amount. And these pants that everyone in my life now seems to own because they're awesome. Katie & I both rocked them on this hike.
When your BFF is an adventure junkie to the max. 
That monkey life.
Inching my booty down this boulder onto a log above da creek… The things we do for a good pic. 😉 And for the ADVENTURE! Katie's words on the log: "The rule is, we do NOT touch each other."
Big smiles sandwiched between my lifelong loves, all wearing EB head to toe. 🙂
And leaving you with one last pool shot from the Ventana, because if I could retire & move there tomorrow I would. Life goals all the way.
ALSO in regards to food in Big Sur, we had amazing meals at our hotel — can you say juicy steak, creamed kale, and crispy artichokes?! We had delicious drinks at Post Ranch across the street, and a GREAT dinner at Deetjens, one of the oldest spots in Big Sur. And post-hike we had a yummy lunch with a GREAT view at Big Sur Coast Gallery and Cafe. And um, the gallery/cafe is up for sale, so if anyone is looking at property in Big Sur, holler their way. 😉
Overall, I feel SO refreshed, rejuvenated, recharged and FULL (in every sense of the word) after this weekend's trip. I will be back time & time again. Being immersed in the outdoors and soaking in that fresh mountain air makes this TBB a very happy girl.
Such a TBB moment sipping on a mezcal cocktail with lime, mint & jalapeño… In my parka, no less.
 Who's been to Big Sur?! Ever tried the Ventana? And who is with me on living dat adventure life?! Thanks so much to Eddie Bauer for making this weekend possible. 🙂
P.S. If you want a REALLY good story about me getting 110% lost on the way into Big Sur and accidentally detouring my way into Lake Nacimiento and the surrounding Air Force Base for 70 miles straight of twists, turns, deer, squirrels, and zero humans in sight, (+ NO GAS IN MY CAR), comment below & I will tell that story in another post this week. 😉 #TBBfail