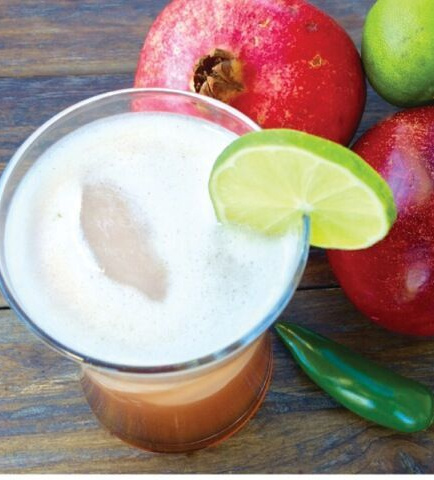 Let's Have a Healthy Holiday, Shall We?
And when I say healthy, you know what I mean by that: healthy mind, healthy body, healthy spirit.
Treat yourself to delicious, whole, healthy foods from the earth this holiday season (latkes included, because latkes are bomb) so you can feel awesome both during and after the holiday. I decided a long time ago that I was not going to be one of those people who dreaded the holidays coming for fear I was going to overindulge, gain weight, fall off the health wagon, etc. I have always made sure to pay extra attention to indulge in yummy treats over the holidays without going overboard to the point of regretting it.
But, of course, after my restrictive eating days, I have to be careful to remain somewhere in the middle — no going overboard on either end of the spectrum. There are a few different ways that I like to do that. One way I maintain balance is by being incredibly open with those around me about what my goals and intentions are. Keeping my desire for balance to myself never did me any favors, and it often caused me to restrict my food intake or overindulge because I felt the pressure of, "Ahhh!! All this holiday food! How is everyone else handling it with such little stress?" Because I never TALKED to anyone about it.
I can safely say those days for me are long gone. I am open with the people around me about my feelings and my family and friends know how I feel. I will eat dessert (and enjoy the hell out of it), but it's very likely that I will be making a healthified dessert to bring to each holiday partay.
A couple of women who also totally understand the importance of being open about health and clean eating goals are Heather Hemmer and Molly Chinnock. These fab women are the dual forces behind The 30 Clean program, who's mission I am a huge supporter of.
( In case you don't see this at the end of the post, you can sign up for a FREE 30-day meal plan on The 30 Clean with the code: TBBSPECIAL. To redeem, email:  [email protected] ) !!!
I would never tell you guys about a food or diet related program if I didn't fully believe in it and if I didn't see the vast benefits, AND most importantly if I thought it was going to cause any sort of a restrictive mindset. This program does pretty much the opposite, and I would highly recommend it to anyone I know — both people who need the extra kick to get healthy and stay healthy, and people who are already health-conscious but want more of a wellness community to interact with while making mindful choices.
Heather & Molly GET IT, you guys. They understand that finding our healthiest, happiest selves is not an overnight process. It's a process that takes dedication to exercise and eating well, education about nutrition and wellness, and a community of likeminded individuals to inspire one another and keep each other on track. I would never have been able to recover from my eating disorder as quickly and smoothly as I did had I not had this TBB community and healthy blogging community to help me through the process.
Doing things with friends, even friends on the Internet makes any goal so much easier to attain, and it makes it SO MUCH MORE fun.
So, let me tell you a little bit more about The 30 Clean company so you can decide whether you think it's a good fit for you or for anyone you know this holiday season. Basically, they believe that "authentic change is most often achieved within a supportive, peer-driven environment." ( YES !!! ), and they teach you how to eat healthfully and mindfully and give you the tools to maintain that clean eating lifestyle long after the 30 days is over.
Ultimately, 30 clean is about the direct connection between organic, whole food nutrition and overall wellness. And, if you think about it, that is EXACTLY what I am all about here at TBB. I feel so much synergy with their company and so many good vibes emanating off of what they stand for I can hardly stand it!
The Pomegranate Jalapeño Spritz from the program! The program arms you with lots of cocktail + food makeover ideas for the holidays & beyond. This is one of my favs. 
Background Story Time
Another reason why I LOVE this company is because the passion behind it is driven by Heather's own personal journey toward health. She was an inactive closet eater for most of her life, so she was armed with all sorts of bad habits to break (don't I know how those bad food habits go…). When she turned 30 she decided to take control of her health, get a personal trainer and join a workout group. She was so inspired by the tremendous support of the group and her newfound accountability to herself — hence, the backbone of the 30 Clean group-led experience.
And then she met Molly because Molly signed up for a 30-day clean eating challenge at a local fitness studio hosted by the lovely Heather herself, and they knew there was amazing stuff they could do together to help far larger communities of people who wanted to lead healthier lifestyles.
Backbone of the program?
Here's what ya do: Participants of The 30 Clean eliminate foods that can cause weight retention, inflammation, skin issues, sleep problems, depression and more and focus only on the clean, healthy, whole foods our bodies were meant to digest.
Challengers are placed into small, private Facebook groups overseen by certified Health Advisors and coaches and are encouraged to actively post daily. Community aspect!!! Check, check and check.
Also at the end of the 30 day period the program helps participants learn how to re-introduce foods back into their diets slowly so they can identify intolerances and allergies. That is a HUGE kicker for me, since I believe so many clean eating programs out there are ineffective because once the program ends, people don't exactly know how to keep the healthy changes up in an overall lifestyle kind of way.
The goal is to help people find their optimum health without pills, powders or any "quick fixes" that we ll know don't actually fix anything. THAT, my loves, I can stand behind.
Who is as obsessed with dips as I am? Heather & Molly will help you make them in a natural & healthy way so you aren't getting snuck up on by any sneaky oils + unhealthy fats + additives! 

Soooo… How do you start?
If you're interested in doing the program, head over to The 30 Clean's website to see which program would be best for you. Their New Years challenge is coming up, and there is still room for you to join! You know I wouldn't be telling you about this if I didn't think it was an awesome program that you could learn a ton from and get a lot of great benefits out of. For those of us who need that extra push to remain healthy over the holidays AND for those of us who thrive within a community environment, you cannot go wrong here.
And I cannot stress ENOUGH that this program is about helping you achieve health from the inside out — it's not about a quick fix. This program is about helping you find the healthiest version of yourself and sticking with it. You'll never see me talking about "New Years Resolutions" on this blog in the traditional sense… You'll see me talking about LIFETIME resolutions!! THAT is what I am all about, my lovers. That is what I want for you, and I am going to keep providing you with as much info as I can about how you can make that happen effectively and have fun while doing it. 🙂
And who knows, maybe you'll meet your next BFF in this program! You never know. Amazing things happen when likeminded people get together and chat. I have met some of my very best friends through the health blogging world… As you know, if you follow me on social media!
USE CODE TBB SPECIAL FOR A FREE 30-DAY MEAL PLAN WITH THEM!!!! Email  [email protected] to redeem!
Has anyone reading ever tried this program?! If so, leave a comment below letting us know your thoughts so other readers can hear your feedback! Also if you have any questions or general thoughts, leave them below… I will be readin'! XO