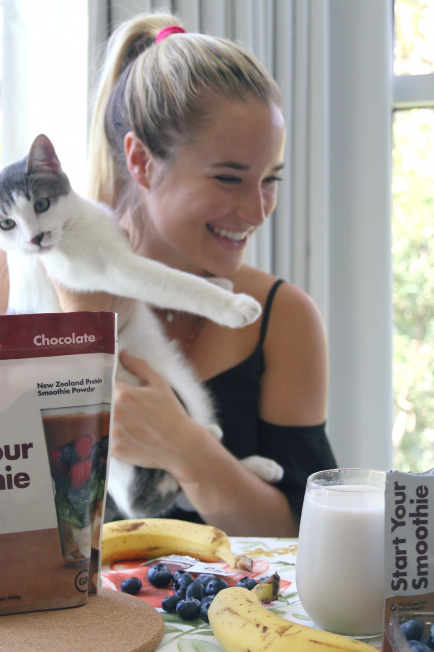 TBB Approved Protein Smoothie Powder + Choco Banana Smoothie Recipe
HAPPY HAPPY HOLIDAYS, MY LOVES! You probably noticed that I took a nice, long week off to recharge, refocus, RELAX & get re-inspired. I am feeling amazing & I have done a lot of brainstorming and planning for the year ahead on the bloggy and beyond… and I cannot wait to share with you.
More on that coming throughout the week. But today is a RECIPE & I'm stoked to share! 
If you guys have been following me for a long time, then you know I am all about the SMOOTHIE LIFE & adding healthy, natural, nutrient-packed protein powders to my smoothie concoctions. When I was vegan I relied on plant-based protein powders in my smoothies to keep me energized and protein sufficient, and now I dabble with using some natural grass-fed dairy powders as well.
Today I am going to tell you guys about a protein smoothie powder company that I am in l-o-v-e with…
A bunch of the team members and the protein are from NEW ZEALAND, but live and manufacture in the US. How cool is that?! The perfect combo! I learned about the "Kiwi" nickname for people from New Zealand a few summers ago when I spent time in the Hamptons with some New Zealanders, and I have loved it ever since. It reminds me of the Maroon 5 song Sweet Kiwi that I'm obsessed with. So, here is my TBB-approved post about a fab Kiwi smoothie powder that I know you guys will love.
My signature Choco Banana Smoothie with Kura protein powder
Important note: 
Lately, I've made it a personal rule that I only work with companies on the blog that I believe in from the inside out. That means not only do I think that their product is fantastic and will aid your efforts in becoming the happiest and healthiest version of yourself, but also that the people behind the company are kind, respectful, fun to work with and collaborative. I briefly mentioned in another post of mine recently that I'd had a few bad experiences with brands lately that left a bad taste in my mouth. I can say to you with the utmost confidence that the people behind Kura are wonderful examples of great people to work with — and I don't know about you, but in my eyes that makes a brand SO much more reputable and noteworthy.
The reason why that's so important to me beyond the brand being reputable is because I'm all about the good VIBES on my blog. If my vibe with a brand is off, that will come through in my post. If I have a good vibe, it will shine through. Clearly I had a ton of fun with this post and got the best of vibes from the company and the people behind the company, so the review itself and the photoshoot for it was seamless.
Even Hudson had a blast! 
One of the best parts of my job is getting to meet people from all over the globe who believe in promoting the healthy, natural, balanced lifestyle like I do. It's so cool to come across this company to collaborate with them and connect on so many levels and think about how small the world really is.
So, on that note, let's dive on in! I love this brand for so many reasons. First and foremost, because I know you're all wondering… YES, it tastes good. Like really good. There is no chalkiness and no fake sweetner/Stevia flavor to the powder, which I usually find to be the most common issue among flavored protein powders. The chocolate flavor (my favorite flavor of anything- of course) makes smoothies taste amazingly just like a chocolate shake… Especially the smoothie recipe I conceited below. But first let me tell you more about Kura!
Kura hits all of my absolute staples:
Non-GMO
Gluten-free
Natural ingredients
No added sugar
14g protein (in this case, from grass-fed dairy)
Full of vitamins & minerals: 26 of them!
Contains high probiotic levels for digestion!
We all know I am super picky and don't usually go near a powder with a 10 foot pole if it doesn't hit most of the above. I am lenient about the protein aspect, but if it's a protein powder then I want to be getting 14+ grams so that I can satiate my bod and keep those blood sugar levels nice and low. Plus, if I am drinking this smoothie as a pre- or post-workout drink, then 14g of protein or more is necessary for muscle recovery and to refuel and reenergize your body.
Also, of course TBB approved powders must be non-GMO and gluten-free because there is no need to put genetically modified crap in our bodies, and if it's not gluten-free then I personally risk having a bad reaction to it (and same for most people with sensitive systems).
Now let's talk about dem vitamins! There are 26 vitamins and minerals found in a Kura smoothie serving size, all of which are known to increase energy and help support bone, hair, skin, nail, heart and brain health. Check, check, check & check! Also, since the protein is grass-fed it has higher levels of omega-3s than grain-fed protein (on top of being cleaner). Omega-3 has been shown to support brain, eye, heart and skin health.
And the probiotics! Probiotics help improve digestion and lactose intolerance, and enhance immunity to all sorts of yucky diseases and sicknesses flying around. I don't know about where you live, but really bad colds have been going around LA like wildfire lately and I have yet to catch anything (knock on wood!!!), and I partially attribute that to my vitamin and probiotic regimen.
Also, the powder contains antioxidant support of beta-carotene, vitamins C & E, and Selenium, which are all shown to help the body combat free-radicals. Fun fact: I used to eat 1 Brazil Nut a day because I'd heard that it had your full daily serving of Selenium which helps to assimilate Iron into your bloodstream… Crazy, right?! Not sure how much it worked since I was so Iron deficient at that time in my life, but Brazil Nuts are yummy regardless. They'd be delicious in this smoothie, too!
If you're not a chocolate person, Kura also has vanilla & berry flavors! And if you live in So Cal, you can find them at Sprouts and Gelsons. Super easy. If you don't, search on their website to see the closest & most convenient place to find it! They will be available in select WFM SoCal stores AND Vitamin Shoppe in January too… Big deal for a small biz! So excited for them.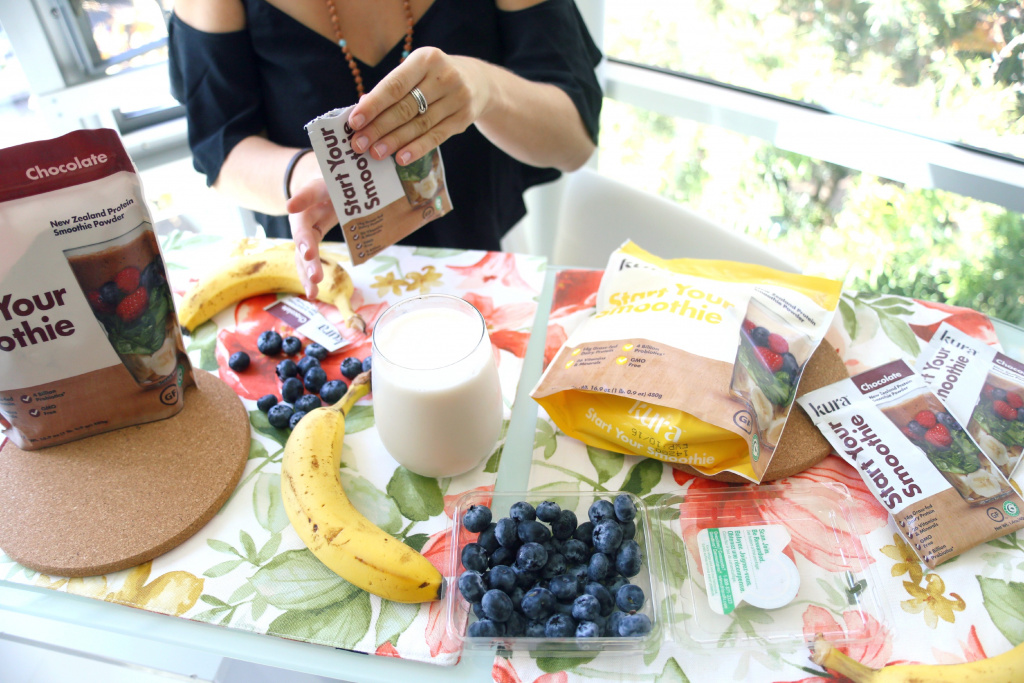 Now… Who's ready for this smoothie recipe?!
CHOCO BANANA SMOOTHIE DELICIOUSNESS
Ingredients:
1 very ripe banana
1/2 cup blueberries
1.5 cup almond milk
1 tbsp. almond butter
1 packet or two scoops of Kura chocolate protein powder
Method:
Add all ingredients into a blender or food processor, and blend! I like to use my VitaMix or my Magic Bullet depending on the day and how much clean up I'm willing to do!
Has anyone tried this stuff?! If so, do you like it?! If not… Give it a try!! xx