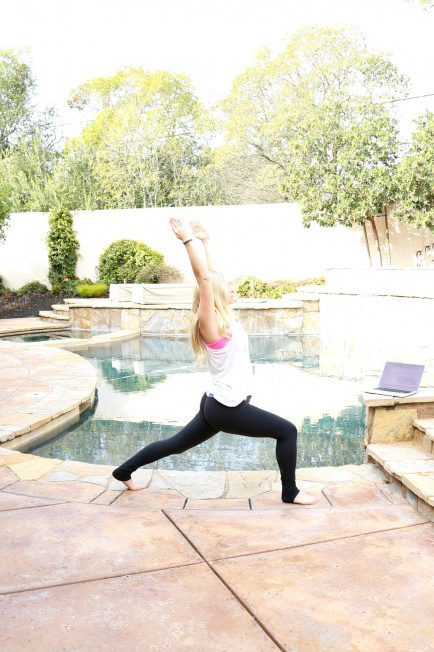 The Perfect New Years Challenge to Find Balance & Get Fit
So, I am unbelievably excited to share today's post with you guys. The New Year is coming around the corner, which is my absolute favorite time of year to take the reigns of my own wellness goals and lifestyle aspirations and make. them. happen. Meaning… it's also my favorite time of year to share the best tips & tricks I've learned with YOU.
You probably know by now that I am very careful about New Years challenges, resolutions, holiday detoxes, etc. And by very careful I mean I don't do them myself or recommend them to you guys unless I see a very important sustainability factor & some serious benefits to be gained and to keep under your belt long after the "New Year" has passed.
I see too many people getting stuck in the rut of mapping out their health and fitness goals every January and then falling off the wagon when results aren't immediate or when maintaining the healthy choices gets too tough. That's why learning how to make healthy lifestyle changes instead of trying to "detox" and/or change drastically overnight is so much more important.
On that note, I am way more into goal setting versus giving in to a "quick fix" as far as New Years resolutions go. But that doesn't mean that I am anti-resolution! I think that the beginning of the year is a wonderful time to wipe your slate clean, set some new goals, get re-inspired and give yourself an extra boost of confidence to CRUSH YOUR GOALS instead of just thinking about them as a part of your distant future. "Ohhhh… maybe next year" is not an option around here. Sorry. Won't let ya get away with it. I care about you too much to let you do that. 🙂
In order to make lifestyle changes, you need guidance, inspiration and a maintainable fitness routine and nutrition plan. So I have done the dirty work for you and have done a little digging to find a program recommendation for those of us who do best with structure and having a group to hold ourselves accountable. I know I am all about structure when it comes to a fitness and nutrition plan.. Which is why my marathon team has been a godsend for the growth of my running over the past several months!
But today we're not talking about running. We are talking about a fun January challenge that you can do anywhere — your house, the office, your bedroom floor (yessss) or even in a fitness studio with friends,
This is a New Years challenge that I believe in so much that I am actually going to do it with you guys!! That's right. I'm in for the challenge. You know I love a good challenge. Since there are so many things I want to tell you about this program I made a little list to nail down all the deets before I break it down further. Check it…
Get Strong. Find Balance. Feel Good.
A Lil' Overview For You…
 3 Pillars of barre3

(

and the Challenge

)

: Exercise, Nourish, Connect

The 

challenge includes

taking

four 60-minute classes and one 10-minute do-anywhere class per week, led by barre3 founder

Sadie Lincol

n and her team of Master Trainers.

Each 

week, you will make one recipe from the program that is designed to help you sustain energy, tone your bod and balance your blood sugar. (My personal fav is the Green Detox Smoothie… Recipe later in this post!). There's the nutrition factor! Yes!

Beyond the challenge, you will have access to over 200 workouts that you can do in the comfort of our own home. (SCORE.)
You will have direct support the whole way through from barre3 founder Sadie Lincoln through weekly podcasts, four live Q&A sessions & more.

Everyone participating will have access to Challenge workouts, recipes, and podcasts through a special website just for them. The website will go live on January 1 — AKA TODAY! Exciting. But even before the challenge starts on the 4th, if you join you will be able to check out the 200 workouts on their site, yummy seasonal recipes, and guided exercise and nutrition programs so you can get to familiar with barre3 before the Challenge kicks off on January 4th.

(MY FAVORITE PART:)

You will make the challenge

your own

by learning how to customize the food and exercise elements of the program. In this way, you're able to tailor the program to get the results that you are looking for. Some people will be looking for

weight loss

(check out link for a transformation story!) while others may be looking to detox and get back on a cleaner diet after the holidays, while others may be looking to tone. You can have it all, but we are all different and this program celebrates our unique needs and fitness goals.

Through the Q&A sessions you will also learn the super valuable and sustainable techniques of time management, avoiding shame (huge!), and finding balance beyond the challenge.
You will have access to a functional nutritionist in the live Q&A's and also with a time-management coach
Beyond the challenge, you will have access to over 200 barre online workouts that you can do in the comfort of our own home. (SCORE.)
Personal tracker available to track your progress
Grocery List
barre3 gear available to keep you motivated / reward your hard work with!
Only

$10 to

subscribe online

& have access to the

challenge
BTW, if/when you sign up for this program, use the promo code b3balancedblonde to be entered into a sweepstakes to win 6 months free barre3 Online + a signed copy of Breaking Vegan. Consider it a post-holiday gift from us to you. 🙂
WHAT KINDA WORKOUT IS IT?!
I know the above was just a little overview and you probably still have questions about what the workouts actually look like. All barre3 classes are inspired by a combo of ballet barre, yoga and Pilates. The instructors will guide you through a specific sequence of movements that tone and lengthen all major muscle groups, rev up your heart rate, and strengthen your body. Each class mixes athleticism, grace, and the latest innovations designed to balance your bod. Pretty cool, huh?
BARRE3 ONLINE DEETS:
Your subscription to barre3 Online includes access to hundreds of effective, do-anywhere workouts ranging from 10 to 60 minutes (SO AWESOME!), delicious and easy to make recipes, as well as exercise guides and nutrition programs to help you shed weight, tone, balance your body and gain energy.
THE CHALLENGE ITSELF & WHY I, TBB, AM DECIDING TO TAKE PART:
Beyond what I mentioned in the list above about the challenge, I am a huge supporter of it because of the support that each challenger gets the whole way through. You will have access to weekly podcasts of Sadie, live Q&A sessions (first one is at 5pm PST on Monday 1/4! So soon!!!), and 200 workouts online. This is such a great challenge for the busy, on-the-go person because you can do these workouts at home and not have to worry about consistently making it to a studio. It's a great combo of personal motivation + group motivation, because you have access to instructors, coaches and a nutritionist, but you also have to be on yourself to do the workouts each day… And I believe that learning to hold yourself accountable is the best way to truly make a change.
The workouts included range from rigorous to short and sweet, including 10-minute stress relief workouts, a desk workout, and a "kitchen reset." The reason why I love all of this so much is because it teaches you to make a real change… It is not just a month long challenge. It's an investment in your health & feeling BETTER from here on out!
My favorite recipe from the challenge…
Green Detox Smoothie
This refreshing smoothie gets things moving within your digestive system to help you beat bloat. Cinnamon and ginger increase circulation, while parsley acts as a mild diuretic to help reduce excess water retention. The hemp hearts and ground flax seed are not only a great source of complete protein and healthy fiber, but they also feed your good gut bacteria. As an added bonus, the balanced nutrition in this smoothie makes this an easy meal on the go.
Ingredients:
– 2 cups almond milk
– 1 pear (or apple)
– 1 frozen banana
– 1 knob of fresh ginger
– 2 Tbs. hemp hearts
– 1 cup parsley
– 1 cup spinach
– 1 Tbs. chia or flax seeds
– 1 tsp. vanilla
– 1 tsp cinnamon
– Several ice cubes if you like it colder
Instructions:
Place all ingredients into a high speed blender and whirl away until smooth and creamy.
SO!!! If you want to make a healthy, sustainable & maintainable lifestyle change this year involving fitness & nutrition… I highly encourage you to check out this program by signing up for barre3 online. Don't forget to use the code b3balancedblonde when you sign up so you can enter our sweepstakes for 6 free months online + a signed copy of my book!
The barre3 Challenge is free with your subscription to barre3 Online. So, if you just want to access barre3 online workouts but you're not sure about the challenge yet, just opt in to the Challenge anyway so you can tune into the kickoff live Q&A session with Sadie and functional nutritionist Andrea Nakayama on 1/4 at 5pm PST. They will answer alllll of your questions from "Can I drink alcohol during the Challenge" to "Is barre3 cardio?" AND you will learn more about barre3 and what it really is.
Lastly, all the best things that have ever happened to me in life have been when I challenge myself to do something out of my comfort zone. Maybe this is it for you. Let this be YOUR YEAR. 🙂 I will be detailing my journey and results on my blog & Instagram! LMK if you have any questions and comment below if you plan on joining me! Love you guys!!
Join the barre3 Challenge with me using the code b3balancedblonde at checkout!
Join the barre3 Challenge with me using the code b3balancedblonde at checkout!