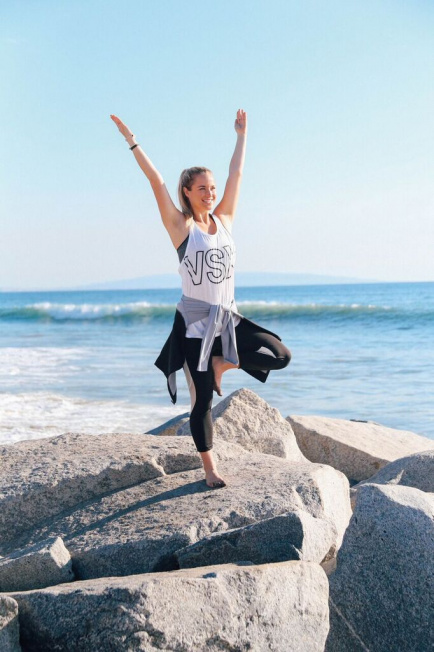 Running My Booty Off: An Update on Marathon Training
Hey guys! I have been promising an LA Marathon training update for a while now, so here we are. As you may know from reading some of my past posts about the experience thus far, this is my first ever marathon, which pretty much makes it a thrilling / terrifying / adrenaline-provoking / anxiety-inducing / all around challenging but awesome experience.
You also may know that I am a pretty extreme person, so this combination of excited yet super nervous emotions isn't totally out of my comfort zone. Before I get into full detail about how my training program is going, I want to touch on the importance of cross-training.
Wearing Victoria's Secret athletic wear. In honor of their mystery product launch, you will receive a free sport pant with the purchase of any reg priced sports bra! All details lower in post!
Cross-training
I am not a runner by nature. I didn't grow up running, and most of the sports I played didn't include a ton of running. I have always been more of a yogi, dancer, Pilates, HIIT kind of girl with short intervals of running. I have run three half marathons before, but all of them were wayyyy out of my comfort zone and I somehow along the way each and every time lost my motivation to train properly.
This time, I am doing it differently. I am running about four days per week, but I am also highlighting the importance of cross training. When I signed up to do this marathon, I knew that in order to stay on my A game I was going to have to incorporate workouts that I was already really comfortable with and have loved for a long time in order to make the training work for me. So in between my long runs and easy, slower paced training runs, I do a lot of YOGA, HIIT (high intensity interval training) and lots of long walks in my neighborhood.
The yoga aspect of the training is huge for me. I have had such an intense, loving, and at times super up and down relationship with yoga for the last 10+ years. In a way I feel like yoga has saved my life (I'll talk about that in more depth another time), and in a different way the practice has been one of the most challenging and personally competitive parts of my fitness and wellness journey. I have gone ALL IN with yoga, doing a 200-hour teacher training, taking classes twice daily for years, going on retreats to exotic locations, forming super close bonds with my yoga teachers / mentors, driving WAY too many miles to check out a new cool studio, etc. You get the picture. I have also fallen off the wagon with yoga for certain periods of my life — and I have been determined not to let this marathon training program be one of those time periods.
I can safely say that right now I fall somewhere in the middle of those two extremes. I am not 110% dedicated to yoga as I once was (and sort of would still like to be), and I have also not completely abandoned it for my running program. If anything, yoga has become infinitely more important to my body, mind, spirit and pysche while I train for this marathon. After I did a few of my first 12+ mile runs, I was in need of some SERIOUS stretching and zen. And because I am getting so much cardio from the running, it has allowed me to lighten up on myself with the levels of yoga classes that I have been taking.
Instead of focusing on really fast-paced, cardio-centric hour and a half yoga flows that leave me drenched and feeling high on life, I have been taking a lot of hour long slow burn classes that aren't necessarily for the workout but more for recovery and mental relaxation. This is a huge shift for me, and to be honest I am really proud of myself for allowing my body to take a break and slow down in between my long runs. Being able to use yoga as a tool to do that makes me feel like so much more of a yogi than when I was busy trying to twist myself into an upside down pretzel in Level 3 classes twice a day.
#EXTREME, I know.
So, that's my cross training regimen. Yoga a couple of times a week (ideally I would go more often, but homegirl only has so many hours in the day), a long walk with a friend once or twice a week, and usually a class or two of HIIT. Then three short ish runs per week with one long run on the weekend!
Plus, lots of stretching… Always!
The Gear
If you're anything like me, you can't get into the proper mental headspace of running if you are not comfortable from head to toe. This means having running shoes that fit you like a glove and don't make you uncomfortable for even a second (until you're so worn down from a long run that any shoe on earth would feel pretty freaking uncomfortable), and having ATHLETIC GEAR that is comfortable, doesn't rub you in weird ways, doesn't get itchy when you break a sweat, and also makes you feel confident in all the right ways.
I mix and match my athletic wear, as you guys know, and today I want to share my newfound love for Victoria's Secret activewear. I am being compensated by them to write this post, but all opinions are completely my own (as always on this bloggy!). First of all — has anyone noticed how CUTE their workout clothes are right now? They are an awesome combo of style and sass, and obviously we know VS knows how to shape a woman's body to make it look and feel good. And good translates directly to confidence, so I am all about it! When you are training to run a marathon… You need all the confidence you can get!
And workout clothes are not just about looking / feeling good, they're also about performance. I do not wear or give positive reviews to workout clothes that get uncomfortable WHILE you're actually working out. I wore my VS Knockout Capris on a 7 mile run in NYC yesterday, and they were ridiculously comfortable. I also got a ton of compliments… And then kept them on when I went to a yoga class at night! Can you say versatile?
And because it's wintertime right now, I am all about this VS Zip Jacket… It also makes me feel like such a serious runner for some reason — it kinda screams badass woman athlete to me. Just sayin'.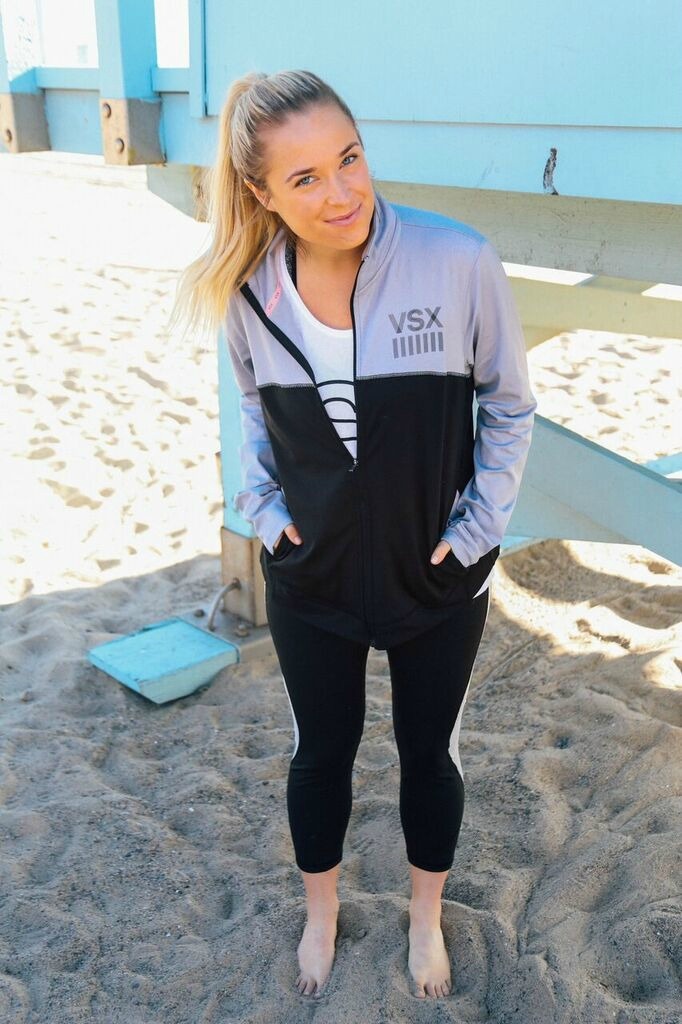 Underneath: VS Player Tank (a must-have), and the cutest and comfiest Incredible Sports Bra. The bra is a brand new item and ladies let me tell you… It is supportive. This chick with the 32D's would know. (Wow, I'm really baring all today, aren't I?)
The PEOPLE
One of the absolute best parts of my training program thus far has been the people that I've met. When I began the program in September, I was going through a bit of a rough time in my personal life. Inevitably, on my superbly long runs with my new teammates, I ended up pouring out my heart and soul and then some. I also got to listen to what was going on in their lives and get to know these brand new people in my life in a super intimate way. At the end of the day, the most important part of any experience to me is the meaningful connections you walk away with. I am so glad that my coach JIMMY DEAN FREEMAN encouraged me to do the NutriBullet training program, even if he not so subtly asked me if I was planning on dropping out the other day because I have been gone so much… #thebloglife doesn't allow a lot of room for a steady schedule. Which brings me to my next point…
The Challenges
Okay, so my two main struggles so far are really obvious to me. The first one is the mental struggle, and the second one is a time issue. The mental struggle can be broken down into two smaller categories: anxiety and fear. I am a very anxious person to begin with, and having a huge goal/challenge on the horizon that 100% depends upon my physical and mental preparation for it TERRIFIES me. 26.2 miles. Before I started training, that was double the longest distance I had ever run in my life. So there is a lot of fear mixed in with that… Will I be able to finish? Will I get hurt? Will I break down at mile 20 and feel too fatigued to go on? Will I eat the wrong thing the morning of the race and have stomach problems the whole way? Will I be able to fall asleep the night before? Will I get hydrated? Will I disappoint my family/friends waiting at the finish line?!
At the end of the day, I know those are all irrational fears. I know that I will be prepared and if the WORST happens, I will start and I won't finish. That won't be a life breaker. I really don't think that's going to happen — but if that's the WORST, then why be so afraid?!
And the second issue is really just that of time. I am a notorious overcommitter, and I have a lot on my plate right now. I am used to my hour ish long workouts every day, but this training is intense and requires a lot of time and diligence. It has been great for me to learn and also to teach myself that I am capable of buckling down when it matters the most. So really, my struggles end up having a positive twist too, because learning to let go of fear and anxiety and also learning to hold myself accountable even when time is spread thin are two things I've needed for quite some time.
The NOW
Right now, where I'm at in my training program is pretty much 16 or 17 miles. That may leave me a little bit behind some of my teammates due to the fact that I have been gone so much and also due to the fact that I have a mental block right now about running further than that… So let's see where these next few weeks take me! ALSO, I am running a half marathon this Sunday with my team so I am excited for that — it will be my first half marathon that I am actually TRAINED for, so I have high hopes that it will be more enjoyable than my last. 🙂
ADVICE?!?
I would love advice from any experienced runners and/or marathon vets. I have gotten so much incredible advice from readers so far, so keep it coming! I appreciate it more than you know.
THE CLOTHES.
You can shop the post below! I hope you like the Victoria's Secret activewear as much as I do. If Gigi Hadid can rock it and look like a legitimate MEGA BABE, then YOU CAN TOO!! Gigi is life.
Also… this Sherpa zip up, though. #obsessed


ALL PHOTOS BY THE EVER FABULOUS ISELIN + HALE