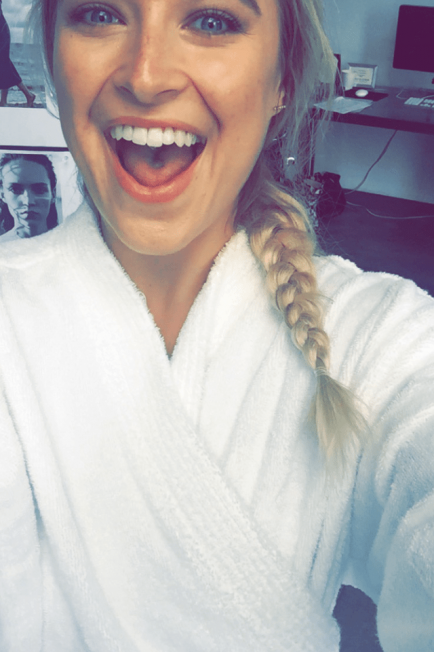 Everyone Go Grab a Copy of SELF Magazine, Because…
Because your homegirl TBB is in a story about Body Image Positivity!!! Page 74. Get your hands on it.
Wow. I can't tell you guys how excited I am about this feature, and not just because it's my first ever full-page spread in a magazine that I legitimately read cover to cover every single month. I am excited about this story for reasons far beyond the pages themselves.
When my book came out, my story was all over the news. I flipped open magazines, newspapers, tabloids, you name it — and I was either being misquoted, misrepresented or the interview itself was exaggerated to the point where it was no longer authentic to who I was. I also had that experience on super reputable talk shows and in interviews of mine on international news sites. Can you say disheartening?! I was pretty fed up with the media at that point, and was sort of afraid to share my story in another super public place (other than my blog) because of the sensationalizing of my orthorexia journey and the subsequent backlash from the vegan community.
And then along comes SELF Magazine. Around that time, actually in the very thick of the madness, a darling projects director from SELF reached out to see whether I would be interested in being in a story for their Jan/Feb issue about body image. My answer was a no-brainer "YES!!!!" but because of the craziness that was going on with my story in the media at that time I can't say I wasn't a little nervous about how I might be represented.
But from the moment I started interacting with their team I could tell that this story was going to be authentic through and through. Everyone I interacted with before, during and after the shoot and interview was beyond pleasant, super intelligent and clear about what they wanted with the story, and above all– they were GENUINE. I could tell immediately from the vibe of the situation that this was going to be a good experience.
What I didn't realize is that this was going to pretty much end up being one of the Top 5 coolest experiences of my life. When my mom and I showed up to set on that rainy mid-autumn day in November (and yes, I was still shaking with anxiety about some ridiculous headlines circulating about me online, and tens and thousands of death threats flooding into my email inbox), the energy and supportive environment of the SELF crew was ON POINT.
I got to wear some of the coolest clothes that have ever graced my body (you guys know I usually stick to the basics… and by basics, I mean 95% activewear, 5% yes-this-is-cozy-and-yes-I'm-wearing-it-at-a-bar), had the coolest hairstyle I have ever rocked, got my nails/toes/makeup done: the works. It was awesome.
And to top it all off, I got to decide which yoga poses I did in on camera, AND the photographer was super supportive (even when I was falling down) and was ridiculously fun to work with. I had a great conversation with the writer of the story and I knew that she was going to capture what I really wanted to say… that balance is so, so worth it and that it's something we are all unbelievably capable of.
Beyond the day itself, the story turned out SO BEAUTIFULLY. I have read it and re-read it nearly 25 times at this point, because it is so well done and I want to keep on soaking in the knowledge that the other awesome wellness babes shared in the piece. There is also a poll about what women really think about their bodies that compiles responses from actual SELF readers, and the imagery is stunning. Stunning!
I was honored to be featured among gorgeous sisters and models Chelsea & Alyssa Miller, and NYC personal trainer and dancer Nicole Winhoffer (aka MADONNA's personal trainer).
To celebrate the release of this story, on stands from now through the end of February, SELF asked us all to share why we are proud of our bodies. So let me tell you why I am.
Why I'm Proud of My Body…
I am proud of my body because although I have put it through so much, it is the vessel for which everything in my life takes place, it houses my soul and everything I am passionate about, and it has maintained its strength despite my past attempts to make it weak. I restricted my food intake, I overexercised, I drank a lot of alcohol and took a lot of Adderall. I have had countless sleepless nights, and I let my vitamin deficiencies get incredibly low. And even when I tried to punish my stomach for having so many intolerances and food allergies, it continued to try to heal itself each and every day, and it gave me all of the signs and symptoms I needed in order to wake up and realize that I needed to be kinder to myself.
Now that I have chosen the balanced path, the kind path, the path in which I have put in the effort and the work to befriend my body and treat it like I would treat my very best friend — it has accepted me wholeheartedly. My body never fought back when I decided it was time to recover. Yes, I put my body through the wringer again when I started eating foods I hadn't eaten in 10 years, and then took pills to try to reverse the stomach pains that I got from eating so many new things, and even still it continued to heal.
Now, now that food is so much less of an issue and I have learned how to balance my blood sugar, keep my hormones stable and treat my body well without over-exhausting myself on the daily (okay, I still do that), I can do the real work of practicing self-love, self-care, and telling my body how WORTH IT and how beautiful it is. My body is allowing me to train for my very first marathon, and carries me through 17-mile training runs even when it starts to get fatigued. Its getting used to the variety with food and to the abundance of nourishment instead of deprivation, and it thrives off of it. I get weekly massages, facials, do a lot of yoga, go to cryotherapy, take exceptionally long bubble baths, I meditate, and I BREATHE. I treat my body well and I invest in all the good, healthy, nourishing things that my body needs in order to flourish.
Our body isn't just our outer shell. It's our psyche, our mind, our spirit. I don't take that for granted like I once did, and I don't separate them anymore either. I understand that in order for my body to perform at its best and to FEEL its best, I have to treat myself well from the inside out. I don't say negative things about myself (unless I'm joking around — I can't reverse my self-deprecating humor), and I don't allow other people to criticize me for things that I happen to love about myself.
2014 and 2015 were my years of recovery, and 2016 is my year to thrive. I can't wait to see the leaps and bounds that my wellness journey takes this year, and I can't wait to see which challenges I am able to take on with ease that once were difficult for me because of my tendency toward the utmost extremes. I am always about challenging myself, evolving, growing, and never allowing my heart, body or soul to remain static or in one place. This is my year to focus on what I really love and what really drives me, and my body is going to be an essential force in bringing that goal to life. That means getting enough good sleep, rest, hydration, exercise, relationships, organization, passion projects and more.
Thank you body, for your resiliency. Thank you for believing in me when the rest of me didn't. Thank you for staying strong and for radiating on the outside exactly who I am on the inside.
And thank you to SELF MAGAZINE for the incredible feature and your beyond inspirational shift in covering athletic, mindful, powerhouse women in your magazine. That admirability is not lost on me! Those are the kinds of women I want to read about, anyway.
Has anyone checked out the magazine yet?! Badass Alex Morgan is on the cover. Which reminds me of another super exciting thing also related to Conde Nast that I will be releasing to you guys in a matter of days… Ah! Get excited. I think you will love this article, especially if you like what I write about on the blog. It's full of insightful info and advice from fantastic, real, down to earth, kick ass, beautiful women. TBB, over and out! Xo