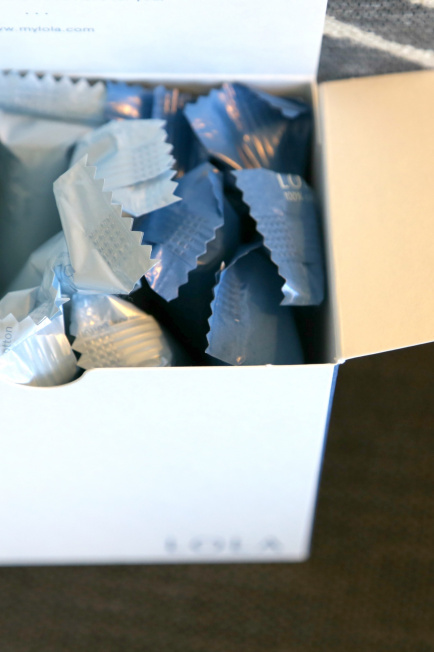 For the Ladies… A Natural Option for That Time Of The Month
Yo! Today I am writing a special post for my lady readers, because I don't know about you, but it can be HARD to find a trustworthy, natural, non-synthetic tampon brand when that time of the month rolls around. It's already a pretty miserable few days for most of us, so we want to have everything else on lock so we can go on with our lives as normal. Plus, when it comes to injecting an object inside of our body, we want to make sure we are choosing wisely. Am I right?
Here's the truth. The FDA doesn't require brands to disclose a comprehensive list of ingredients in their tampons, so most of them don't. We don't stand for that lack of info when it comes to our food and beauty products, so why should our tampons be any different? Major brands use a mix of synthetic ingredients in their tampons including rayon and polyester, and their tampons may also be treated with harsh chemical cleansing agents, fragrance, and dyes. If your body is anything like mine (a.k.a s-e-n-s-i-t-i-v-e), then that kind of unnaturalness really doesn't fly. It's uncomfortable and may cause issues over time that we don't even know about.
So, instead of remaining in the rut of using only the major brands on the market for any longer I decided to do some research. You'll find that to be a common theme on TBB throughout 2016… I got fed up with a lot of things in my life, so I got down to business and made some serious lifestyle changes that are more in alignment with my beliefs and what I need in order to make me the happiest, healthiest version of myself. And of course once I find the right products/systems/lifestyle changes, I feel that it's only right to share my findings on the blog for you guys to check out to see if you'd also maybe like to incorporate into your own life.
I am in the business of hoooopefully inspiring you to make healthy and happy choices for yourself, so that's what you're always going to find here — with a lot of daily musings and yogic quotes in between. 🙂 Just wanted to clarify that I will never promote a brand to you if I don't believe in it, and let you know that I get sent so, so, so, SO many products per week and month that never ever make it to the blog because I don't believe in them quite enough or find them relevant enough to YOU GUYS. You're what is important. You're getting the cream of the crop here in TBB land.
Anyway, after I did some hefty research I came across the brand LOLA. They are basically the "anti" of everything I mentioned above about major tampon companies. LOLA tampons are 100% cotton with BPA-free plastic applicators. So not only are they better for our bods, they are also better for the environment. PLUS, they're easy to use and refill, which is another one of my main reasons for loving them. Our lives are busy, and we can't be expected to remember/want to stock up on tampons when it's not even that time of the month yet. I know I breeze right by them in the pharmacy aisles if I'm not on my period, and then I regret passing them by a few weeks later when I am…
To make it easy, LOLA has a subscription program that is super flexible. You can change, skip or cancel your subscription at any time. AND even better, it's customizable. You can choose your mx of light, regular and supers, your number of boxes, and your frequency of delivery.
And because I love you guys and LOLA is awesome, we are offering 50% off of your first LOLA order with the code BalancedBlonde 🙂
So! Let me tell you about my experience with LOLA. They have sponsored this post because they rock. And because I tend to get super personal up on this bloggy blog, I'll have you know that I am on my period as I write this, and my LOLA subscription has legit made it such an easier experience so far. First of all, there was no pesky shopping for tampons and juggling all the boxes in my arms at the pharmacy checkout stand while the cashier stares at me knowing that I am for sure on my period — I know I'm not the only one who has been in that position!
And then there was the super positive aspect of knowing that I was putting a natural product into my body. I have been freaked out about the synthetic ingredients in most tampons for a long time, but I didn't really know about more natural options. Plus, I worried that the natural options might not be as absorbent or work as well, which would end up being a massive issue in itself.
I can most definitely say that they do work just as well as the major brands on the market, and I noticed no difference in their absorbency. These babies are hypoallergenic and the branding is SO CUTE… so for someone OCD about design like myself, the boxes make me happy to look at, and I'm cool with fishing one of these tampons out of my purse verses the paper-wrapped tampons that sometimes shred when they're next to my hairbrush and just make a mess. #TrueStory #AllTheTime
I would love to know what you ladies think if you try this company out! Don't forget to use the discount code BalancedBlonde at checkout for 50% off of your first order. They're only available in the continental US, so I am sorry to my overseas readers!! XO
Oh, and boy readers — I will be back tomorrow with a topic that you'll probably be interested in, too. 🙂