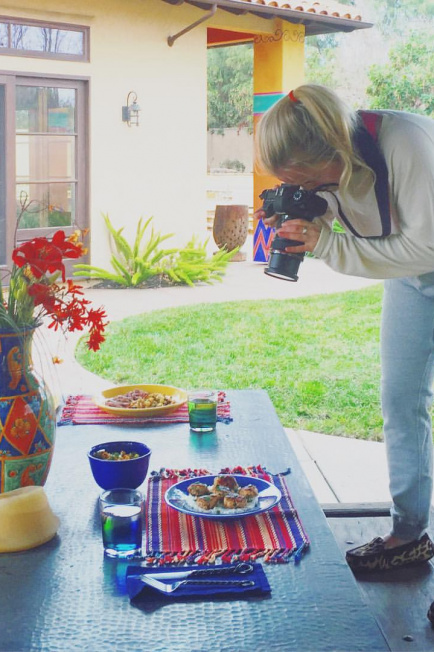 New Years Resolution #8732879: Cook At Home More!
Before I get going on the meat of this post (no pun intended… hehe), you should know that the first 50 readers who order from Blue Apron by clicking over from my site will get two free meals on their first Blue Apron order! Plus they always have free shipping. Umm… Score? Yeah.
One of my major resolutions this year is to cook at home more. A lot more. I am embarrassed to say that even though I absolutely love making food at home, I can probably count on my two hands the amount of times I have prepared a full-on meal in my kitchen in the last year — not counting easy-to-whip-up smoothies, oatmeal or three ingredient lunches. (Don't judge me.)
Cooking and being in the kitchen is like therapy to me, but for some reason I don't do it nearly enough. Actually, not "for some reason…" I know what the reasons are. One is that I have been on the move a lot for the last couple of years, and grabbing food from the hot food bar at Whole Foods or ordering in from my favorite local healthy spot is a lot more time-management-friendly for me. Another is that one of my only times to catch up with friends during the week and on the weekends is by going out to dinner, breakfast or lunch (yes, in that order) — so a lot of my free time is consumed by eating out.
Behind the scenes shooting the recipes…!
Thirdly… I am a procrastinator, so when I tell myself each week that I am going to meal prep on a Sunday or Monday (like I tell other people to do) and get all the preparation done so that cooking at home is easier, more cost effective and more time effective, whenever something else comes up I push that meal prep plan off until it just doesn't happen.
This year, I am pretty much done with the excuses in that area and in other areas of my life. I'm sick of telling myself each month that I am going to spend more time in the kitchen, and I am ready to actually DO it. I put myself to the test last week by using Blue Apron's meal delivery service of farm-fresh, pre-chopped, pre-measured ingredients for yummy and time effective home cooked meals. I realize that ordering ingredients from a meal delivery service doesn't necessarily make me chef Jordan extraordinaire overnight, but work with me people — it's a massive step in the right direction!
Also, for someone like me who has been out of the kitchen game for quite some time, getting recipe tips and tricks from the seasoned chefs at Blue Apron is an awesome confidence-booster in the kitchen. If you would have asked me if I felt comfortable making catfish and grits on my own, or a yummy filet with a side of sautéed mushrooms and potato hash, I would have said heck no. I wouldn't have known where to begin. Blue Apron's easy-to-follow directions and their pre-proportioned ingredients were a godsend, and they've inspired me to start using more herbs and seasoning in my cooking again instead of making everything in its simplest form. I do like simplicity when it comes to food, but part of the reason why I eat out so much is because I got into the rut of not knowing how to do anything but simple in my own kitchen.
The Process:
So now to tell you about the actual process of cooking again. It was awesome. If I could only express to you how many times I said, "Wait, this is so fun!" to my mom when we were making these together, you would laugh at me almost as hard as she did. Let's just say my mom spends a lot more time in the kitchen than I do, so the experience wasn't as shiny and new to her as it was to me. However, she did admit that making the dishes together was a lot of fun and that she was inspired by the detail of the chef-designed recipes and now plans on recreating them herself for her and my dad! Actually, she's already recreated the potato side dish. We both ate it for breakfast it was so ridiculously good.
For someone who thrives off of creativity and having the ability to create in any type of environment… You'd think that I would find myself in the kitchen way more often. I absolutely love the art of creating a good meal. It's so much more satisfying than ordering something off of a menu or buying food when I'm out and about. Next time, those are the things I have to remind myself when I try to talk myself out of meal prepping for the week! Plus, it will save me a lot of MONEY. I spend so much money on eating out its borderline ridiculous and not smart.
My beloved homemade kimchi below…
The Meals:
Spiced Catfish & Poblano-Cheddar Grits with Stewed Collard Greens:
This was my favorite meal of the three that we made, mainly because I am totally obsessed with grits. Seriously, if you've read my book you know that making grits in my college dorm was my thang. The spice in this recipe was on point and exactly how I like it– flavorful but not too spicy. And the catfish was so good! Catfish is something I never would have delved into making on my own, and now it's a delish new discovery that I am excited to try out again. It's so light and flaky… the best kind of fish!
Ribeye Steak for Two with Mushroom & Potato Hash:
The catfish and grits was my fav, but this was such a close second. The potato hash with shallots and mushrooms was the best combo of flavors, and the side dish itself was on the lighter side because of the flavors and the other ingredients. Perfect to pair with the steak! And ribeye steak — come on. So good.
Chicken & Garlic Chive Meatballs with Quick Apple & Brussels Sprout Kimchi: 
Even though the other two recipes were my favorites, I am probably the most inspired and excited by this one in the long run, because even though I love chicken I never really ventured into making chicken meatballs of my own before this recipe. Now that I realize how simple and easy it is, I am going to be doing it ALL the time. Look out for it in my upcoming meal prep posts. 😉
And the kimchi!!! I was so proud of this I couldn't stop showing off the finished product to my fam. They were laughing at me, but then they tasted it and saw what the hype was all about.
AND JUST SO YA KNOW, all Blue Apron ingredients are incredibly fresh and sourced from quality suppliers and artisans. Check and check.
A couple other recipes I've been eyeing to try are the Seared Salmon & Salsa Verde and the Seared Chicken & Roasted Acorn Squash… Click here to see some of their other delish options.
My mama enjoying some delish leftover grits…!
Has anyone ever tried Blue Apron?! If so… tell me your thoughts below! And if no but you've been dying to– order through this site to get two free meals from your first order!
Sponsored by Blue Apron, the best of the best!