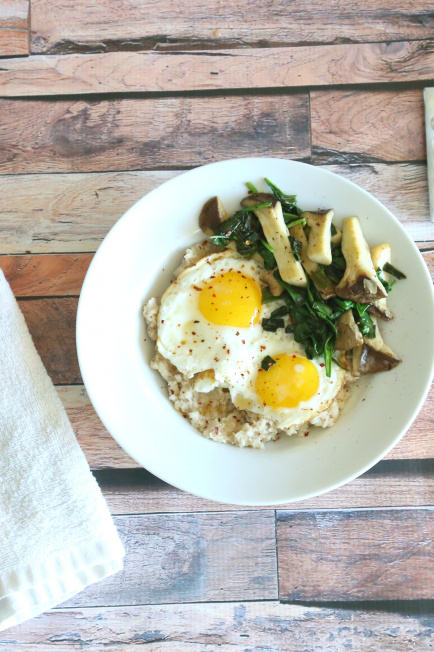 Resolutions Update & Some Delish Recipes
So you guys know that I am a huge fan of challenging myself to do healthy things both physically and mentally in order to find the healthiest version of myself, and it's been almost comical how seriously I have taken challenging myself during this month of January.
Not to sound like a broken record, but to remind you of the challenges I have been doing: I've been doing the barre3 Challenge all month with online workouts and a nutrition guide, I've been training for the LA Marathon with Team NutriBullet, I have been meal prepping every Sunday so that I can eat at home for at least 90% of my meals throughout the week, I have been doing a secret self-discovery challenge type of thing that I will talk about once I finish it mid-February, and I have also been doing the extreme challenge of cleaning out all of the excess from my life in order to live essentially, minimally and have space to BREATHE. Oh, and I've been doing a lot more yoga (thanks to barre3 for inspiring me to get my flexibility back after all this running) and of course barre online workouts in the program have helped me with my flexibility too. 
So yeah, I'm detoxing my life. In a very lifestyle-esque kind of way… not in a January cleanse kind of way. I have also challenged myself to have no alcohol and no refined sugar for the month of January. Barre3 Founder Sadie Lincoln has shared a bunch of tips to help stay on top of that particular goal without feeling deprived. To name a few: Drinking fizzy water at night with unsweetened cherry juice instead of wine (even though I am not a wine drinker but you get the picture) AND making these Chocolate Donut Holes. YUM. This has all been LIFE changing on top of the physical and emotional challenges I've set out on.
Basically, what I'm saying here is that in order to make legitimate, lasting changes in your life and find the healthiest version of yourself you have to PUT IN THE WORK. Committing to this barre3 challenge at the beginning of the year really set my mind on the right track to make some legit changes in my life and my routine. I now wake up a lot earlier, have put some new nutritional guidelines into place, have been a regular at all of my favorite workout classes again, and have learned to say "NO" to things that I don't necessarily want to do. The reason that last part is important is because saying no to the unnecessary stuff leaves way more room for me to stay on top of my own goals and intentions.
It might sound scary and intimidating, but honestly it's a lot of fun. If you find the perfect routine for you, a great workout / meal prep buddy, and / or find your own groove and what you need in order to make the challenge an enjoyable process… You will love it. You'll love feeling better from the inside out, and ultimately you'll love finding confidence and feeling downright sexy in your own skin.
I want that for ALL of you, in case that wasn't clear. And that's what I'm here for — to help give you tips and tricks to achieve that level of health and happiness. I try a lot of things so I can report back… All sorts of things from fitness programs to workout gear to natural supplements to workout clothes to clothes to wear when you're not working out. 😉
Speaking of workout clothes, the "Balance" tank from the barre3 online store that has made several appearances on my Instagram in the last few weeks has gotten more attention than anything I've worn on my IG in a LONG time. How awesome is this?! It's practically like it was made for me. 🙂 Do you love or do you love? The necklace is from their online store too!
If you missed this particular challenge, you can still do it because barre3 is keeping the Challenge Hub live through the end of Feb! All you have to do to get access to the program is subscribe to barre3 Online. 🙂
I am going to be sharing my everyday healthy moments and tagging them with the hashtag #b365 for the rest of the year — so keep an eye outfor those pics and join me!
Here are some recipes that I've fallen in love with lately that will help keep ya on track…
The Food:
As important as it is to develop a consistent workout routine and challenge yourself to try new things physically, I would be lying to you if I said nutrition wasn't also a huge component of changing the way you feel from the inside out. That's why I've chosen to focus today's post about my barre3 experience on a few of my very favorite meals from the nutrition side of their challenge.
Making these recipes was one of the main motivators for me to get back in the kitchen and start meal prepping each week. If you follow me on Snapchat (username jojoyounger), then you know I have been cooking at home like a FIEND. It's pretty much been simple, super healthy recipes that have interchangeable ingredients (think chicken, veggies, salmon, lemon kale, nutty banana oatmeal and protein breakfast cookies so I can switch up my meals with on-hand ingredients as I go along through the week) — BUT when I make recipes from the barre3 nutrition guide I feel like I am making legitimate gourmet stuff that still somehow keeps it simple. It just includes spices and a few variations that I probably wouldn't think of on my own if it weren't for their guides.
My favorite breakfast from their program is by far the Cherry Almond Vanilla Smoothie — YUM! It's so nutty and delicious, and the texture sort of makes you feel like you're drinking something more dessert-like and "sinful" than it actually is. Plus, you get your sneaky greens in there which you know I love. I love to have it for breakfast or even for a mid-afternoon snack if I've had a rigorous workout that day. Here are the deets for making it…
INGREDIENTS
2 cups pitted cherries (preferably fresh)
1/2 tsp. cinnamon
1 tsp. vanilla extract
3 Tbs. almond butter
1 1/2 cups spinach
1 Tbs. chia seeds
1 cup almond milk
5 ice cubes
Option to add in 1 TBS of raw cacao nibs to turn this into a healthy sweet treat.
INSTRUCTIONS
Place all ingredients into a high speed blender and whirl away until smooth and creamy. Easy peasy!
And then there is the Savory Oatmeal w/ a Fried Egg Recipe from the guide that is TO DIE FOR!!! This one I seriously died over because I love everything in it, and I couldn't believe someone other than myself was suggesting eating oats WITH eggs WITH veggies. It renewed my love for scallions and sesame oil too, so those have been staples in my kitchen lately…
INGREDIENTS
1 cup old-fashioned oats (gluten free, if preferred)
3 Tbs. extra-virgin olive oil, divided
1 bunch scallions, white and light green parts only, finely chopped
1/8 tsp. crushed red pepper flakes
6 ounces mixed mushrooms, such as shiitake, chanterelle, or button, roughly chopped
1 cup spinach
2 Tbs. low-sodium tamari or soy sauce, plus more for serving
2 eggs
1 Tbs. sesame oil
Minced cilantro, for serving
Pepper, for serving
INSTRUCTIONS
In a large saucepan, bring 2 cups of water to a boil. Add the oats, reduce the heat to low, cover, and simmer until fully cooked, about 10 minutes. (Times will vary depending on your specific brand of oats)

Meanwhile, in a medium skillet set over medium heat, warm 1 ½ tablespoons of the olive oil. Add the scallions and crushed red pepper flakes. Cook, stirring often, until the scallions start to soften, about 4 minutes. Add the mushrooms and continue to cook, stirring often, until the mushrooms start to soften and brown, about 8 minutes. Reduce the heat to low and stir in the spinach and tamari sauce. Cook, stirring often, until the spinach wilts, about 1 minute. Remove the skillet from the heat.

In a small nonstick skillet set over medium heat, warm the remaining 1 ½ tablespoons olive oil. Crack the eggs into the skillet and cook until the whites are set and the yolks are cooked to your liking, about 3 to 7 minutes depending on your preference.

Meanwhile, divide the oats between two bowls. Top with the mushroom-spinach mixture and drizzle with the sesame oil and additional tamari sauce. Top each bowl with a fried egg and garnish with the cilantro and pepper. Serve immediately.
So basically, joining this program has been above & beyond one of the best decisions I could have made for myself this January. It reinvigorated my love for cooking, stretching (thank god because of all of the running) and for being motivated by a supportive community of people working toward the same goal. The challenge is lead from beginning to end by founder of barre3 Sadie Lincoln, and she is one awesome and inspirational #girlboss.
I plan on continuing this challenge allll throughout the year but is that a surprise? I don't necessarily commit to things that are a "one stop shop," if you will. I like to commit to challenges that will be sustainable lifestyle changes and add value and positivity to my life. I will probably incorporate the online barre classes into my weekly circuit of workouts 2x a week on top of yoga, running and HIIT. And rest and downtime of course. 🙂 I'm not encouraging you to be a fitness maniac… Even though I kind of am, haha.
How did everyone else's resolutions go this January?! My friends are cracking up because I have always been very anti "resolution" and more about GOALS because I feel like resolutions usually fall by the wayside… but I have been pumping out my resolutions this year and falling on top of the world because of it! I guess there is something to be said for everything. Would love to hear about your journeys. 🙂 XO