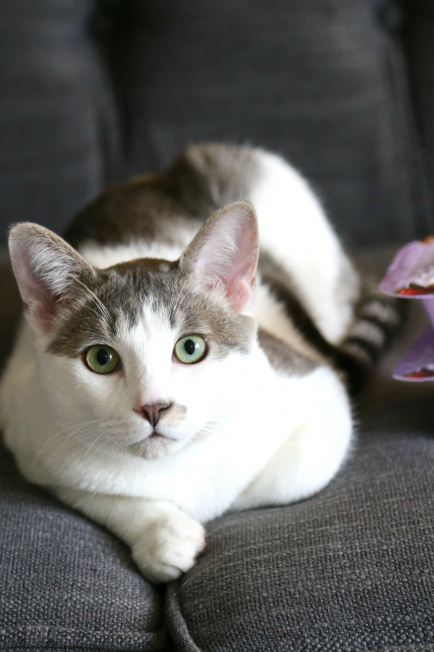 Hi guys! Let's talk about yogurt. I get all sorts of questions from you about yogurt, and up until recently I had all sorts of my own questions about it too. (Ask my nutritionist, I would send her photos from Whole Foods of all the different variations and be like: "HELP ME.")
It can be bit of a controversial topic in the health world unless you know what to look for on the nutrition label. I want to give you the down low on what to look for so that you don't have to panic in the grocery store or avoid yogurt all together. There are actually wonderful options that will leave you feeling fueled & energized instead of bogged down and brain-fogged from the added sugar.
For those of us who watch our sugar intake, yogurt can be one of those tricky snacks. It is either packed full of calories to the point where I would personally rather be eating a full blown meal, or its low-cal and loaded with sugar. The sugar option is worse in my opinion health-wise, because then your blood sugar spikes and you are left with more sugar cravings and hunger shortly thereafter when you should have been satiated by your well-intentioned snack!
I should add that I'm not a calorie counter and I like to eat based off of how I feel rather than off of how many calories are in my food. If you're really listening to your body, calories don't matter because you wont over eat or under eat when you give the bod what it wants and needs! BUT I like to include low-cal options on this bloggy because I know a lot of you are trying to reach a healthier lifestyle and/or maintain your healthy lifestyle, and I respect that so very much.
Plus, who doesn't like to read about light, healthy, natural, non-GMO snacks?
So! In my research about healthy low-cal yogurt options that are NOT filled to the brim with fake sugar and artificial grossness, I came upon Chobani's brand new Simply 100 option. It's a little yogurt cup with all natural & non-GMO yogurt and crunchy mini-snacks to mix in! I am ALL about that crunch, as you guys know, so it sort of thrills me that this yogurt has a fun little twist to it.
I have partnered with Chobani to bring you this post, but that doesn't mean I don't 100% believe in what I'm sharing with you. If I didn't…. I wouldn't be writing about it. I am so stoked to arm you with this knowledge so you can feel your best from the inside out!
Simply 100 is crafted with delicious real fruit and it's packed with protein, fiber and calcium. Believe it or not it is the ONLY 100-calorie yogurt on the market that is made with all natural ingredients and isn't pumped with sugar. It has 75% less sugar than other "light" yogurts of its kind… And for that reason alone it has me hooked!
YOGURT DO'S & DON'TS (to look for on the nutrition label): 
DO:
stevia (in abundance), monk fruit (in abundance), and small amounts of evaporated cane juice are okay (less than about 8g)
10g+ of protein, 3g+ of fiber (roughly)
All natural
Non-GMO
"No Artificial Sweeteners" label
Real, wholesome fruit inside
Kosher, Added Probiotics & Gluten-free are all pluses, but it's up to you
Live & Active Cultures — good for the tummy!
DON'T:
don't buy into the "non-fat" or "low-cal" labels on their own, because that usually means its loaded with sugar
large amounts of evaporated cane juice (more than 8g) and/or double digits of grams in the sugar department
low amounts of fiber and protein, because then it won't keep you full!
Gelatin (fakeness alert)
Milk Protein Concentrates (please watch out for these — MPCs are more or less a cheaper, foreign alternative to non-fat dry milk)
"Natural flavors" — unless the flavors are disclosed and detailed in the ingredients section, this leaves the door open for anything that originated in nature before it was processed in a laboratory. No bueno
Overall, Simply 100 fits the bill. Overall, 99% of other "low-cal" yogurt brands do not.
I am so appreciative of companies like Chobani who recognize the importance of offering healthy, natural options for the snacks we all grew up on that we know and love. I don't know about you, but when I was little I had a yogurt in my lunchbox EVERY single day. And I had no idea (and I'm sure my parents didn't either) that all the yogurt brands on the market back then were packed full of sugar and artificial ingredients. I may as well have been downing ice cream with my lunch every day.
Chobani is in alignment with the balanced healthy lifestyle that I bring to YOU guys each and every day on this bloggy, and for that I am so grateful. I have great memories of walking past the Chobani store in SoHo when I lived in New York and seeing lines and lines of people wrapped around the corner to get their Greek yogurt with fresh toppings. It's a heck of a lot better than the local fro yo option, that's for sure! It makes my inner wellness freak smile from ear to ear. 🙂
So, to celebrate their new Simply 100 option and to spread the word to all of you guys who I love to keep in the know about the healthy new products out there, I have created this beyond delicious smoothie recipe with the yogurt. I hope you enjoy!
Low-Glycemic Berry Green smoothie 
INGREDIENTS:
1 cup spinach
1/4 cup raspberries
1/4 cup gluten-free oats
1 tablespoon almond butter
1 cup Chobani Simply 100 blueberry flavor
1/2 cup almond milk
1/2 cup ice
METHOD:
Blend in a high-speed blender or food processor, and top with raspberries and/or coconut shreds to taste.
•PRO TIP: up the fiber content with 1 tablespoon or flax and/or chia seeds! I've been doing that with everything lately and loving it. 🙂
I have been going fiber-loco lately because with all of the switches in my diet (and my elimination of unnatural sugars) I need it to keep my blood sugar stable and of course to keep me regular if ya know what I mean. The fiber content in Simply 100 is good, and with the added flax or chia seeds in this smoothie you'll be feeling fab and will have a nice, stabilized baseline after having this for breakfast or for a late afternoon snack!
PLUS, it's low-glycemic! That's why I've used raspberries instead of a higher glycemic fruit, and why I've kept it to 1/4 cup instead of more. If you don't watch your sugar intake like I do, please feel free to go ahead and add more berries. Berries are full of antioxidants and will replenish you after a good workout.
And, just to make it clear, I am not on this low-glycemic train because I'm trying to deprive myself. Actually, quite the contrary. All I want is to feel my absolute best in my skin and to have a great relationship with food, and the elimination (at least mostly) of sugar really helps me achieve that goal. It keeps my hormones and my blood sugar stable, and it leaves me craving healthier foods AND with more energy to be as active as possible. It's a win win for me, but everyone has their own relationship with sugar and by no means should you cut it out just because I have.
Overall, Simply 100 is a winner in my book! They've got it goin' on and they are LEGIT natural and non-GMO, and the low-cal thing is actually just true because it comes in a smaller portion, so my fab readers looking to keep weight off are in luck. 🙂
Thoughts?! Who's tried it? Who has been sucked into other types of low-cal yogurts that fall under my "DON'T" list?! I think we've all been there…