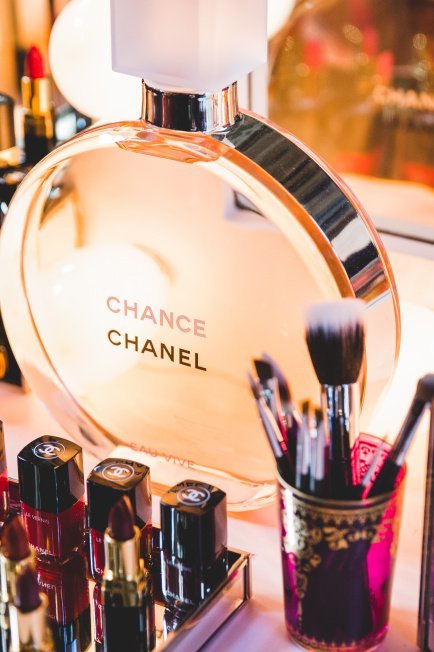 CHANEL's Backstage Party + New Beauty Line!
Last week, as I've mentioned, was a wild week. I had Morgan in town, and we spent the week hopping around to events, meetings, different neighborhoods in LA & staging all sorts of our own fun photo and video shoots. One of my absolutely favorite things we did was attend a special preview of CHANEL's "I Love Coco Backstage Beauty Lounge" at Bar Marmont. The event was a celebration of their new range of LE VERNIS Longwear Nail Color & their ROUGE COCO STYLO lip shine — both of which I fell head over heels in love with. (It's CHANEL… Can you be surprised?) 
Although it was a daytime event, each room was so chic and had so much to do/see that I felt like we had a full blown night out on the town. Plus, we ran into some of my fav blogger babes & had a blast with the CHANEL PR team so it legitimately did feel like we were backstage at a concert and/or at a really fun party.
Before I tell you all about the products I fell in love with at the event, I will walk you through getting ready for the day. For me, getting ready for an event (and anything in life) is relatively low maintenance. I don't wear a lot of makeup, I dress pretty casually & comfy everywhere I go, and I have my go-to routine with makeup & hair products down to a very quick and easy science. I am also freakishly last minute, ALL the time, so sometimes I don't really stop to think about my outfit until I am 5 minutes from flying out the door.
Enter Morgan. Morgan is basically the more well-planned out, stylish & creative male version of me. (Yes, more creative than me… He is the ultimate in creativity.) So being Morgan, he started picking up on a trend we were seeing on girls at castings / showrooms / all over West Hollywood. So many girls were wearing cute little sundresses with hightop Nikes or Adidas — and as he started pointing it out we both sort of fell in love with the look.
The night before the CHANEL event, we were out to sushi at Wabi Sabi in Venice (some of the best sushi in LA, hands down) and decided we needed to go out a little shopping spree for new high tops of some sort. I haven't owned a pair of high tops since probably high school when I rocked the hot pink converse (I was obsessed with those), so I was pretty stoked to find the perfect pair. We had a vision of the shoes with a black A-line dress and a fishtail braid, SOOOO we found the perfect pair at Nike and snagged them right before the store closed. We also found some cute Adidas for Morg so we could be kinda matchy matchy with this look.
The next morning I had Brittany come over to do my hair & makeup — I was too excited about this look to attempt to do my makeup and fishtail myself. (Side note: if I had done my own fish tail it would have been all sorts of messy looking, haha.) Isn't Britt the most adorable ever?! I am so lucky to have her as my #1 go-to gal. Seriously… I haven't had anyone else do my hair & makeup since before knowing her.
Brittany does a MEAN fishtail, the best smokey eye, she is FROM Sactown, and Huddy is madly in love with her so we always want to keep her forever when we comes over. She was actually at my apartment doing my makeup the morning after I brought Huddy home… When he was just a 1 pound little baby — who yes, later that day, got stuck under the dishwasher.
After I was all fishtailed out, I finished getting ready and we headed over to the event. If you follow me on Snapchat… You also know that we were scream-singing "7 Years" by Lukas Graham in the car all the way there — because luckily Morgan is just as obsessed with that song as I am. Or maybe I am more obsessed, but he indulged me.
Basically from the moment we arrived I knew we were going to be some of the last people there at the end because there was so much to check out and so many great people to hang with! (For the record, we totally were.) We were greeted by the lovely Teresa from CHANEL's team, who gave us the grand tour and showed us all the cute little rooms/activities — VIP Beauty Lounge, manicure bar,  refreshment patio, bar w/ stage (where Annie & I then proceeded to form our own very small but very awesome girl band), and all of their new products.
I was so thrilled to bump into my love Annie Lawless when we first walked in the door — it must have been fate, because she is one of my favorite humans and is the very first person we saw when we got there. Luckily we had Morgs to snap some photos of our obsessive lipgloss testing & our overall excitement to be reunited.
And yes, we got on stage to perform our own Spice Girls rendition — I mean duuuhhhh. We got serious about adjusting the mic to make this a legit experience. Balanced Blawndes on tour, anyone? (If only you could hear my voice when I sing in the car/shower you'd run the other way!!)
And now my fav products!!!
I loved all of their new nail & lip colors, but my absolute favs were the CONTE lip shine, the LETTRE lip shine, the ORGANDI nail color (which I was rockin' all week until yesterday — when I got crescent moons on my nails at the new OLIVE & JUNE in Santa Monica!) and the BALLERINA nail color. If you're seeing a light pink theme here… It's because I definitely gravitate toward a light pink lip and nail color whenever possible. I try to rock the darker colors on my lips, but usually they are SUCH a statement on me because I am so subtle with my makeup that I end up not feeling 100% me. HOWEVER they are fun so I still rock the darker shades for special occasions. 😉
And also what I love, love about their new lip shine is that it gives the intensity of a lipstick, the shine of a lipgloss and the comfort/soothing of a lip balm — all in one. I love the easy applicator tubes and the nourishing formula of Apple Seed Extract and hydrating Jojoba Oil and Coconut Oil. I have been keeping 4-5 in my purse at all times and reapplying like crazy — I have never felt so prepared! 
Any excuse to hang with my loves in the middle of the workday is a great one, right? ALSOOOO get excited for more CHANEL collabs coming up on TBB– think makeup vids + other little surprises. 😉 Working with brands that I truly love and stand behind 100% makes me the happiest.
After this we hopped over to Playlist yoga to film some videos with Calvin & Sophie, and then to Lou & Grey in Pasadena for a Breaking Vegan book signing! It was quite the jam-packed day, and the best end to a week with Morgs in town.
What do you think of CHANEL's new lip & nail colors?! Any favs!! Tell meeee your thoughts! Also, who votes for Morg to come to LA full time and do so much more of my photo + video work with me!?!?!