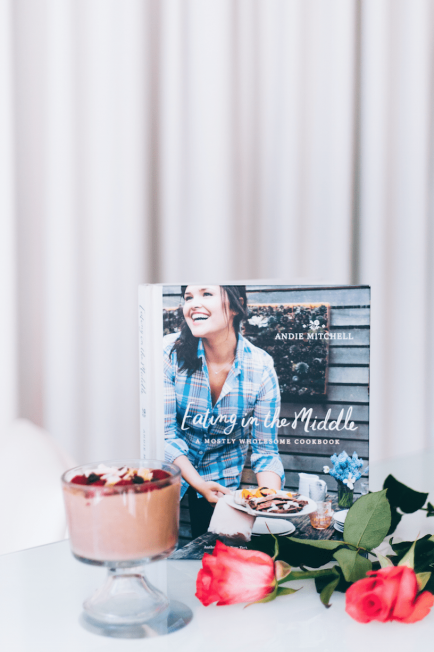 Chocolate Chia Pudding from A Cookbook You NEED in Your Life
GUYS! If you are not already obsessed with Andie Mitchell, you're about to be.
I fell in love with her after reading (a.k.a devouring…) her first book, the NY Times Best-Seller It Was Me All Along about her journey through obesity, losing weight, finding balance, love and loss & so much more. Her writing style is SO on point, and her story-telling is out of this world.
Mainly, after reading her book, I basically knew we were soul sistas destined to be best friends. 
Here's the cool thing: I WAS RIGHT!
Last May in NYC I had the fab opportunity to go to lunch with Andie, and our bond was immediate. Our journeys have so many parallels, and we experience a lot of the same struggles and successes daily in our mutual quests for balance, trying to live our healthiest lives, living the curious but awesome writer/blogger life, and so much more.
Also, CRAZY parallels exist between our love lives but that's another story for another day. I will go on record now and say I may have shed a tear or two when I found out that Andie and Daniel are ENGAGED (their relationship history is a big part of her first book). Congrats to them and I can't wait to watch their lives blossom together.
ANYWAY, now Andie has written book #2, her cookbook Eating in the Middle, and I could not be happier for her. Flip open the book and check out the inside cover for a lil' quote from yours truly. 😉 #proudmoment
Chocolate Raspberry Breakfast Pudding // YUM
So many of the recipes in Andie's new book are beyond delectable, including the baked banana bread donuts (holy crap, amazingness !!!!), peanut butter granola parfaits, roasted carrots with honey butter, on and on. But the recipe that stole my heart immediately is the chocolate raspberry breakfast pudding.
Partially, I'm obsessed with it because I am obsessed with anything chia, chocolate and plant-based when it comes to breakfast. Secondly, it reminds me of my fav chocolate chia seed pudding from Gingersnap's Organic that I LIVED off of in NYC and ate every morning for quite some time.
This breakfast pudding is particularly nourishing, filling and nutrient-dense because not only is the chia soaked in almond milk, but also in plain 2% Greek Yogurt. (Well, I used Siggi's. My ultimate fav yogurt.)
Andie suggests topping the creation with coconut flakes & raspberries, and I was ALL about it because toppings are my jam. I also added some dairy-free chocolate chips and some additional maple syrup, because why not? #treatyoself
Ingredients:
1 1/2 cups unsweetened vanilla almond milk
1 1/2 cups plain 2% Gree yogurt
3 tablespoons unsweetened cocoa powder
1/4 cup pure maple syrp
1/3 cup chia seeds
2 cups fresh raspberries, for serving
2 tablespoons unsweetened coconut flakes, for serving
Method:
1. In a medium bowl, whisk together the almond milk, yogurt, cocoa powder, maple syrup and chia seeds Let stand for 30 minutes. Stir to redistribute the chia seeds. Cover the bowl and refrigerate overnight.
2. In the morning, divide the pudding among 4 small bowls and top with the fresh raspberries and coconut flakes.
Nutrition:
Per Serving (Serves 4):
Calories: 256, Protein: 11g, Carbohydates: 35 g, Fiber: 13 g, Sugar: 20 g, Total Fat: 11 g, Saturated Fat: 3 g, Sodium: 116 mg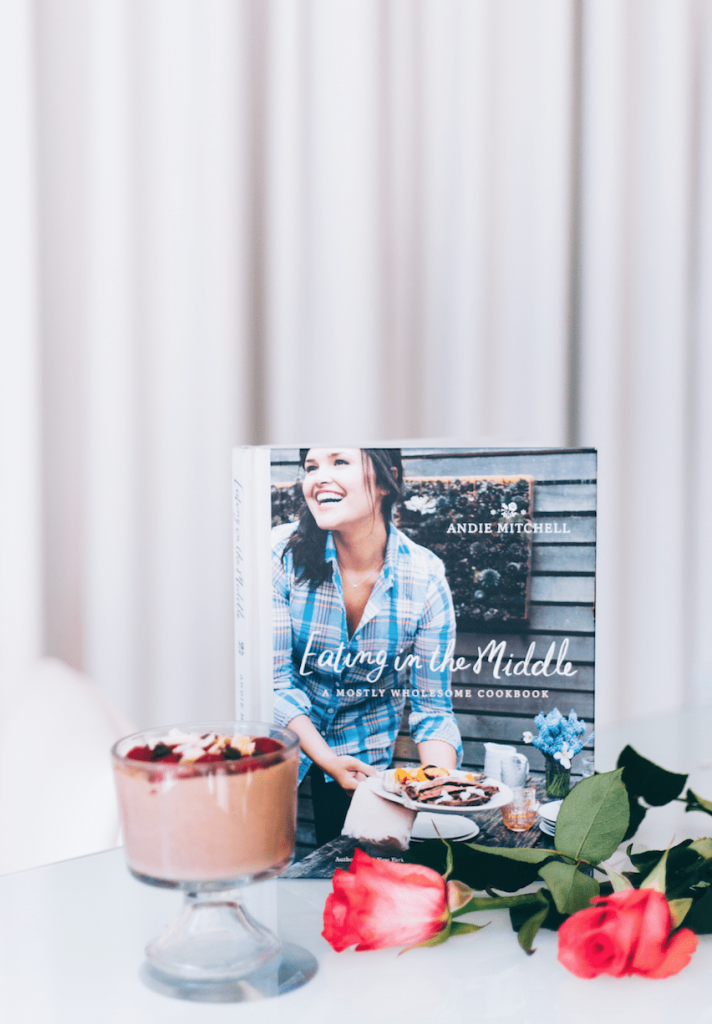 Boom. How BEAUTIFUL is her book? How beautiful is she?? Dying.
I ate this breakfast pudding every morning for almost a week after I made it — score! I love how the flavors soak in over time, and nothing is better than a gelatinous lil' chia seed. Yeah, I said it.
Do yourself a favor & check out Andie's new cookbook, and her original memoir. I mean it when I say her memoir inspired me to dig deeper while writing my own, and now her cookbook is a staple in my kitchen.
BTW guys, my weekly TBB Tribe newsletter is BACK! If you haven't signed up, you can do so here. I'll be recapping the blog each week, providing yummy recipes not seen on the blog, sharing good music, good podcasts fav quotes & wellness news — Check it!!
XO