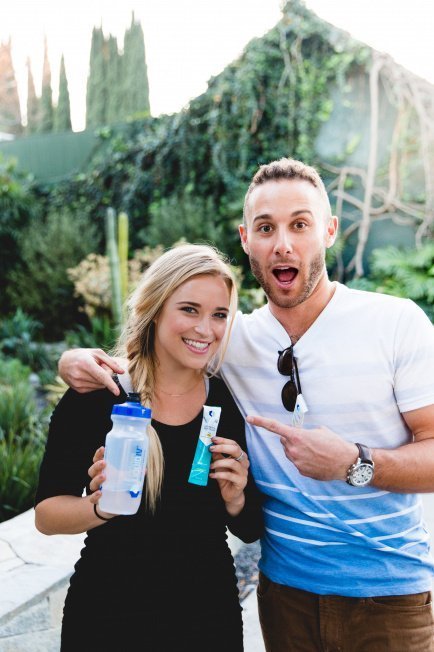 Top 10 Reads + 'How Well Do You Know Your BFF?' Video!
Ahhh, today is so exciting because today marks the official resurgence of my TBB TV YouTube channel!
I can't think of a better way to celebrate than by posting THIS VID with one of my best friends, Brandin Cohen, co-founder of Liquid I.V. & all around one of my very favorite humans. You guys will know him as well as I do by the time you finish this video — we dug deep & talked about everything from our first kiss (middle school, baby) to what we both order at bars to what he's looking for in a girl / what I'm looking for in a guy.
It's SUCH A FUN VIDEO. I can't stop watching it — it showcases our personalities to a tee, and it seriously feels like you're sitting right there with us and in our convo! Props to my video dude Morgan Oliver Allen for killing it with this. He knows how happy I am that he makes a few appearances in the vid as well. 😉
I love, love, looooove connecting with you guys on camera & being able to speak directly to you & show you my personality off of the computer screen! Before this, I took a little hiatus from YouTube because…
a) life is busy & I've been focusing on the bloggy, TBV Apparel & my book!
b) y'all know I've had some crazy backlash from the ethical vegan community about my transition from veganism, and the bulk of the Internet trolls exist on YOUTUBE. Yep, YouTube. So my hiatus was in partial to be like, "K BYEEEE haters, focusing on plenty of other things while you duke it out amongst yourselves like loons in the comments section."
Watch the video, subscribe to the channel (so much fun stuff to come! Yoga tutorials, cooking videos, #GIRLBOSS series, more 'How Well Do You Know Your BFF?' vids, on & on!) & TELL US WHAT YA THINK!
Comment on the video & give it a thumbs up to enter to win a free month's supply of Liquid I.V., the healthy hydration supplement that Brandin co-founded & that I run the social media for!
Enough about YouTube. Even though YouTube is AWESOME. Top 10 Reads of the Week:
01 | The Shop Files' How to Create a Cohesive Instagram Feed. This is pure gold. Read it, soak it in, breathe it. Apply these tactics!
02 | Create + Cultivate's Design Star Emily Henderson on How She Really Feels About Working for Free. So many good tidbits in this interview about branding, how she got started, the only time she will work for free, and more. Take notes in your #BOSS journal. 😉
03 | The Chalkboard Mag's 3 Hormones Your Emotions Rely On. You know I am obsessed with hormones lately and learning all about how to keep them in balance so we can keep our bods nice & happy. This awesome article gives tips & tricks on which foods to eat and avoid to make each hormone receptor happy… & more!
04 | Elite Daily's 10 Things We Did When We Were Kids That Can Help Us De-Stress As Adults. Well, I'm obsessed with this. Point blank. So on point for all the obvious reasons… let's hang out sans cell phones, play sports for fun, take bubble baths, drink less coffee & stop caring so much what other people think.
05 | Mind Body Green's 5 Weird Questions to Help You Uncover Your True Purpose. My personal fav: Where do you find your mind drifting when it's free from worry?
06 | Well + Good's 5 Surprising Ways Your Gut Affects Your Weight, Food & Stress Level. Eighty percent of your bod's immune system is in the gut! Educate yourself on this awesomeness so you can stay as informed as possible – and feel as good as possible. 🙂
07 | Huffington Post's What Happens To Your Body When You Skip A Meal or Two. Hint hint: not advised.
08 | Well + Good's Dave Asprey Thinks We Can Live Until 180 — And Bulletproof Our Ice Cream. Love this man & his wise teachings. Check out his top three wellness tips!
09 | Jonah Feingold's The One Thing You Should Be Doing at Coffee Meetings. And before he tells you, he stresses the importance of actually planning said meetings. 😉  
10 | Fit Life TV's 20 Things to Do At 30 That Will Make Life Better at 50. I have a few years before I reach 30, but I still relate to a lot on this list and I think there are a bunch of great tips.
So! Thoughts on the articles? The VIDEO? Check it out and enter our Liquid I.V. giveaway! xx