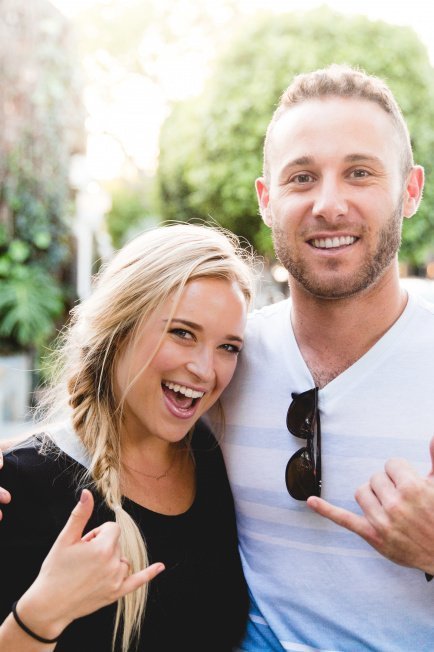 Best Friend Q&A Part II: What I'm Looking For in a Guy + MORE!
Guyyyys!! Part II of the Best Friend Q&A series on my TBB TV YouTube channel is now live! You'll get to know my BFF Brandin Cohen & I way too well through this video. (As well as Part I!)
What's in the vid?! —> What I'm looking for in a guy, have I ever dated two guys at the same time (the answer is yes… LOL), my dream house, what Brandin thinks is my WORST quality, forcing B to say Breaking Vegan is his fav book, trying to say 10 things about ourselves in 10 secs or less (he's way better than me), & more. 🙂 
Our Part I has gotten a great response so far and was also just crazy fun to film and is now crazy fun to watch (and re-watch, and re-watch… this is what I do when I love something far too much).
Why YouTube is the Most Fun Ever….!
I love this series because there's nothing I love more than taking the TBB brand off the screen & showing you guys who I am in real life — silly, quirky, passionate, and also surrounded by the best people with the greatest energies because that is really what fuels my soul and allows me to do what I do in the first place.
My people are everything to me so having the people I care about most in my videos is da bomb. Then you get to see what I'm really really like and not just what I am like talking to a camera! Soooo, yes that means BFF Q&A is a series and there will be lots and lots of fun videos like this to come! Couldn't think of a more fitting person to start it with than B. 😉
I am soooo excited to have TBB TV back up & running on a regular basis (1-2 vids per week coming at you, plus weekly VLOGS!) and am really excited to be connecting with you guys in this alternate way.
FUN, RIGHT?
So what I'm really saying here is subscribe to my channel if you like these vids & wanna see more, because I feel myself getting super passionate about the video life and want you fab TBB readers along for the ride.
But don't worry — I'll keep posting about them here regardless… Along with Top 10 Reads of the Week, Loving Lately's, heart spilling posts (my absolute favorite kind) & ALLLL the rest.
Anyway, check out our newest vid & let me know your thoughts!! Tell me if you have suggestions or any questions for an upcoming YouTube Q&A… That's gonna be a real fun one. 😉
XO