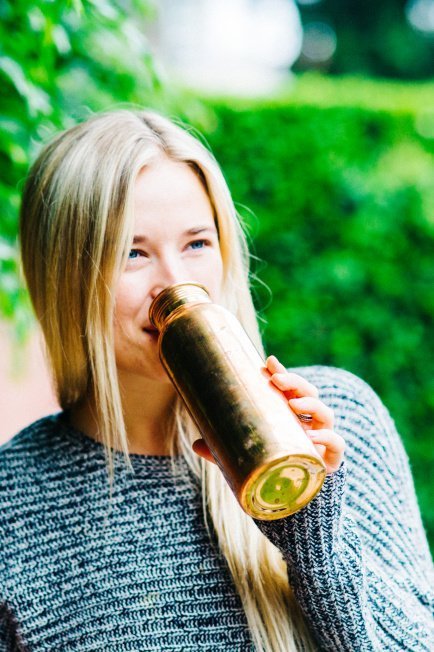 You Wanna Drink Out of a Copper Water Bottle: Here's Why
Hi! Hi hi hi hi.
Had to say it a bunch of times because I've been sort of MIA for the last week ish, I know. But I promise that doesn't mean I haven't been working my butt off to create fun new content for you guys!!
I am currently working on a travel VLOG for TBB TV  to show you guys everything we did in Austin, Texas last weekend. If you follow me on Snapchat (@jojoyounger), then you already know that I vlogged there too, hehe. Like a lot a lot.
(PS "vlog" = video blog, if ya didn't know. Needs to be in your lingo repertoire, because I am about to be using it a lot.)
And if you're not a Snapchat person, then… Spoilers: Austin was a BLAST. Even rode a mechanical bull. And yes, I got bucked off in under 10 seconds. LOL.
I'll refrain from telling you everything else I've been working on this week even though I desperately want to share ALLLL the deets with you, but you'll see shortly. 🙂
Guys. Copper water bottles.
First of all, they are so cute & will make you want to reach for more & more water every day because they're so eye catching.
Secondly, this one is only $17 on Amazon. And this one is $28, if you feel like splurging on yo health. (Honestly they look the same to me and I have the $17 one and I LURVE IT.)
Butttt that's not the main point. There are tons of reasons to drink out of a copper wattle bottle, and I'll tell ya why.
( Shoutout to my gal pal Geri Hirsch for writing this post on copper water bottles that went straight up viral — I'm so glad I discovered it so that I can share this realness with you guys now. And shoutout to Suzanne Hall for intro-ing Geri to the copper water bottle life. #girlpower #womeninwellness #copperwaterbottlelife. )
9 Reasons Why You Need to be Drinking Out of a Copper Water Bottle
AYURVEDIC HEALTH BENEFITS UP THE YIN YANG! That's right, my new-old favorite traditional Indian practice strikes again. According to Ayurveda, water stored in a copper vessel has the ability to balance all the three doshas in our bods. (I'm a PITTA when in balance, if you were wondering.) It does that by positively charging the water.
It's Better for Your Digestion! Copper has properties that stimulate your digestion, kill harmful bacteria & reduce inflammation — which is also why it's a great natural remedy for tummy probs, indigestion, and ulcers.
D E T O X I F Y I N G. Copper helps cleanse and detox your stomach by regulating your liver and kidney function, absorbing your nutrients from food and helps you properly eliminate waste. 😉 The best time to drink it (by Ayurvedic standards) is first thing in the morning and warm.
Anti-Aging Benefits! Copper is a great natural remedy for anti-aging because it's packed with anti-oxidants to fight off free radicals. It also helps with the production of new & healthy skin cells. Score & SCORE.
It's good for your THYROID. This one was awesome for me to hear because I've had some thyroid problems lately. Apparently one commonality among people with thyroid diseases is that they usually have low levels of copper in their body. Who knew?  Copper is one of the most important trace minerals the thyroid gland needs to function optimally!
Skin health. Since copper is the main component in the production of melanin, drinking from a copper water bottle can help with melanin production that helps the body stay safe from sun damage and also helps healing from scars and blemishes. Plus, staying hydrated is great for your skin in general.
Cardiovascular health. What what!! Important x 3874239084. Copper helps minimize the risk of heart disease by preventing accumulation of plaque, and also helps dilate blood vessels to allow better blood flow to the heart.
Stimulates yo brain. Copper is known to have brain stimulant and anti-convulsive properties (prevents seizures), that do a world of good for your brain.
It's CUTE & will remind you to drink more water throughout the day. Sounds silly, but it's true. I grab it all the time because its so much more eye-popping than my other water bottles so it keeps me more hydrated throughout the day.
ALSO, a couple of words: Copper is not innately used by our bods so you don't want to OVERDO it with the copper water bottle drinking. 2-3 times a day, interspersed with your other water vessels. 🙂
It's such an all natural way to stay on top of our health with NO added stress / medication / lifestyle change, & that is why I love it, love it!
We can all incorporate this awesomeness into our lives!
X
PS… SO STOKED to share the Austin vlog with you. Like dying. Subscribe to YouTube so you can see it when it goes live!
Thoughts on the copper water bottle?!? Get one for yourself HERE.