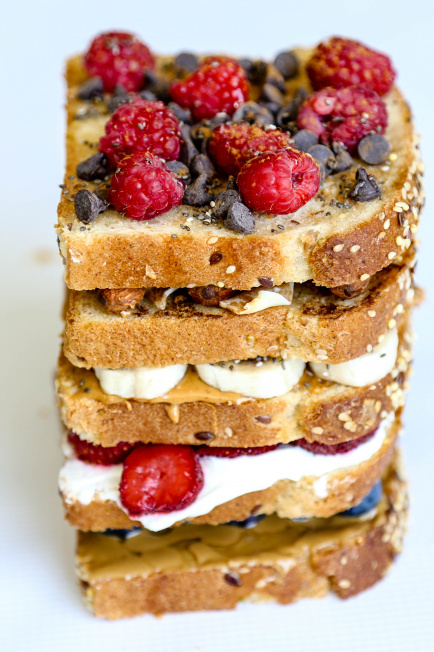 Gluten-free Toast 6 Ways + My FAV G-Free Brands
Happy MONDAY, my beauties!
Thanks so much for sharing your blog names & a bunch of your favorite blogs with me in the comments of my last post. I just spent the morning reading through them while sipping on my DETOX drink from Elissa Goodman's S.O.U.P Cleanse (more on that to come), and I am so stoked to get to reading tonight!
I love, love, love seeing what other bloggers are up to in this awesome wellness/food/lifestyle/fitness/everything space. If you haven't shared your blog or your favs yet, write them below so I can check them out & support!
Secondly… We've been having a LOT of fun with the TBB Tribe newsletter every Sunday night, so if you are looking for weekly updates, yummy healthy recipes, event discounts, latest TBB news, "what I'm currently loving," and more… that's your spot. You can sign up here!
Now, GLUTEN-FREE TOAST 6 WAYS!!!
Sorry, but there is nothing better than starting the day with a BOMB piece of gluten-free toast slathered with all sorts of goodness.
I am sharing 6 of my favorite ways to get toasty with it below, but before I do I wanted to share some of my favorite (NOT sponsored, just realness) g-free bread brands with you because that seems to be a big question from a lot of you!
Fav g-free bread brands: 
Udi's gluten-free millet chia bread: You can find it HERE. It's made mainly of brown rice flour, millet seed, egg whites, rice bran & flaxseed meal — I have grown accustomed to the taste & I LOVE it, but it may require getting acquainted with the g-free life before you love it as much as I do. 😉
Rudi's gluten-free multigrain sandwich bread: You can find it HERE. It is made from all natural ingredients and the "bread-ness" comes from rice flour, cornmeal, sunflower seeds, millet, flaxseed and egg white.
Julian Bakery's paleo bread: You can find it HERE. In all honesty, I am OBSESSED with this stuff. I like it better than the two that I mentioned above, but it is more natural and packed with a ton of superfood ingredients and NOTHING processed, so it is def more expensive. In order for this bread to taste its best you have to toast the shit out of it… So be sure to do that if you go with this one! You won't regret it. ONLY ingredients are purified water, organic coconut flour, egg whites, psyllium seed powder, organic apple cider vinegar, potassium bicarbonate (potassium), sea salt. You can store in freezer and use for a long, long time!
Grain-free paleo bread & baking mix: You can find it HERE. If you like to make your own bread, then you might like this brand. I would much rather buy it at the store or make it 100% from scratch (time saving vs. the best homemade bread ever…), but some people prefer it from a mix because you get the best of both worlds. This one is from Jackalope foods and I like that their ingredients list is short, and all natural!
Now… For real, for real: G-free toast 6 ways!
BTW these all happen to be vegetarian as well, and even vegan as long as you substitute honey for agave/maple!
PB, Banana, Chia, Agave: Let's be real. This is the OG of all gluten-free toasts. Before trendy avocado toast brunches with egg, salmon, burrata, etc. were all the rage, THIS was everyone's go-to. Super simple because all you need is peanut butter (I like this brand), banana, chia seeds (love this brand) & agave (this brand). BOOM. Drizzle drizzle, sizzle sizzle.
Avocado & Arugula w/ Flax Seed or Nutritional Yeast: This bad boy is as healthy as it gets in toast-land. It's entirely sugar-free (if your g-free bread is sugar-free, at least) and it's jam-packed with healthy fats, antioxidants, potassium, and fiber. After slicing your avo and topping with greens, you can drizzle on some flax seed meal (this brand) and/or nutritional yeast (this brand). I like to do both!
Coconut Yogurt & Strawberry Slices: This one is great because it can double as a sweet post-workout treat or even a dessert (feel free to add agave or honey too if you want!). Nice and simple and full of flavor and antioxidants thanks to the strawbs. As far as coconut yogurt goes, this is a great brand. I always buy unsweetened too since coconut is sweet to begin with — no one needs those additional grams of unnatural shug!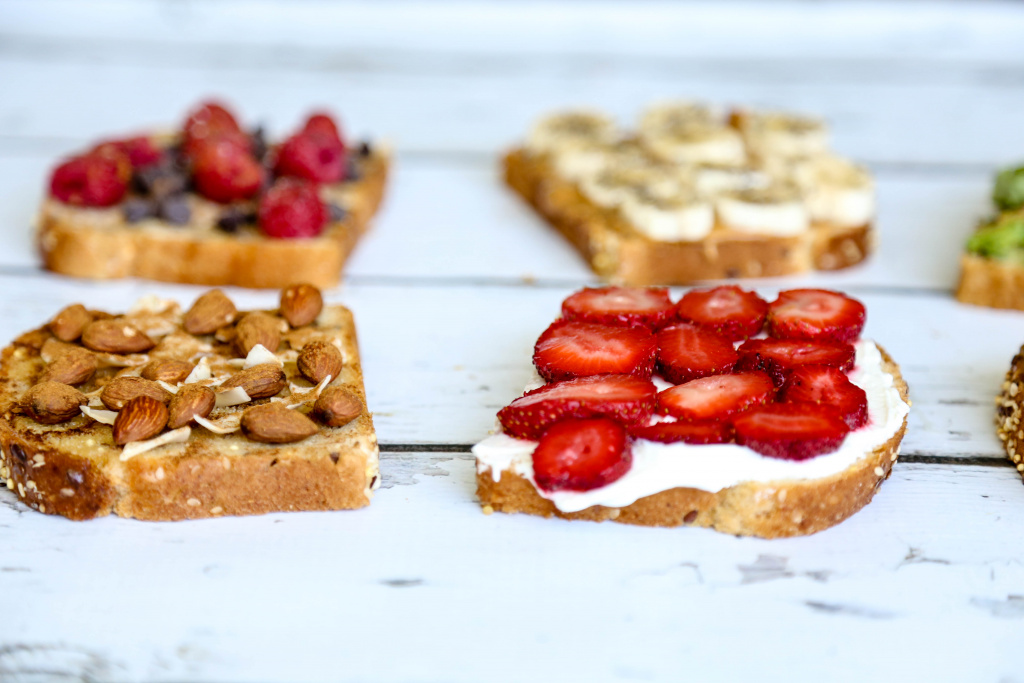 Raspberries, Chia, Honey, Cinnamon & Chocolate Chips: This is another one of my favorite sweet treats! It's great for post-workout or even a pre-workout because of the natural sugar in the raspberries. I like to use Enjoy Life chocolate chips because they're dairy, nut & soy free. Sometimes I put a little ghee on the bread first or even some peanut butter, but plain with this yumminess is great too. ALSO, did you know that cinnamon is a natural blood sugar balancer?? Umm, yes please. Love this cinnamon brand.
Sun Butter w/ Flax Seeds & Blueberries: YES. This is my current favorite way to do toast, to be honest. I am such a huge fun of sun butter, especially because sometimes I've had it with the nuts and need to do something different. And I know I don't have to tell you all the good stuff that you can find inside of blueberries, BUT as a reminder: they are chock full of fiber, potassium, folate, vitamin C, vitamin B6 & MORE. Yum. Add honey or agave if your heart desires. 🙂
Ghee, Almonds, Coconut Chips & Cinnamon: Sometimes it's nice to keep it as simple as it gets. I have been ALL about ghee lately (this brand is where it's at), and I can't tell you how much I love it/how good it is for you/how good it tastes on a fresh piece of toast. Ghee is clarified butter, so it's free of lactose, casein and whey. Kinda awesome. I have even been using FLAVORED ghee lately, but that's a whole other story! Also, when it comes to almond I like sprouted almonds best, and the crunch with the bread is so delish! Oh, and this brand of coconut chips is where it's at.
So, there you have it my lovelies. I like to keep things simple around here, so I hope it's cool with you that none of these toasts are OMG-woah-10-steps kinda recipes.
Lots & lots more recipes to come, because TBB is gettin' BACK in the kitchen. Oh kale yes.
Send in any recs! What do you think of the toasts? Agree with my g-free bread recs or did I miss some good ones?! XO
 All fav brands that I mentioned in this post can be shopped below! X