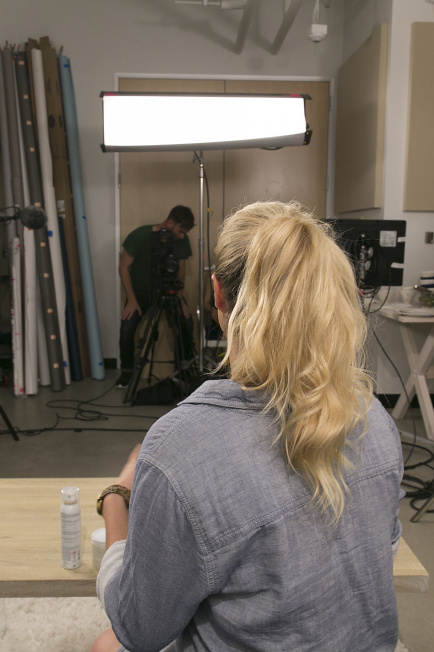 Some of my Fav NATURAL Beauty Products at Dermstore Studios
Hello hello, my beautiful #TBBtribe! It's time to talk about something I've been super obsessed with lately: NATURAL beauty products.
You already know I'm a strong believer in eating only the most nourishing foods for my body. I fuel my body with healthy, real foods so that I always feel my best and can be confident that I'm treating it the way it deserves to be treated. My body is good to me, so I wanna show it some love back, ya KNOW?
Living a balanced life means making good choices not only about what goes in my body, but also about what goes on it. And that's why I've been so so SO in love with having a NATURAL beauty routine — which for me usually means skincare routine, because we know I don't wear a lotta makeup.
Putting harsh chemicals on my skin is not my ish. I only have one face, one head of hair, and one body, so I'm gonna treat them well. I recently sat down at DERMSTORE STUDIOS to film a fun "At Home Spa Day" video & tell you guys about my fav products (all of which they totally carry — whoop whoop!).
Most beauty products on the market right now have a few too many chemicals for my liking. Check your product labels. Do you know what any of the ingredients even are? Most beauty products are filled with harsh chemicals, artificial ingredients, and parabens that I do not want near my skin – especially my face!
A lot of those sketchy, unpronounceable chemicals totally put your skin's pH balance out of whack, and if I want my skin to be anything, you know I want it BALANCED! If you have sensitive skin like me, then it's even more important that you use gentle, natural beauty products that will nourish and soothe your skin.
It's taken a loooot of trial and error and quite a few late nights researching (serious biz, guys), but I think I've discovered some very favs — for now, at least. You know this routine is ever evolving!!
So let's get into da real info. Ready? LET'S GO.
Klorane Dry Shampoo with Oat Milk: Y'all know I live on the go. On the fly. Unprepared. Going somewhere. Always. #cantstopwontstop. Dry shampoo is a MUST so that my hair isn't a total greaseball when I go from a workout to a business meeting to a night out. The oat milk in this dry shampoo is my fav part because it totally refreshes my hair without me having to actually wash it. Love love love that these ingredients are natural, and it def doesn't hurt that this leaves my hair smellin' oh-so-fine.
Eminence Facial Recovery Oil: This is really a miracle worker for much-needed hydration. If you haven't hopped on the face oil bandwagon yet, I highly suggest you try it. This won't clog your pours — trust me, that was my initial fear.  This oil contains herbs and nourishing oils, like olive oil and Vitamin E, that are super soothing and help to balance out the natural oils in your skin. Put it on at night, soak in the moisture, and wake up with a baby smooth face. You're welcome.
DHC Deep Cleansing Oil: After a crazy day running around (or even just laying in my bed writing all day), I need to get ALL residue off of my face so I can feel fresh and clean. I love this cleanser because it thoroughly cleans my skin without stripping it of its natural moisture, and it perfectly preps my face for any other products I want to use afterwards. It also helps fight breakouts… Which I def need. #sweatygymselfies, you guys know this.
GlamGlow THIRSTYMUD Hydrating Treatment Masque: Every girl's gotta have a high-quality face mask in her beauty arsenal. First of all, the packaging of this product is my favorite. That shimmery blue!!! But why I'm actually obsessed with this mask is because it sucks out all of the impurities in my skin and somehow manages to leave it totally moisturized afterwards. I reallllly don't like that "stripped skin" feeling, which is why I'm addicted to this. Perfect for a DIY spa night with the girls, or for whenever you just wanna treat yo'self! (Also perfect to rock in cute Snapchat selfies, just saying.)
Briogeo Don't Despair Repair Deep Conditioning Mask: I'll admit it, I can be pretty harsh on my hair. Highlights on highlights. This hair mask leaves my hair soooo nourished and soft. Kinda makes me want to whip my hair around like I'm in a Pantene commercial, LOL. Which I do, thanks to Chels in my photo shoots. No sulfates, no silicones, no parabens, no problems.

Alterna CC Cream 10-in-1 Complete Correction Leave-In Hair Perfector: Any product with "10-in-1" in its name sets some pretty high expectations and usually makes me roll my eyes, but this one does not disappoint. Literally obsessed with this. It has CAVIAR IN IT, GUYS. A leave-in treatment is so so necessary to prevent our hair from breaking and drying out. #fancy #iloveit
So, what do ya think? Interested in diving into a natural beauty routine?! All of my faves (and a million other amazing products that I have yet to try) can be found at Dermstore, so check 'em out! Like I said, I made a fun vid with them, so feel free to watch if you want some live-action #TBB reviews!
I'm obviously going to continue the hunt for THE BEST natural beauty products on the market, so expect more videos about natural skincare coming very very soon to #TBBTV. Make sure you SUBSCRIBE so you don't miss the fab newness!
What are your favorite natural beauty products?! Let me know in the comments and I'll def check them out! Remember, natural beauty products are just an addition to the natural beauty that shines through when you're being the best version of yourself that you can, so go out there and keep killin' it and being YOU. XO