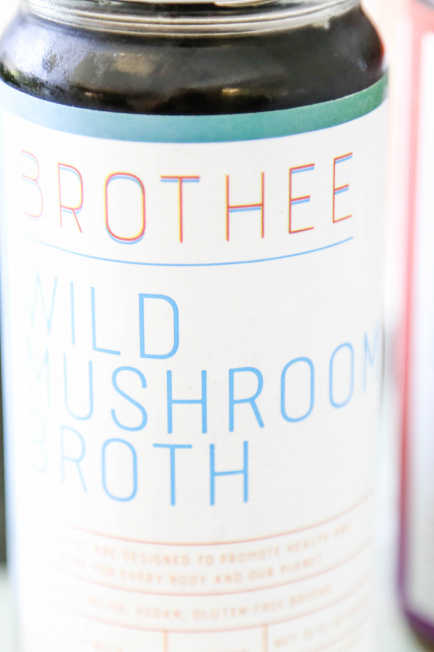 Why You Need BONE BROTH In Your Life
Guys, not sure if you have noticed from my obsessive Snapchats & TBB Tribe newsletter mentions, but I've discovered a natural remedy / delicious miracle food that I am completely obsessed with… Are you ready for it?
Bone broth. 
Yep, bone broth. For thousands of years, traditional cultures all over the world have emphasized using entire animals in their cooking – which includes the bones. Bone broth is great for people with stomach problems because it improves digestion. That's how it entered into my life… As a natural remedy for my digestion issues! 
It is often used in Ayurvedic medicine to treat tummy probs, because it is SUPER healing for the gut an due to its amino acid and gelatin content, it enhances the absorption of nutrients from other foods.
Bone broth can be made from poultry, beef, bison, lamb, and fish… AND there is even a way to make a vegan one, as demonstrated by Brothee's vegan mushroom flavor that I am obsessed with. (More on that at the bottom.)
Basically, because there are so, so, so many health benefits, I'm going to hit you with a list of some of my very favorite reasons why bone broth is the awesomest.
Why Bone Broth is AWESOME / Some of the many, many health benefits:
Reduces inflammation in the bod (thanks to the gelatin in the broth absorbing water and helping to keep fluid in the digestive tract)
Boosts immune system, because most of our immune system exists in the gut — and bone broth works wonders to improve gut health!

Regulates blood sugar — this is a big one for me because anyone who has struggled with an eating disorder knows that getting your stabilized blood sugar back on track is a JOURNEY, man. I love that the nutrients in bone broth naturally regulate blood sugar and help us stay in an effortless state of balance.

Enhances muscle repair and muscle growth. I know I'm not the only workout fiend around here! I have been drinking this before my workouts (even drank it right before the Hollywood 10k at 6am the other week, much to Alexi and my sister's dismay! LOL) and have had really no muscle pain or soreness lately.

Has a calming effect on the nervous system: Glycine (in the gelatin part of the broth) has been found to help with sleep because it can decrease anxiety and promote mental calmness because it is an inhibitory neurotransmitter. BIG TIME awesomeness for an insomniac like me!

DETOXES the bod: Our liver's

 ability to detox depends on how much glycine is available and bone broth/gelatin has a ton of glycine.

Increases strength of bones, because it's high in calcium, magnesium, and phosphorous.

Strengthens our hair and nails, thanks to the high amount of protein in collagen, which is also found in bone broth!

Improves allergies and food intolerances because it lines your gut with good stuff and helps get rid of waste and build up in the gut. (And also helps to get rid of leaky gut!)

Improves memory because it's full of good fats and protein.

How to Make Your Own Bone Broth (If You Wanna Go That Route):
Put bones from chicken, beef, or fish in a crockpot and add veggies, herbs, and spices; cook on low for 24-72 hours. 
Make sure that the meat that you're buying is high quality & organic from grass fed cattle, wild caught fish, or pastured poultry. 
The reason you cook it for so long is because the long cooking time removes as many nutrients as possible from the bones, so the nutrients will be in your broth and you can get the fab benefits!
You can use bone broth as a base for soups and sauces, use it to cook vegetables, or drink it by itself as a warm drink. I love to heat mine up and drink it in a mug with Brothee's HARISSA GHEE and/or their PESTO GHEE. I am so freaking obsessed with ghee it's not even funny. 
I also like to add roasted veggies to mine like broccoli, carrots & snap peas! Sometimes I add tofu or a bit of shredded chicken and avocado if I'm going for a more filling meal like lunch or dinner. 🙂
Where to find the best bone broth, if you don't go the "make it yourself" route:
I would never judge if you don't want to make bone broth yourself. In all honesty, I don't make mine myself. I am an on-the-go kind of gal, and when I find someone who does things the way I like them done (i.e. organic, natural, local, delicious, good vibe company, good people), then I like to support them and have them do what they do BETTER than me so I can enjoy it!
My favorite, favorite, favorite company that I have come across is called Brothee, and they are local to LA so I discovered them at the Brentwood farmer's market! And I also have to mention that this is not a sponsored post, this is just realness. I am in love with what they do, I drink their broths on the daily, and I want to share their awesomeness with you.
They are committed to running an environmentally conscious company, and they strongly believe in respecting all animal and plant life. They only purchase their ingredients from ethical farms, and they source local whenever possible. They ALSO don't endorse any particular diet or lifestyle as better or more healthy than another, but instead celebrate conscious, balanced living.
UMMMM, does that sound like my philosophy or what?!
So supportive of what these guys are doing! You can order their products for pickup at farmer's markets,  and if you're not LA local… Then you might need to make a trip out here to try this stuff! It's phenomenal.
TBB's Favorite?!?!
My favorite switches every day. Sometimes I like to go for the chicken broth because I love the taste and I think it's a little lighter than a beef broth, but on other days the heartiness of the beef broth is exactly what I need. I also love Brothee's vegan mushroom broth — it still has the great, powerful flavors of the other bone broths and it's 100% veggie-based, which sometimes is exactly what I need!
Other places to find bone broth in LA, just in case… Erewhon, Bel Campo, local farmer's markets (it's popping up everywhere now! LOVE), Earth Bar, & I'm sure plenty of other places that I haven't seen yet!
But yes, Brothee = my fav. The most flavorful and delicious by far in my opinion.
What do you think?! Have you tried bone broth yet? Willing to give it a try? Some people are super anti- and I get it, it's weird to drink something that comes from BONES! But when you don't think about it that way and you enjoy it for it's medicinal purposes and its yummy flavor… Then you are golden. <3 
XO