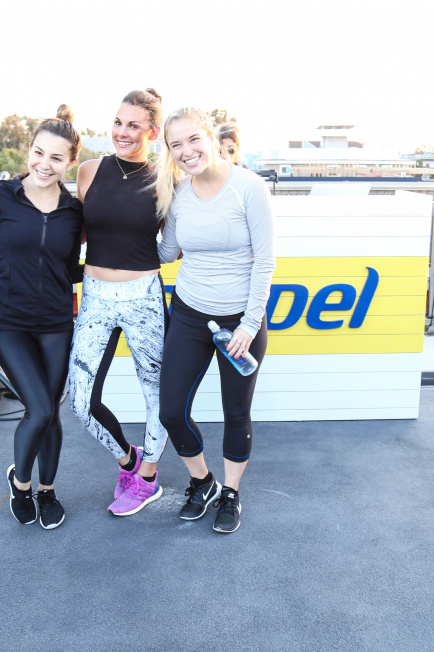 Nick Jonas Concerts & 3 Crazy Awesome Workouts!
HI BABES!
Writing to you from sunny, beautiful, relaxing, ZENNED OUT yoga retreat life in Mexico! Wanted to give you some quick updates, and then I am diving back into the hammock to read. (I also just got a massage. Heaven on earth.)
If you follow me on Snapchat or Instagram, then you're probably aware that I went to the coolest event last week hosted by PROPEL electrolyte water. I loved it because it was so not a typical night on the town, but instead it was very ME — and we all know I am not a clubby, give-me-all-the-alcohol, out all night kind of girl.
What kind of event do you get to go to where you….
hang out with some of your very fav blogger babes,
take a yoga class, do a Speed Play HIIT workout, AND do a cardio dance class w/ the epic Nicole Winhoffer (yes, the lovely lady I was in SELF mag with in Jan/Feb!)
get to listen to a private Nick Jonas concert & selfie with him while he sings Jealous,
have yummy & hydrating electrolyte water to sip on all night long,
finish out the night on a gorgeous Venice rooftop with cocktails, dancing & more Nick Jonas hangs,
AND be home in bed by 9pm?!
First of all, when there is yoga involved at an event I am all in. The only mistake I made was by going to OrangeTheory earlier that day because the yoga, HIIT and dance classes we did at the event were haaaarddd and got us super sweaty. Trust me, by the time we started doing burpees and squat jumps I was like great, I did way too many of these earlier today! #whoops
I think Lauryn & I looked at each other mid-workout and cracked up more than 10 times because she had already worked out that day too and we were dying.
Second of all… Nick Jonas. At a blogging event. Singing on stage 2 feet away from us. Yes, 2 feet away at most while he sung three of his hit songs because I inserted myself front in center because I am a straight up CREEP, lol. But he was insanely nice and even cuter in person.
I also love that the reason PROPEL has partnered with Nick is because he lives an on-the-go, active lifestyle and fits right in with their recent campaigns and new product launch. Their electrolyte water (unflavored) has zero calories, no artificial sweeteners and nothing fake. It is enhanced with electrolytes to help replace the sweat you lose while you workout — thank god, because I got real sweaty up in those classes.
I have been having so much fun lately Snapchatting everything behind the scenes… And now it's so much easier because my intern Christina, who has been with me for a little over a month, is able to Snap on my phone while I am in the middle of the event itself. Snapchat is the best, best because it's totally un-curated. You get me to see me being a sweaty mess with no makeup on fan-girling over Nick Jonas and then dancing on the rooftop sipping wine to stay warm (it was a chilly night in Venice!!) and then getting dessert at Cafe Gratitude afterward because why not? If you're not already following (username @jojoyounger) then come join the partay!
Also, everywhere I turned I saw some of my favorite people! Lauryn, Whitney, Danielle and my friend Ashley (she doesn't blog, but she SHOULD!) all happened to be there, and running into Nicole, who lives in NYC, was incredible because I had no idea she would be teaching the dance class. And giiiirl, she's got MOVES. I have zero rhythm so watching me dance was for sure a sight to be seen, but it was such a fun workout I am going to have to take her class next time I'm in NYC… (JUNE!).
Huge thank you to PROPEL for hosting such an awesome night. If every blogging event could be nearly that cool, I would die and go to heaven. Sweating + flowing + concerts + rooftops + great people = yes please.
If you guys haven't checked out PROPEL's revamped electrolyte water, you've gotta get your hands on it. For those of us who live an active lifestyle, getting enough electrolytes into our systems is a must. I love that their water is zero calories because ALL water should be zero cals… Or else it means its infused with crap that you don't want in your bod.
The electrolytes definitely worked, because even after my back to back workouts all day that day, I had plenty of energy for the rest of the night and was hardly sore the next day. Truth be told… I was a little sore. Those squat jump sequences were intense, man!
Who has tried PROPEL? Do you love it? Thoughts? I am a huge fan right now & so stoked to have partnered with them on this beyond rad campaign.