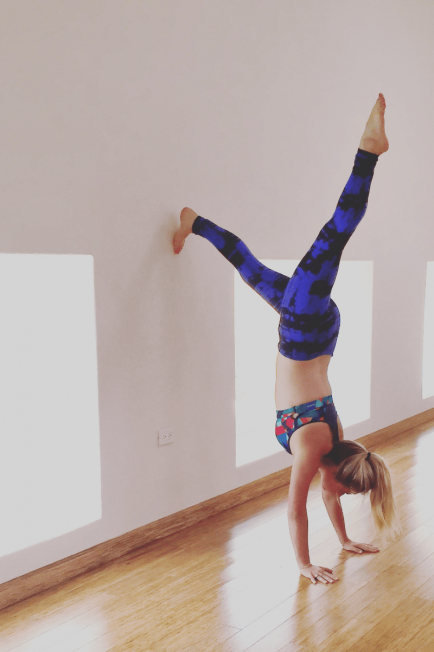 Yoga // The Longest Standing Relationship in My Life
Yoga.
Yoga is the big theme in my life right now.
It's showing up all over the place — and I have no reason not to believe it's because I have created space for it in my life again.
This year has been all about letting go. Letting go of the things that no longer serve me, from aspects of TBB I was less passionate about to stale relationships that were weighing on my heart.
By letting go of so much that wasn't working for me anymore, I allowed space to open back up in my heart for what I love to do, and (not to get too hippie-dippie on you, but…) because of that I believe the universe is bringing me exactly what I need.
And likely what it's been trying to bring my way for a while, I just hadn't been listening. 😉
Yoga is showing up in a bunch of different places for me. I have a whole "my relationship with yoga" timeline that I'll be sharing on the blog next week, because my history with yoga is pretty cray cray and has gone through so many ebbs & flows over the past 10+ years, but let's start in 2016 for the sake of this post:
First, I started feeling this crazy intense pull to leave my yoga mat rolled out on the floor of my apartment in front of my windows so that I could get down and stretch whenever I felt like it. (If you follow me on Snapchat you know this… It's all I seem to do these days!)
The stretches started turning into flows, and the flows started turning into full on vinyasa practices. I have never been an "at home" yogi, I always like the motivation and energy of going to an actual studio, but all of the sudden I was practicing at home with ease and I've been LOVING it.
(Hudson has been loving it too… As you know if you've seen my Instagram videos. LOL.)
Aside from that, I found myself going back to YogaWorks 3ish times a week instead of my previous 1ish time a week while I was training for the marathon.
I started being drawn toward following all sorts of yogis on Instagram, drawing inspiration from their beautiful flows and their poetic words. (Not all yogis are poetic — but the peeps I follow on Instagram have such beautiful captions along with their yoga photos that tend to remind me how deep and soul-filling the spiritual practice of yoga can be.)
All of the TBV Apparel phrases I've come up with lately are yoga related… Check out our new ones! Like Meditate Hard below. 😉
Then there was this overwhelming feeling I started to get about teaching again. I did my 200 hour training at YogaWorks in 2011, and I taught briefly after that at the LMU gym and for friends and family to get some practice. But I always knew I would need to do a 300 hour (for the 500 hours total) to feel truly prepared to teach at any of my beloved studios, and to go deeper into all facets of the practice.
And when I say overwhelming I mean o-v-e-r-w-h-e-l-m-i-n-g. The feeling overtook me. I started researching programs like crazy (all the while knowing which one I wanted to do the whole time, but also knowing it was the most expensive and time consuming…) and trying to brainstorm ways I could actually fit it into my (already psychotic) schedule.
Then, once I started sharing with a few close people around me that I was interested in doing it, the idea came to life. It wasn't just about "fitting it into my schedule" and feeling that "oh, it's so good for my brand!" or that it "TOTALLY fits with the TBB lifestyle" — this is for me.
Of course it fits with the TBB lifestyle because TBB is me, and yoga is important to me, but it goes so, so far beyond that.
I want to stop doing things because they "fit" or because I can "make them work," and replace that with I'm doing it because it's fulfilling to my SOUL.
That is the new mantra of my life. (One of them!).
So, I am SUPER EFFING EXCITED to say that I will be doing a 300-hour teacher training beginning in August, and we will see where it takes me. My goal is to teach again, to weave what I learn into my blogging and social media, and to really shift inward to explore why and how I am so drawn to this practice.
I think it's going to be the raddest thing of all time.
THE RADDEST.
The other ways yoga is showing up in my life (then I promise I'll stop because I know this is getting long), is by:
The yoga retreat I am CURRENTLY on in Cabo that is changing my life, providing so much insight, and opening my heart to a side of myself that I had shoved into the back of my mind because life has been "too busy" for it (Yikes).
I am going to WANDERLUSTTTTT 108 in San Diego with Cottonelle® (and my girl REMI!) on SUNDAY! (a.k.a tomorrow!!)
I am so stoked to be partnering with Cottonelle® for this Wanderlust 108 experience (hello, triathlon & yoga & surrounded by amazing humans all day!!), especially because I have been doing a little something lately when I do yoga/workout… so it's kinda sorta the perfect partnership.
I've been going commando. YEP.
It started in Mexico actually at the beginning of my trip, because I realized I was going to be wearing 2-3 workout outfits a day (2 yoga classes a day and running once a day), plus regular clothes for dinner, and I didn't really want to go through 4+ pairs of underwear per day.
Plus, it's actually good for your body to breathe while you workout, but the only thing that has held me back in the past is cleanliness.
Cottonelle® CleanRipple Texture enables you to feel clean down there even when you go commando. 😉 I love it because it's given me the spontaneity & confidence to switch it up (I was freaked about it before, not gonna lie, especially with one bad experience during marathon training LOL — lets just say chafing was involved…)!
It fits right into my life because I am always on the go, and I don't really like to go home right after I workout. But I want to feel CLEAN always — I am a freak about that — so I can keep it in my purse if I am not going to head right home after a workout. Like at Wanderlust this weekend!
Which, BTW, thank god I am going to Wanderlust this weekend because I can't imagine coming back from my blissful yoga retreat and not diving right into another yoga-centric thang. Yoga is on the BRAIN right now! 🙂
EEK! Exciting all around. Allllllllllllll around.
*FTC Disclosure: While I was compensated by Cottonelle® for this partnership, all opinions are my own — as ALWAYS. 🙂
Okay, I know this was a lot of info. My 300 hour yoga teacher training + going commando at Wanderlust with Cottonelle®. Thoughts on it all? Tips/tricks from my yoga teaching readers about the training?! Anyone else go commando when they work out?