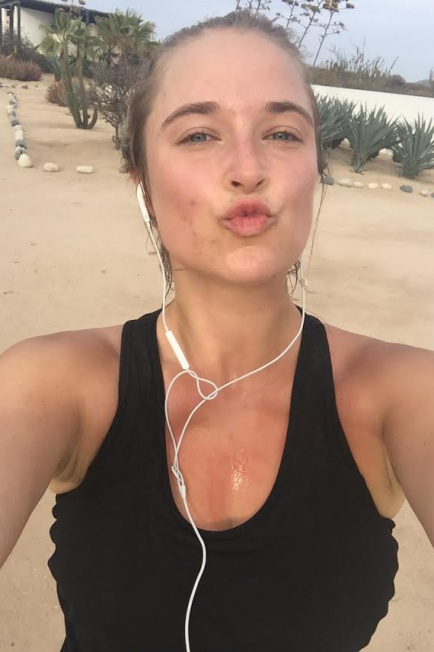 Half Marathon Training Update!
Happy Monday loves!! The TBB Tribe newsletter went out this morning instead of last night, because I legit forgot that yesterday was Sunday! Last week in Mexico rejuvenated & relaxed me SO MUCH that I got back and had no idea what day it was.
At all.
LOL.
Anyway, you should sign up for the tribe newsletter if you haven't yet, because we (TBB team and myself) have been sending it out weekly with tons of fun updates, recaps, healthy recipes, links to articles we love, podcast favorites, etc.
Full Mexico recap is coming soon, but for now… YOGA PICS ON YOGA PICS. Because BLISSED OUT is an understatement.
HALF MARATHON TRAINING UPDATE! ASICS VINE BODY SOLE HALF IN NAPA VALLEY… THIS COMING WEEKEND!
ALSO. This post is a half marathon training update. YES… I have been training for a half! No… I have not been training nearly as hard or been quite as dedicated as I was for the marathon.
Part of that is due to the fact that after running the LA Marathon in Feb, going for long runs outside is now a big part of my regular workout routine! In the past I never would have just hopped outside to run 6-8 miles on any given day, but these days it's totally a part of my schedule.
Stretching in my ASICS gear!
So I don't have that level of stress about getting outside to train day after day, that same voice in my head I had before the marathon being like "do it…. or else you'll regret it!!" because I know what my body is capable of and I am confident that I can finish the half comfortably regardless of my time.
The other part of that is due to how much yoga I have been doing (ya know, + my big yoga news from my last post! Eek!) and also maintaining my OrangeTheory workouts, travel, and trying to stay on top of resting & giving my bod a break when I need it.
I had grand ideas about training super hard for this upcoming half and shaving off a bunch of time from my last half marathon. I even went on a few "sprint training" runs to get myself closer to that goal, but… alas,  my life sched started getting in the way and I have been finding so much solace & happiness in my leisurely-paced 3-5 mile training runs.
And when I say leisurely-paced, I mean slow enough where I can chit chat with a friend, but fast enough where I am still very much breaking a sweat and feeling it in my legs and glutes the next day.
I push myself in so many areas of my life — workouts included — that running at a pace that feels comfortable and great to me just feels RIGHT right now. That's not to say that I won't strive for a PR in the half next weekend… I totally will strive for it, but I won't beat myself up if it doesn't happen.
My goals for the race are to have fun, enjoy the gorgeously scenic route, enjoy the weekend with my BFF Alexi who is joining me, not have any music mishaps like I did during the marathon (lol), and finish around the same time as my last half if not faster.
See how all of my goals have so much more to do with enjoying myself versus putting time pressure on myself? I told you my yoga retreat did a doozy on my mind, body and soul. 😉 Haha!
But for real, even running is all about balance. I am so happy to have found my go-to pace when it comes to training + running races, because the last few 10k's and training runs I have done have been SO enjoyable at my happy leisure pace.
I also find so much peace in running, whereas I never used to. I went on a run almost every day when I was in Mexico, and the lovely desert path from the hotel to the street, and then the street to the beach was almost another form of meditation for me… One foot in front of the other, amazing music, the wind on my face — it might sound a little cheesy but man does that ish make me the happy and calm.
I even took a few post-run blissed-out selfies while I was there because there really is nothing better… (Unedited, because I'm in a really unedited, raw, organic moment kinda mood these days. Enjoy the SWEAT because it is a #sweatygymselfie, after all!):
I will keep you guys super updated on how the half goes this weekend! I would love to make training a bigger part of my life for the next race that I commit to, but this time around I am pretty proud of myself for not getting ultra cray-cray about it. I feel prepared, but I haven't gone overboard — I am just living life and making it work. 🙂
Anyone else going to be at the ASICS Vine Body Sole weekend?! I hope sooooo. Anyone else training for a half or full or any distance race?!