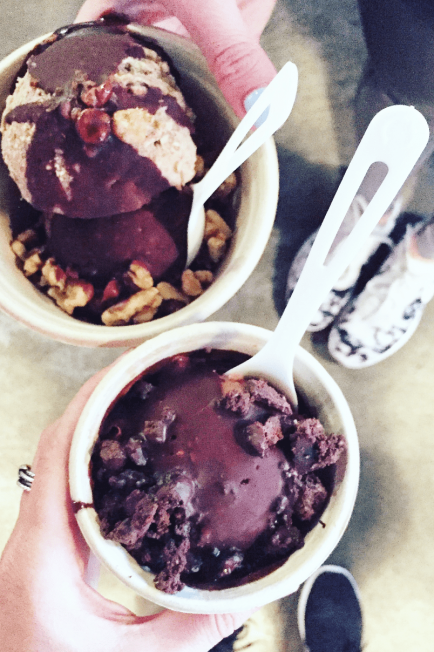 Weekend Love + Taking Time OFF
Hi boo loves! This weekend was so lovely that it inspired me to pop down and write an in-the-moment bloggy about how important it is to give ourselves a BREAK every once in a while.
Let's talk about the fact that I went into the weekend with the mentality, "I'm going to be working all weekend, so I really shouldn't make any plans because I have way, way, way too much to do."
But on Friday afternoon I was feeling so exhausted and burnt out from a long week (not in a bad way since I do happen to love what I do, but in a very TIRED kind of way that made working more sound awful) that I decided I was going to take a little me-time to recoup.
My weekend started with a lovely dinner at Au Fudge with my dear friend Megan (yes, my roomie from my Mexico retreat!). We laughed hysterically at the fact that we were basically at a children's restaurant and had virtually no idea that it was until we sat down and noticed we were the only people sans young children in the entire establishment.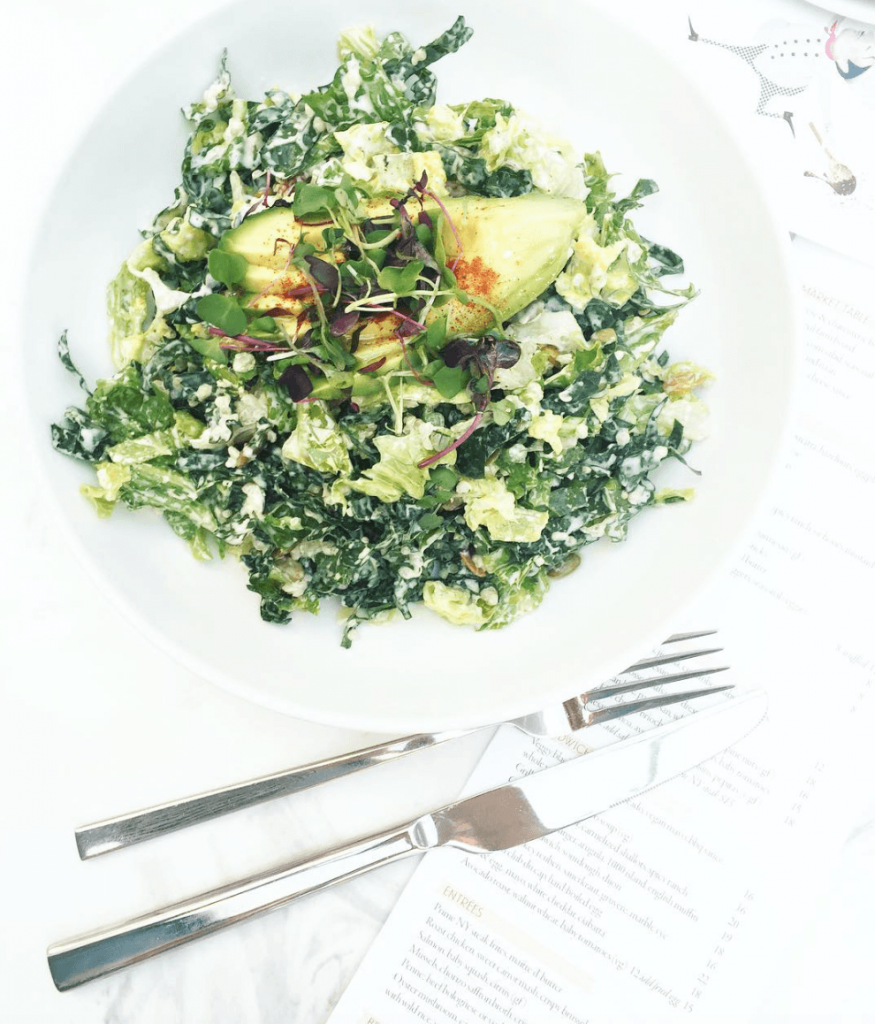 BUT, the food was delicious and the atmosphere was adorable. The restaurant was very "photo-worthy," and the kids running around made it a super casual and comfy vibe. We brought our computers and Megan taught me a thing or two about budgeting (something she is VERY good at, and something I can use a little help with — haha).
Overall it was so nice catching up with her, and then on my way home I ended up meeting a friend for some drinks (sparkling water for me… what can I say?) and snuggling up with Huddy by midnight.
Speaking of Huddy… LOOK at this angel. I had a lot of good snuggle time with him this weekend… Just what the doctor ordered! 🙂
Saturday was an absolute blast. I slept in until about 9:30 (very late for me — latest in months and months), read in bed for a while and then made a delish cacao oatmeal bowl for breakfast. I would show you pics… but it's probably the least photogenic breakfast I have ever made, haha.
Then I got tea at Alfred and went for a walk with my BFF Alexi. We strolled down to the Brentwood Country Mart, and I was minorly disappointed because all of my favorite soup flavors from Soupure were gone and I wanted to stock up for the weekend! But I did get their yummy miso-free bone broth which pretty much made up for it. 😉
Lex got tacos, and we strolled for a little while longer and then I headed home to get to an OrangeTheory event in West Hollywood by 2!
The event was a "netWORKOUT," a.k.a a networking event annndddd the best workout in town. But let's stop right here for a sec, because this wasn't a regular networking event. Usually I hear that term and I run the other way. This was more of a connection of like-minded souls put together by the FAB Jonathan Albrecht of OTF.
Say hey hey to the crew. 😉 Oh and we are all wearing good hYOUman, so be sure to check them out!! Cutest stuff.
Basically — it was a bunch of Jonathan's BFF's, fitness influencers and people who have made an impact in the wellness industry in LA. And it was WAY too much fun. Technically the event was from 2-4, but I stayed until past 6. That's when you know TBB is having a good time. I even had a few glasses of champagne!
Plus, we were doing acro yoga with the killer Modern Tarzan… And now I love it so much that all I wanna do is acro, all the time.
The rest of Sunday was lovely too. I got to see the OTHER Jordan to my Jordan, a.k.a Jordan Dorso, my longtime super close friend. We were conjoined at the hip for many, many years, and the last couple of years have taken us in slightly different directions. Finding time to spend together hasn't been our strongest suit lately, but seeing him for a few on Saturday evening made my heart happy. And it will always, always be one of those friendships where no matter what it feels like we saw each other yesterday.
Then I went to sushi back in Brentwood at my faaaav sushi place Takao with someone kinda cool — and I ate TUNA for the first time in months (sorry Dr. Lekkos — I've been so good about the mercury thing for so long I had to have a little!!!).
And then YESTERDAY was fabulous. It was the perfect combo of productive and entirely fun as f. Went to the farmer's market in Brentwood with my favorite little crew (all on my Snapchat story — you'll wanna check it out!! Golden retrievers, bone broth, #foodporn worthy brunch food, lots of funny selfies, and more. Username @jojoyounger).
And thennnnn I was reunited with my girl DANIKA and her amazing brother Kyle, and we took a bunch of photos and videos for the blog. Kyle did the most hilarious Snapchat takeover on my Snap… You must see it. You will die. And hit him up if you wanna date him. (You should get on it, ladies!!). 😉
Also, Danika makes freaking magic happen behind the camera. MAGIC.
Alexi and I have been having so much fun trying out partner yoga poses (and a little bit of acro), because I got CRAZY inspired by The Southern Yogi & Jessica Olie!!!
Yoga poses on camera are such a wonderful form of self expression for people who love yoga because it's a visual representation of the physical work we do in order to tap into our mental, emotional and spiritual work. And to have the ability to do those poses with a friend is even cooler, because each partner pose captures the essence of something so pure and vulnerable.
You have the TRUST the person you're in the pose with, and that's probably the coolest feeling of all. Lex and I had a ball taking these! So many more pics to come!
The four of us ended up photographing until well into the evening, and then Alexi and I had Cafe Gratitude for dinner (THE BEST!!!) and popped by Katie Dalebout's book signing at Ashland Hill!
And then we went to Kippy's for coconut ice cream because WHY NOT!
I got the double chocolate flavor with the coco magic shell and cacao nectar crumbles. YUM. To be honest my stomach has been kind of a mess this morning but I don't think it's specifically from this… Maybe just a little because it's all raw!
Then I got home, snuggled with Hud, and had so much trouble falling asleep because I couldn't stop reminiscing about what a WONDERFUL, relaxing, enjoyable and truly So Cal summer-y weekend it was.
MORAL OF THE STORY: I am so glad I took some time off! I could have been indoors working for the majority of the weekend, but instead I was outside, with people I love, relaxed and now totally recharged to take on the week. Plus, it was still productive but in the most fun and weekendish kind of way.
Love my peeps. Love spending time with them. Love making them number one priority in my life. Wouldn't have it any other way.
How was everyone else's weekend!?! Hope you loved as much as I did. XO