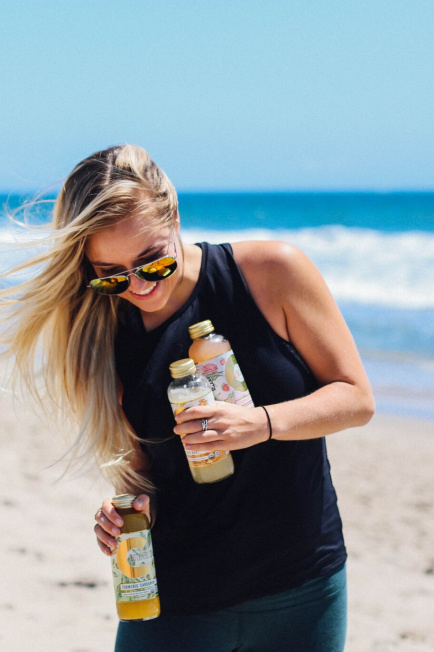 Lovely Beach Days + a KOMBUCHA Giveaway!
Yesterday I told you all about my perfect weekend — favorite humans, beach, farmer's market, lovely weather, acro yoga, OrangeTheory, long walks, sushi, catch up seshes, Rawvolution smoothies, Kippy's ice cream, and the photo shoot of my dreams with my #TBBsquad.
(If you follow on Snapchat @jojoyounger, then you probably got just as much of a kick out of the photo shoot happenings as I did. Let's just say a certain someone did a hilarious takeover right in the middle of the shoot & is in the market for a TBB-reader girlfriend. Get on it, ladies!)
Basically, the reason why the weekend was so perfect to me is because it was the best balance of productivity and play. I took time away from the computer and being indoors, but I also got sh*t done. I got all of my favs at the farmer's market (BONE BROTH and organic fermented Korean tempeh, anyone?!), spent time with my #1 peeps, and also got a ton of stuff photographed that I needed to for the blog.
It was a WIN WIN.
And while I was on the beach I sipped on one of my favorite kombucha brands between yoga poses — Clearly Kombucha! I think you guys know how much I love them because I have written about them before, but right now I am doubly excited about them for two reasons:
1) They just came out with a new line of fermented botanicals, C Botanicals, based on ginger root, holy basil, lemongrass, milk thistle, and turmeric cardamom. A.k.a, a deeply healing and energizing list of ingredients that has me way too excited for words.
2) I am hosting a GIVEAWAY for YOUUUU lover loves, because I want you to try C Botanicals too! All you need to do is COMMENT on my Instagram by tagging a friend, and follow @cbotanicals & @clearlykombucha. I will choose a winner by this Friday at 7 p.m. PST! If you don't have an IG, comment here and I will make sure you still get entered!
Let's talk about why kombucha is awesome.
Kombucha is a fermented tea that tastes AWESOME and that is also full of healthy bacteria that we need in order to thrive. CK puts it into a delicious, organic, fruity, low-glycemic beverage for us to sip on and enjoy.
(Check out this post where I interviewed the owners of the company not too long ago!)
Why do we need good bacteria? Because life is stressful. We get overworked and fatigued, we may have trouble sleeping (if you're anything like me), or we may have a vodka soda too many on the weekend… So you need GOOD bacteria in your tummy to help you feel your best.
This type of beneficial bacteria lives in your gut and keeps your system in fighting form. Without it, the bad bacteria takes over, and you feel bloated, fuzzy-minded and overall pretty "bleh."
Probiotics power up our digestive systems by adding that good bacteria back into our tum tums. That also means helping with the absorption of nutrients and vitamins.
I have a serious absorption issue due to my food allergies and my eating disorder past, so this improved absorption from probiotics helps me get more nutritional value out of my food and helps to regulate my digestive system. It also gives me more energy— but without the caffeine crash! 70% of our immunity lives in our stomachs… Did you know that?!
And let's take it to the next level, and talk about BOTANICALS.
C Botanicals is America's first fermented, probiotic botanical beverage. The line is made from fermenting herbs & plants… So basically it's the coolest thing ever. They are super light and the perfect amount of fizzy, and each ingredient has a specific natural healing power. (For instance, ginger is good for digestion and reducing inflammation!)
And to get into a little more detail for ya, a botanical is a plant-derived ingredient, such as a herb, root, or spice. C Botanicals intentionally selected certain botanicals to ferment, based on their functionality. For example, milk thistle has been found to detoxify the liver.
After trying each flavor I am more or less obsessed with this new beverage on the market. Hence why I want to share it with you. Hence why I want to do a GIVEAWAY for you.
#BeveragesOnBeverages, anyone?!
What are your thoughts?! Do you want to try this?! You sooooo do. Check out their site, show them some love (they are my Nor Cal homies!!), and enter on INSTAGRAM for the giveaway!