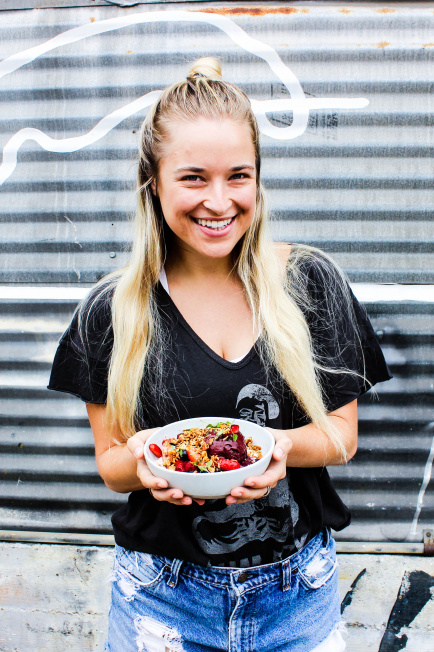 Yo, lover lovers! After two in-depth Ayurveda posts this week, we are going to switch things up with an old fave TBB series, Loving Lately! Let's get right to it.
There's also a GIVEAWAY (!!!!) in there of my current favorite beverage, soooo keep your eyes peeled.
LOVING LATELY ► ▷ ▸ ▹ ►
Partner Yoga: I think I've mentioned a time or two how obsessed I've gotten with The Southern Yogi & Jessica Olie on Instagram. Their partner yoga has inspired me to try new things in my practice, especially since yoga is becoming such a big part of my life again (300-hr training starting in June — ahhh!). Luckily my BFF Alexi is down to try a bunch of poses with me, and we've been having so much fun playing around with them. We snapped a few of these pics last Sunday… More to come! WITH matching outfits next time. 😉 We aren't messing around.
Cooking at HOME: I go through waves with cooking at home. I really, really like to do it, and I feel so much better when I am consistently eating home-prepped meals, but I also let time get away from me and end up eating out so much. I make plans to meet friends for dinner, grab lunch while I'm out after a workout or in-between meetings, etc. This past Sunday I spent a ton of time at the farmer's market picking out things that I knew would be perfect for a good meal prep sesh.
I ended up filling about 8 tupperware with sautéed veggies, ground chicken and this delicious sun-dried tomato and egg white dip that I found at the farmer's market. I made some black beans and brown rice on the side that I've been incorporating too. Then I made the BESTTTT muffins that are a play on my superfood cookies dough balls — I will share the recipe once I perfect it a little more!! They taste amazing now but need a little more density to their consistency.
Aloe Gloe: Okay I am downright obsessed with aloe water right now, and the brand Aloe Gloe is organic, made in California, low in sugar, and full of more than 200 biologically active amino acids, vitamins, antioxidants, enzymes and minerals. Aloe water is great for your skin, cardiovascular system, and your digestion/tummy!
They have been kind enough to partner with me for a GIVEAWAYYYY so that one of you guys will get to try a box of their four different Aloe Gloe flavors! They have original (my favorite), white grape, lemonade, and coconut.
To enter, simply comment on this post telling me why you'd like to try the product — and bonus parts for following them on Instagram!
People Who are KIND + GOOD VIBEY: Some people suck my energy, as I am reminded from time to time. Luckily I am surrounded by people who have great energy and shine so much light and positivity. Occasionally when I am not, and I spend a good chunk of time with someone who sucks my energy out of me, it reminds me to pour even more energy & love into those people who have proven time and again to be so wonderful. The reminder of being around energy-suckers isn't always fun, but it happens to the best of us and I think its only necessary to remind us WHO/WHAT is important in our lives!
Cute graphic tees: We are going through a little TBV Apparel rebrand right now, which I am so beyond stoked about. But that doesn't mean I don't also fall in love with / get inspiration from other lines sometimes. I am totally in love with this Ohm Boy tee from Rie + Ryn. The line is designed by two best friends who share a mutual love for yoga and music — YES — and is all about street to studio wear. My kinda stuff! I love, love.
Rocked it yesterday at Bondi Harvest in Santa Monica with my TBB team discussing new APP developments!! EEK!
Spotify's "Discover Weekly:" I may have been the last one to the game on this one, but I'm obsessed with it right now and have discovered some major gems… Including a song called "Weathered" by Jack Garratt. It's so good and I wanna find a way to incorporate it into one of my videos!!
OKAY. That's it for now because I'm running out the door to make it to OrangeTheory to work out with some of my BFF's this morning. What are YOU loving lately?! Oh, and be sure to enter the Aloe Gloe giveaway!! XO