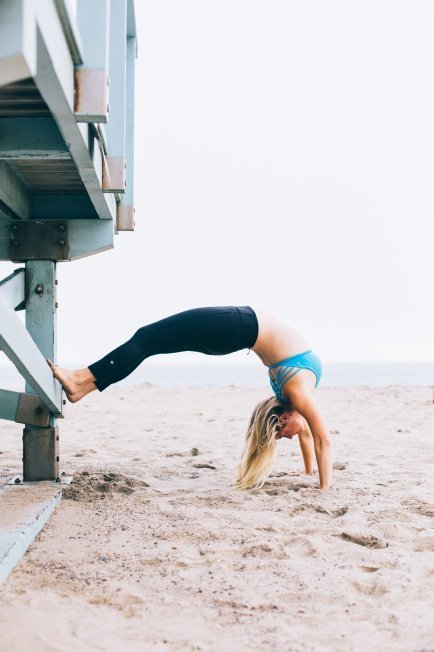 The Surprise is Here… A Full Site Makeover!
Guys. OMG. Omg, omg. Excuse me while I do somersaults around my apartment and cartwheels down my street because I am so excited to share my new site with you! It's HERE. Hello. Yo. Right here!
That's right, The Balanced Blonde has had a serious facelift, with a new and improved (but entirely the same, really, just positive + cohesive + "ME" as ever) vibe.
I am so happy I could cry. And dance. And scream. And celebrate with a shot or two… Of ginger and turmeric, and/or #vegan vodka with a whole lotta lime and soda water.

And don't worry, I've done all of the above this week — like a lot. With more crying and dancing and vodka shots than usual, because hey, there are celebrations to be had.
Before I tell you the story of the revamp & point you in all of the amazing new directions (OH MY GOD, the new directions!! So many of them and so much to see!!), let me first say something that couldn't be more true, necessary, or dear to my heart:
THANK YOU. Thank you my dear humans. My amazing readers, you, YoUuUuuu, for reading my blog. Maybe you've been here since day one, supporting me every step of the way in this crazy thing called life; maybe you discovered my blog a couple of years ago and decided to stick around; or maybe this is the first time you're ever laying eyes on this site and you're like "this chick seems very sentimental and quirky but hey her site looks rad." Regardless, your eyeballs on these words are deeply, deeply meaningful to me. Thank you to each and every one of you, to all of you beautiful people, for letting me share my passion with you.
Without your support and engagement, I would never have had the passion, drive or vision to bring this new site to life. It is the interaction and communication with all of you that keeps me going, that brings me back to this hub on the Internet day after day, to share and reflect and pour my guts out and bring you info about wellness + health that I am equally if not way more obsessed with writing about as you are with reading about.
I am actually tearing up writing this, because I feel so lucky and so grateful. There is something to be said for chasing your dreams and doing what you love — and that doesn't mean that every day is fine and dandy and kittens and rainbows (well, kittens always in my house, but you know what I mean)… Some days are hard work. MANY days are hard work. Some days are downright difficult as eff. I'm still human. But overall, the overarching theme of following my passion and doing what I love, is a whole lot of happiness and good vibes and this deep yearning for more, more, more. More creating. More sharing. More bringing dreams to life.
Blogging comes down to one thing: connection. Real human connection and passion, and now that my brand has more of a cohesive message than ever before (balance! wellness! good vibes! connection! yoga! running! spiritual fabness! non-jugdement! healthy food! videos! apparel! book!) — it only makes sense that the aesthetic of my site reflects that oneness right back to your eyes.
It's the TBB vibe!! The TBB TRIBE VIBE. And we are here to stay, people!
YEE.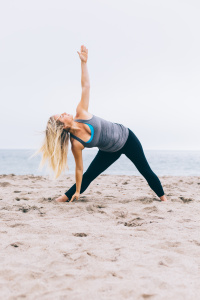 So, the story. The redesign story. Here goes:
I've had dreams of redoing my website for almost two years. Two whole years ago, my partner Tynan drew up some designs for a site with clickable category links (the lovely rectangular categories you now see on the homepage!), and a site design that would encapsulate everything TBB, from blog to book to clothing to YouTube.
With the stress of life and our everyday duties taking over, we never went through with the redesign. All I did was redesign my logo (I mean, I had to, I used to be The Blonde Vegan!), and the site redesign stayed in the back of my head as a dream and goal and as something I would do when the time was right.
Two years passed.
This February, the time felt right. I became entirely obsessed with the idea of a redesign. I looked at my dinky little WordPress next to some of the blogs I read on the daily, and I was like, "Wait. My site needs to have THIS. My site needs to capture my vibe, show off my personality, and bring my readers a taste of what I am like in real life."
Basically, I realized, sh*t needs to change. Now.
So I started the search for the perfect designer, stumbled upon the gloriously wonderful Anelise Salvo, and we embarked on this journey together.
Needless to say, Anelise nailed it. We have worked for the last few months on everything from visions to concepts to execution, to now redoing everything from my cleanse programs to my media kit to every inch of this site.
I had a super clear vision of what I wanted, so that when I share with all of you it comes from a place that is as aesthetically beautiful + authentic + real as it is IN MY HEADl. I wanted to be PROUD to the moon and back of the corner of the Internet that = this blog.
So we did the damn thing. We went for it. And here we are.
Check it all out, from the new slider to the category links, to the ask me anything section (SOOOO stoked on this part), to the Snapchat links to the Newsletter signup to the fun new stuff in my About section, to my reloaded TBB Cleanse Programs, to the preorder link for my new eBook about the business of blogging, allll the new photos and focuses, the YouTube vids that I've been way more consistent with lately, and more.
It's all here, and for the first time ever, I feel that my brand has truly blossomed into having a life of its own. TBB is a THING — with a vibe, and a tribe, and a story, and an aesthetic, and a SHOP page full of years' worth of product creation for goodness sake.
It feels good. Sometimes it's nice to take a step back, see what it is that I've created, and think, "DAMN. I really am working hard every day. I really am pouring my heart and soul into something tangible. I really have created something from all of the thoughts + musings + passions that exist in my brain."
Happy. Happy happy.
I really can't wait to hear your thoughts… Share below, and now everything is so much more SHAREABLE. I wanted the site to be more interactive than ever, so that is now a main feature!! Pin all of this ish on Pinterest, share articles you love with your friends, and share your THOUGHTS (and create a Disquis if you haven't so you can comment away and make my heart even happier than it already is).
LOVE YOU. Oh, and please, for the love of all things good + well, introduce yourselves below! Tell me about YOU. Where are you from? What do you do? What brought you to this bloggy and what makes your heart sing? I want to know you, I want to get a glimpse into your souls just like you are getting into mine.
WELCOME TO THE NEW HOME! We about to take creating good sh*t to a WHOLE new level! Together! Yes!!!