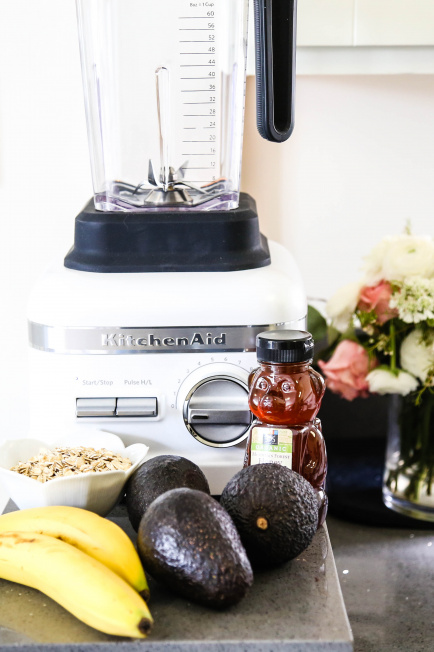 Natural Ingredient Face Masks for the Win
Hey guys!
Let's talk about natural ingredient face masks.
I have extremely sensitive skin. I mean extremely. We're talkin' splotchy face, easily inflamed, sweat-induced breakouts, really dry/oily depending on the weather, will develop a rash far, far too easily, on and on.
So I have to be really ultra careful about what I put on my face, and even on my skin in general.
I've always LIKED the idea of homemade, natural ingredient face masks, but I've also been freaked out by them. Whenever I thought about doing one I would imagine all sorts of superfood, veggie, fruit and natural sweetener ingredients seeping into my skin and burning through my already superbly sensitive top layer of skin.
So I always decided against it and either went with a brand that I trusted, or chose to forego the whole face mask ritual depending on the sitch.
Buttttt, I am SO stoked to say, that once I got my KitchenAid® blender (stark white + heavy duty + cute as ever) I actually started playing around with some homemade face mask recipes and stumbled upon one that is legitimately working for me.
The first thing I did was research calming ingredients… Because I know I needed something that was going to be cooling and reduce inflammation, rather than perpetuate it.
Here is what I came up with (named appropriately, if you ask me….!) —
I also made a HOW-TO VIDEO on my Youtube, which you can find here!
The Balanced Avocado Face Mask
Ingredients:
3 avocados
2 ripe bananas
1/3 cup honey
1/3 cup oats (I used gluten-free because that's what I had on hand at home!)
Method:
Blend all ingredients together, add some water or almond milk if necessary (to help it blend thoroughly), pour into a bowl, and apply with whatever applicator you'd like! I just used my hands. 😉
The KitchenAid® Pro Line® Series Blender provided great functionality to my mask, because it was able to blend the ingredients together so much more thoroughly than any other blender I've used in the past. It helped keep the mask at a nice, thick, smooth consistency so I actually felt comfortable putting it on my face versus some of the rougher versions I've tried to make in the past.
Benefits:
Good for acne, sensitive skin, hydration, calming inflammation. I have been using it twice weekly and I swear I've watched the calming benefits start working… And if nothing else, my skin feels silky smooth and a lot less inflamed than usual. My complexion has also felt/looked more even!
Duration:
I find that I like to leave the mask on for 5-7 mins at most. It's a strong feeling between all of the natural ingredients, so especially if you're new to face masks then work your way up!
Ingredients deets:
Avocado is chock full of essential nutrients, including vitamins, minerals and powerful antioxidants.
A huge benefit of avocado is anti-aging, because of the antioxidants and phytonutrients. HELLLLOOO, perfect all-natural face mask ingredient! Avocado is an amazing treatment that helps reduce wrinkles. Not only you can apply mashed avocado flesh to your skin as a facial mask, but also, when you eat avocado, it will help fight aging process from within.
The healthy fats in avocados will moisturize your skin and reduce any inflammation. The oils of avocado are very closely matched to the natural oils in your skin, so those also add nourishing and protective benefits.
Oatmeal is calming to the skin, and honey provides healing and nourishment for sunburns and the rigor/stress of everyday life. Banana, as we know, is full of POTASSIUM, which is great for our skin. Banana also helps with oil control, helps to protect against free radicals, fights acne causing germs, and the lectin in bananas destroys bacteria that causes acne.
All in all, each of these ingredients is the perfect combo for my sensitive, acne-prone skin.
I actually can't believe I didn't try this sooner.
Huge thank you to KitchenAid® for partnering with me to bring you this post — be sure to check out their fab all-encompassing blenders that can literally blend through just about anything. It is my go-to for smoothies, now face masks, soups, homemade lotions (next up on the bloggy!) and more.
And check out my VIDEO of me making this face mask… Breakin' it down for ya so you can make it exactly the way I did. 🙂
XO