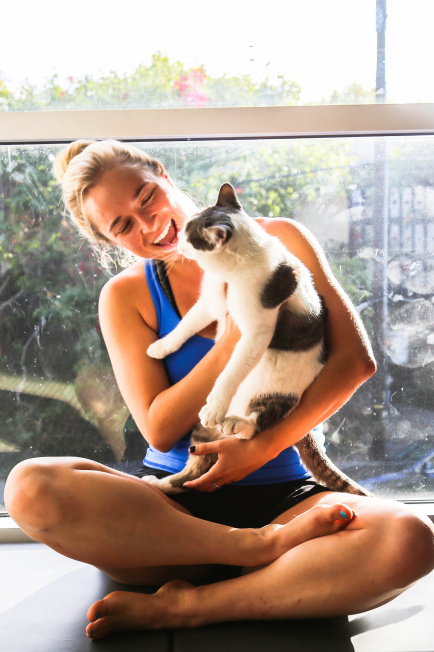 You guys. There's probably nothing I love more in life than getting "unready" at the end of the day — that magical moment when you step in the door, get down on the ground to cuddle your kitten, and realize you don't have to leave again to be anywhere or be available to anyone.
You are HOME. You get to chill out, zen out, do your thing, tap into your thoughts, and get back to the beauty of making you as "YOU" as possible.
That truly is my favorite part of my day, and next in line is my morning routine. There's something about those special pockets at the beginning and end of each day that make me feel so centered and whole. They remind me why I like to do this life thing. (Especially because I am so go, go, go, GO during the day.)
It's comforting to have a routine. If I've learned anything from my Ayurvedic studies lately, it's that having a go-to routine grounds us, and it actually sets us up to have far less stress throughout our days / lives because our bodies are programmed to know that we will have that time to unwind.
It's also just fun at the end of the day to get cozy, do what brings us joy, and shake off the good and maybe not as good parts of our days. My "unready" routine is my time to do what it is I love most… Spend time with Huddy, stretch on my yoga mat, burn a bunch of yummy smelling candles, get upside down a little, take off my makeup, get into my comfy pajamas, and hop into bed with a good book.
If every day could end that way I'd be happier than life, and probably far calmer than I currently am. I try to save at least half of my evenings throughout the week to go through that "unready" routine in one way or another, but sometimes I have events/plans/life things that get in the way. That's okay too — every day can't possibly be the exact same as the one before it!
Even when I can't go through my full nighttime unready routine, I do have a few non-negotiables:
Make ginger tea or vanilla tea to sip on before bed
Do at least five minutes of stretching / meditating (usually joined by Hudson)
Wash my face thoroughly + properly… And I say thoroughly + properly because dousing my skin in water and rubbing it off with a wash cloth doesn't cut it. I am very particular about my products and like to always make sure I am using something that works with my sensitive and particular skin
Brush my teeth / scrape my tongue (Ayurveda sneaking its way in there again!)
I am so stoked to have partnered with Neutrogena & their Deep Clean Gentle Scrub to bring you this post. Since I am crazy careful about what I put on my skin, I did some major research before making this a part of my routine… And all of the ingredients totally fit the bill for what I like to use.
The product is oil-free, non-comedogenic, contains Beta Hydroxy to cleanse deep into pores (for acne-prone people like me) and keep your skin nice and blackhead-free.
When it comes to my unready routine, I rotate my skincare to make sure that my skin is getting what it needs and not too much of one thing / too little of another. I like to use the scrub a couple of times a week, and I like to supplement it with gentle cleansers (like my fave light sulfur wash), a monthly facial, and tons of moisturizer.
After face washing time, it's tongue scraping / teeth brushing time, and then reading time.
My current fave nighttime reads are: Originals: How Non-Conformists Move the World, Sugar Crush (an amazing book about how sugar effects our bodies… it's a must-read), and Bad Feminist (a smart and hilarious collection of essays by Roxanne Gay).
And yes, I mentioned the tea addiction. It's real. That's what happens when you stop drinking coffee. Tea addiction turns into a full-blown thing.
What's your favorite kind of tea? And your favorite way to take care of your skin? What about books that you like to read at night? The unready routine is the best. <3
ALSO, Target is offering a buy-one-get-one 25% off when you buy both the wipes and the scrub! Make sure to check it outttt, my boos. You know you'll find yourself at Target soon and fill your cart with all sorts of other things anyway, why not get a discount?! The Double Cleansing Method works wonders!! XO