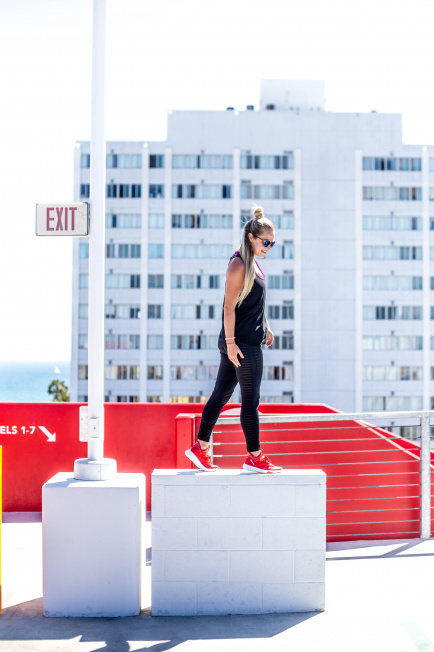 11 Steps to Fall Madly in Love With Your Life
Yep, this post is exactly what it sounds like it's going to be. 11 Easy Steps to Fall Madly in Love With Your Life… annnndd a few of those steps include falling in love with your fitness routine, because that's a part of loving your life. DUH. 😉
First, let's start with the fact that the photos in this post feature Reebok's new Hayasu shoe — in bright red, of course, because I love my bright colors — and that Reebok products can now be found at Finish Line stores!
I am obsessed with this shoe, and with the Reebok leggings I'm wearing along with it. The shoe makes me feel like an OG basketball player, because you know they rocked those high top bright red sneaks. #STYLE
Plus, I got lucky, because I happened to totally match the wall behind me when I was wearing these… So the whole scene felt pretty epic!
All outfit details can be found at the bottom of the post. Some fitness tips are in the list below, so you can rock this advice AND get yo' workout on at the same time!
11 Steps to Fall Madly in Love With Your Life:
1 Surround yourself with people who make you ridiculously happy. People who respect you, love you for who you are, encourage you to chase your goals, and BELIEVE in your passion. These people are your tribe. Give them the love & energy you expect in return, and you'll start to cultivate an amazing crew of humans around you.
2 Find a workout that you love, and be consistent with it. Finding something that you legitimately LOVE doing is important, or else you probably won't be able to have consistency with it. This requires trying new types of workouts… yoga, pilates, HIIT, distance running, spinning, swimming. TRY it all, so you can find what you like & take control of your health and your bod!
3 Eat well because you want to FEEL good from the inside out. Don't get too caught up in how food makes you LOOK, because that can be a tricky cycle. Make healthy choices because you want to nourish your body, fuel yourself with energy to live an active lifestyle and chase your passions, and because healthy food is a fun creative outlet. Research recipes, cook at home, make it fun! It is SO worth it & will greatly enhance the way you feel about yourself (and how you feel in general) over time.
4 If you don't like what you're doing, CHANGE IT. You have the ultimate control over your own life. In work, relationships, workouts, activities you do in your free time… You are the one who gets to choose. If you feel like you're in a rut, get out of it. Keep trying new things until you've found what you love and what makes you happy every single day.
5 Get out of your comfort zone, like all the time. There is no set amount or quantity here, but do it a LOT. Getting too comfortable, even with things that you love, will eventually keep you static. You want to be dynamic — always learning, always growing, always picking up new and awesome habits and people in your life! If something scares you or makes you uncomfortable… Do it. If you don't like it, at least you know not to do it again!
6 Run or walk a distance race. It doesn't have to be a marathon, or a half marathon, or a 10k. It can be a 5k (3.1 miles). You can WALK the 5k. All you need to do is sign up, train for it, and get your booty out there. It's a fun thing to do with friends, and it's a super fun challenge for yourself. I find that it helps so much when it comes to having the confidence to accomplish your goals… Simply signing up for something like a distance race and crossing it off your list. You might even get hooked on the distance running life!
7 STRETCH often, and don't forget to breathe. Always move your body. Stretch, do yoga, meditate, breathe. Being in tune with your mind-body connection will make you infinitely happier, and your body will also thank you for it.
8 Consider therapy. I say consider, because of course therapy is not for everyone. It may not be helpful to you at all. But if you have sh*t to work through (and we ALL do), consider it. Talking to an unbiased, trained professional can work wonders when it comes to working through your issues — and it can also help you see yourself in a whole new way. Just having a person to share your thoughts with, to let them flow, and to get feedback and healthy advice, is GOOD! Therapy is also a great source of consistency for those of us who have wild rollercoasters for lives. (Oh wait, that's all of us.)
9 Be open about your insecurities & fears. The more you are willing to talk through the things that bother you or make you feel uncomfortable, the more likely you are to work through those issues. You'll also find a deeper connection with those around you when you SHARE from your heart, and you'll start finding it quite easy to be more vulnerable with people! Never a bad thing.
10 Practice the art of BALANCE. Moderation is a beautiful thing, is it not? Eat well, but don't deprive yourself from what you want. Eat that cupcake, have that drink out at the bar with friends, skip that workout in favor of a killer brunch in a new city, go on that vacation even if it's a little $$ or even if it gets in the way of your routine. Having a healthy game plan when it comes to fitness and nutrition is good, but living life is even BETTER.
11 READ! Never stop learning new things. Reading is a great way to always stay open to information: other people's stories, history, recipes, fiction. Just diving into a good book and getting away from the screens every once in a while is underrated, and so extremely important.
I am supes lucky because not only do I surround myself with people I love, but I also get to WORK with people that I love! One of my dearest friends snapped the photos for this post, while one of my other dearest friends styled me and gave input while we snapped away.
And how cool is it that this Reebok gear is now available at Finish Line?! That certainly makes things convenient, because I know everyone has a Finish Line near them. 🙂
Can't wait to tell you guys ALL ABOUT HAWAII! I am having the best, best time. Hope you're following on INSTA & SNAP to see all of the behind the scenes awesomeness. 🙂 XO