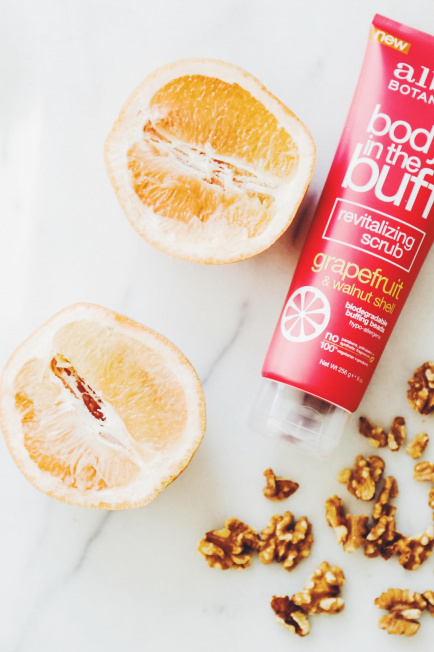 GUYS! It's been a while since I've written a Loving Lately post, but mannnnn do  you know how much I love these?! Sharing the things I'm loving lately with you guys, in my typical #OCDlistformat ways, is something that just makes my heart happy, happy, happy.
I have been on the hunt for all sorts of natural, healthy goodies lately to share with you loves, AND also lots of good music, self-care newness & exciting new evolvements with TBV Apparel up my sleeve like you wouldn't believe… Shall we get started?!
Loving Lately // 8.18.16
↠ ↠ Gettin' Back in the KITCHEN! You may have noticed through my Instagram & Snapchat that I have been back in the kitchen lately. I go through major phases with my cooking and meal prepping at home. I wiiiiish that I was better with being consistent about it, but let's be real — sometimes life gets busy and ordering from Postmates and/or going out to eat seems like the most realistic option. When I DO cook at home on a regular basis, I find that it's easier to stay consistent with it and I actually crave simple, healthy home cooked meals versus saucy, complex restaurant meals. (And to be clear, when I eat out I usually choose the "healthiest" options out there but there's nothing quite like eating home-cooked food). Lately I have been LOVING eating lots of g-free toast with almond butter & coconut butter, green smoothies, yummy oatmeal with egg whites (going to make a recipe video with this ASAP), homemade nut butters, veggies & grilled chicken, etc. My stomach has been super at ease with all of the home cooking I've been doing too, which is the best thing I can ask for…!
↠ ↠ Recipe Development! Speaking of cooking, that also happens to go hand in hand with recipe development. Luckily, I get to try out all sorts of yummy new products to share with you guys on the blog — and the more cooking I do, the more healthy brands I get to share! I am super stoked to share this one, as I am always looking for dairy-free milks to switch up my usual almond milk routine. Macadamia nut milk is full of calcium, iron, magnesium, zinc & selenium — all sorts of yummy vitamins & minerals that help us glow from the inside out. It's also full of healthy fats, and of course 100% dairy-free for those of us with lactose intolerance and sensitive tummies. My current fave mac nut brand is Suncoast Gold, a fab Australian brand that uses premium, slow-roasted nuts (local to Australia, which makes them even COOLER). Two other massive benefits of this company are: 1) it tastes AMAZING, like ice cream actually — best mac nut milk I have ever tasted for real, and 2) the people behind the company are wonderful and SO sweet… which you know is an absolute must in my book when I choose to promote a brand!
Acai bowl recipe: 3 tablespoons acai powder (I like the brand Navitas Naturals), 1 cup macadamia nut milk (Suncoast Gold, of course), 1 ripe banana, 1 tablespoon almond butter, and alllll the yummy toppings. I like chocolate g-free granola, coconut shreds, raspberries and almonds for an extra crunch!! Blend, top & enjoy!
↠ ↠ All of the SELF CARE! Okay, this is extra dear to my heart because I have some big self-care news coming up… I will share with you guys next week most likely, but I have so much to say about it I don't want to drop it in out of nowhere. My big hint is that it's Ayurveda-related and will be a bit of a mini retreat for me, so I will be away from computer/social media/regular life for about 7 days. VERY excited about it. Full deets to come, but in the meeeeantime there are tons of other ways I am working on my self-care. I have been getting a bimonthly massage, which is amazing because of all of the running/yoga/HIIT training that I do. Also facials, herbal oils, and my nightly digital detox routine before bed help so much. I also just bought some yoga blocks for my apartment (I like these Gaiam ones) and yes, you'd think I would have already owned them, but I never had my own! I have been laying them in my middle upper back and under my head every morning and every night and laying there meditating for about 10 mins each. It has worked WONDERS on opening my upper back and getting me in a zen headspace. Try it out if you haven't! Or find the self-care routine that works for you… I think it is beyond important to take care of yourself in new ways — if you're always doing the same things, your bod will get used to it and won't respond with as much relaxation — so switch it up!
↠ ↠ YOUTUBE! I know I always say this, but I am itching to get back into my YouTube game. I had a really fun recipe video that I had to take down last week because it accidentally conflicted with a brand that I am working with (totally my bad), but it was such a blast making it that I want to start a "TBB Kitchen" YouTube series. Who would be in for that?! Tell meee!! Also, if you haven't seen this BFF Video with my BFF Brandin Cohen, I felt that it was time to circle back and re-share!! It's reached almost 40,000 views on YouTube… Which for me, is a lot!! Check it out if you haven't seen it yet… It's so fun!
↠ ↠ INSTAGRAM VIDEO! I guess I am just on the video train right now in general. I still love Snapchat, but there is definitely a special place in my heart right now for Instagram video. It's great to have everything all in one place… And since I have so many of you guys following along on Instagram, it's great to put in-the-moment video content right there instead of trying to lead people over to Snap for all the fun stuff! I am such a "behind the scenes" kind of person… a.k.a, I MUCH prefer sharing my un-curated life with people… because I consider you guys all my friends, and that's the "me" that I would share with my friends. I think the more that you can get to know me, the more my blog will be able to impact you anyway! And then it's like an open dialogue between us rather than me just talking at you, ya know? Things you'll find on my Instagram video: me singing in the car (specifically lots of TRAIN & EMINEM, haha), behind the scenes of blog photo shoots, lots of food, cuddles with Huddy, and interviewing my friends & fam on camera. 😉
↠ ↠ COREPOWER YOGA! I had always heard amazing things about CPY, but because I am such a routine person I didn't actually try it out for a very long time, even after hearing all the great stuff. I had a diff studio that I had been going to since I moved to LA almost 8 years ago! After finally trying it for myself a few months back, OMG I am hooked. I started going to the one right by my house in Brentwood, and even more recently discovered the studio in Westwood — and for some reason, my heart totally belongs to that studio. You know how some studios just feel like home the moment you set foot into them? I love the location, in such a cute neighborhood nestled by UCLA, next to a bunch of my fave haunts like Trader Joe's, Tender Greens, and the adorable coffee shop Profeta that is my new lil' inspiration work spot. A fun fact about CPY: every time I post about it on Instagram or Snapchat, I get upwards of 30 responses from other bloggers and YOU GUYS saying "AHHH, I love CPY!" I think that's kinda the definition of a great studio, right? A place where people feel connected, rooted in spirituality & are able to get out of their heads, get their sweat on, and have such good vibes when they think about it that they can't help but want to profess their love for it. That's how I am at least! My fave class currently is CP2… a level 2 class in a super heated room. I haven't tried their classes with weights yet but I am dying to! And I also like CP1 (level 1, less heated class) for a cool down if I've already gone for a run or done HIIT that day.  Check my Snapchats for a bunch of BTS sweaty CPY photos. 😉
↠ ↠ SPOTIFY! I was definitely late to the Spotify life, but after I started using it 5ish months ago I have been OBSESSED. I stalk my yoga teachers and trainers on there, because they obvi have the best music. 😉 I just made my first ever TBB playlist… FOLLOW it HEREEEE, and tell me which songs to add! This kind of a half work / half workout playlist. I like chill music for the most part, but I am into the upbeat & the rap when it comes to running and workouts. Right now I LOOOOVE country, Mumford, Jack Garratt… So much goodness.
↠ ↠ FICTION! Yep, I'm working on another novel. Totes fiction. Inspired by my therapists' house in North Hollywood. Get EXCITED. I am beyond over the moon about it, but also making it a huge point to finish my Going Viral eBook before I REALLY dive into writing the novel! Also STOKED about Going Viral, and have interviewed some of my fave bloggers one earth to get their tips to include in it… You guys are in for a treat!
↠ ↠ ECO-FRIENDLY PRODUCTS! When I find an eco-friendly body product with 100% vegetarian ingredients & zero animal testing, artificial colors, synthetic fragrances, parabens, sulfate or phlalates, you'd better believe I am sharing it with you guys! On top of it all, this fruity Alba Botanica scrub smells like heaven in a bottle & will make your skin feel so silky smooooth. Huge fan over here. Also, funny moment… Did you see my Instagram video of me rubbing this on my legs originally thinking it was lotion, because of how adorable & lotion-esque the packaging is?! TOO funny. The good news is, my legs smelled AMAZING and were super duper silky soft afterward! LOVE. Check them out, guys! I am a really big proponent of the ingredients they use, and even more than that, a fan of what they do NOT use (and by that I mean a fan that they don't use it!!!). And look how cutie cute!
 Soooo there we have it, my angels. Just a few things I'm loving lately. Can't wait to share my big Ayurvedic-related self-care news with you! EEK! What are YOU loving lately?! XO