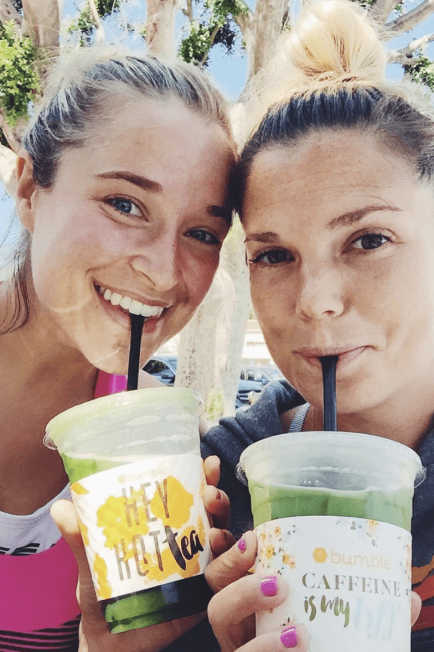 Finding the Balance Between BUSY & OVERWORKED
Man oh man, is there a difference between being "busy" and being straight up overworked. I've been contemplating this a lot lately. Like a LOT, a lot, and would love to share.
( BTW: The pics in this post will be full of the fab people I get to surround myself with in my "work" life, because I am so lucky that they make even the fullest, busiest of days so much fun and downright inspiring… Because they all rock hardcore. )
I am one of those girls who thrives off of having a lot on her plate. I like to wake up with a full schedule on my calendar, places to be, people to be with, things to do, blog posts to write, projects to work on, fitness classes to take, recipes to try out, photos to edit, events to attend, yada yada. I like to do that as a general rule — but on the flip side, I also like to have days where I can chill and think, "What in the world do I feel like doing today?" It's HEALTHY to have days off.
I want my "busy" days to be a choice. Something that I am energetically ready for because I've conserved energy in other ways, and also something that is going to make me feel productive & baller rather than emotionally or socially DRAINED. There is a massive difference there, as well.
At a Juice Served Here event last week with the beautiful Mariah Perkins & Tara Sowlaty <3
As a side note, I have grown to despise the term "busy," because let's face it: we're all busy. We glorify the word busy because it is often associated with being productive, successful, social, and having a life full of interesting things. All of those things are awesome. But what I don't like is the way that people use the word busy as an excuse for not being available, or as the first word that comes to mind when you ask them how they've been lately. In all honesty, I DO feel busy! I have to catch myself from being one of those people who can't make it to things because I am "busy" with work and blog stuff.
But instead of busy, I say "My plate is so full this week!" and "I have a bunch of commitments this week" or "I already have a ton of plans this week, but what does next week look like for you?" Because that reminds myself and the person I'm talking to that it's all positive. My plate is full with things that I have CHOSEN to do. If I didn't choose any of it, then yeah, I'd be "busy."
BUT back to the point! Having a full plate vs. being straight up overworked.
This summer has been a pretty major combo of both for me. I began the summer with a ton of travel, lots of commitments, and my usual full-to-the-brim schedule. And honestly, for the first time in a while, I felt pretty burnt out. I felt like I couldn't keep up. I was forgetting deadlines, missing Hudson terribly while I was away, being less than present around certain people I love, realizing I hadn't cooked at home in forever, and basically not putting myself first.
So I reevaluated, and I can safely say that the last few weeks have been full of a lot of the "down time" I was really craving. I have been saying "yes" to coffee dates, workout dates, catch up seshes with people I don't get to see often, and staying out later on the weekends (when I am in my super-productive mode, I don't like to stay out too late — my days are FULL!). I have also been prioritizing my workouts, and have been steadily reincorporating yoga into my routine, and also doing OTF 4-5 times a week. I have been reading a lot, planning things that I REALLY want to do, and getting used to my new yoga teacher training schedule. I was also sleeping in more, hittin' up the farmer's market and cooking at home a ton.
It all comes in ebbs and flows. I felt awesome after taking that time to recharge. I was still working of course, but doing it on a smaller scale and not letting it totally dominate my day. This week, however, it's been a bit diff. I have been working myself to the bone and feeling overwhelmed at the mere idea of everything I have on my plate for the next week and a half.
Part of that is due to the fact that I am doing a full Ayurvedic Pancharkarma starting on Sept. 3rd (I AM SO EXCITED. CAN'T WAIT TO TELL YOU GUYS ALL! More deets to come– I'm sure a lot of you are like WTF is that?! Hehe), so I have a lot of ducks to get in a row before I head off to do that. I will be totally off the grid — TOTALLY — so there will be no "light work" on those days. I am taking time off, like realllllllyyyy off, for the first time ever ever and I am beyond stoked.
But my point is: even with my recharging time, I feel overwhelmed right now. I feel overworked. I have partially done this to myself by accepting too much at once and overcommitting myself and also trying to make all of my plans happen regardless of the epic mountain of work that I have to do, and that's okay.
It's OKAYYYY.
You catch my drift?
It's all about how we attach ourselves to things. Yesterday, I felt ridic attached to how stressed out I was starting to feel. It felt like one thing after the next. No matter how I tried to imagine how I would tackle it all, it left me feeling psycho and in way too deep. I was just stressed out. It even carried over into the first part of today.
& I COULDN'T BE PRODUCTIVE BECAUSE I WAS STRESSED OUT!
But if I had been less reactive, less sensitive, and more go with the flow, I could have been WAY more productive. And happier. In one fell swoop.
With my boo Aerial at yesterday's Alo Yoga Beach House yogi day
I even ranted and raged on the phone to my mom for a full 45 mins on the way home from Malibu yesterday… #yeah.
As I said, carried over into today. Went to a Soul Cycle workout with tons of my favorite humans, and still felt like sobbing.
And then something hit me: just cross things off your list. One thing at a time. One STEP at a time. That is all you can do, and inevitably in the process, it all starts to seem easier and easier.
Life has so much to do with attachment. To work, to being stressed, to being busy, to other people, to ideas about ourSELVES, to goals and ideas that we have and situations that we want to predict the outcomes of. And I am the ultimate attacher. "I want things to happen THIS ONE WAY and if they don't, I will be extremely upset and hurt and confused about why they didn't work out the way that I wanted them to."
So truly, my work is to detach. Yesterday and today, I had to learn to detach from the crazy looming stress that I felt about having too much work on my plate for the next week and a half. I had to detach from the fact that I don't always have control. I can try to have that control, but at a certain point holding onto that control becomes an attachment issue in itself.
I am also having to detach a bit from what I envisioned the beginning of my teacher training to be like, because it turns out it's going to be a LOT more work and emotional energy than I anticipated. I am game for it, and excited about it, but man — it is not what I expected exactly and I have to let go of the attachment to what I thought it would be like. I also have to let go of attachment to the kind of teacher I thought I was — because it turns out, folks, I have a lot of practice ahead of me. Again, that's okay… Letting go of attachments.
Basically, the key to finding balance between being busy & being overworked / stressed is… letting go of the emotional attachments you have to what it means to be "busy." Also, letting go of attachments and reactions to the little things that happen throughout the day. One thing leads to the next, and if we can remain calm and content regardless of the little triggers — we will never get to the point of feeling full-blown upset and stressed out.
For me, my new FULL PLATE now includes teacher training. It includes being a kitten mama. It includes being a business owner and a blogger and a friend and a sister and a daughter and an aunt and a yogi and a runner and a writer. See how business owner / blogger is only a PART of that?
Full plate is no longer "blogger" the way I once would have defined myself and ATTACHED myself to.
Say hi to Christina. Snapped by the fab Danika. My women. <3
Also, giving ourselves that little time to relax and recharge… Dayum, if I hadn't done that for the last few weeks, who knows how stressed I would be right now!! I had my heart rate niiiiice and low and steady, and now I'm all over the place again.
But I'm breathing.
And I am looking forward to my Panchakarma like NO other.
And I am feeling really grateful for the awesome people I get to spend my days with. I had the best morning at Soul Cycle, and a great day yesterday at the Alo Yoga Beach House in Malibu. Being surrounded by so many fun, inspiring, people who I love certainly helps make juggling this "life" thing quite a bit easier.
ALSO, AND LASTLY: Don't do anything you don't want to do! I have been steadily weeding things out of my life that I don't want or need. Work commitments, partnerships, even people (rare tho, but sometimes), and anything that feels like it's energy DRAINING rather than energy ENHANCING.
So. Let's list it up. Tips for Keepin' the Stress Levels Low:
Let go of attachments. Let things unfold as they are, and focus on having calm, realistic reactions. I can be a drama queen and can also get hurt / upset very easily, but controlling my reactions and letting go of attachments is HUGELY helpful for me.
If you are super overwhelmed, take a step back. Nothing productive comes from trying to cross things off your list when you are in full-blown panic mode. I tried to take pics this morning
Give yourself time to relax and recharge. You MUST balance those full, busy days with quiet, chill, recharging days. Read a book, get a massage, go on an adventure with a friend, turn the TV on and zone out, whatever makes you feel balanced as opposed to the energetically crazy days.
Say "NO" to things you don't want to do. If you fill your plate strictly with things you enjoy (even if they are work related they can be enjoyable ENOUGH), then you will not get burnt out nearly as easily. It will become impossible to be overworked… Just busy. 😉
Did I miss anything?! Surround yourself with good peeps?! HUGE-HUGE.
Anyway, if I've seemed MIA this week… That's why. Just chasing my life around and trying to be a chill human.
LOVE YOU GUYS.
Soul sista twin workout buddy life lover Laura Conley. <3