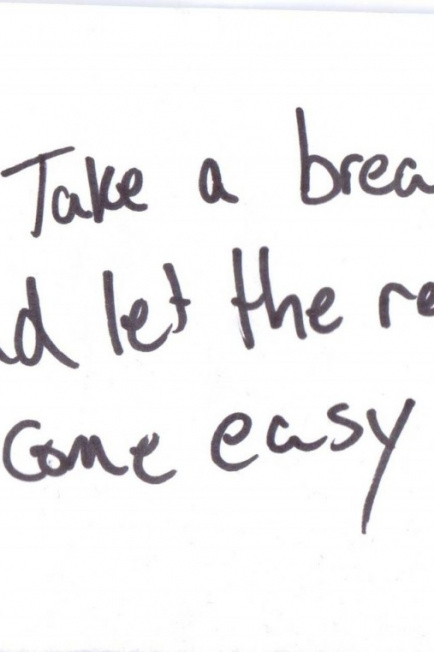 Taking Care of Ourselves!!!
BTW, I wrote this last Thurs, but posting it today. Just pretend like it's still Thursday to get yoself in the full on vibes of this moment. 😉
I just had to write this, I couldn't not, because it's currently 3 p.m. and I decided to take care of myself today by skipping out on some much-anticipated plans to sleep an extra 30 min (even that short period of time can work wonders), write three (now FOUR) inspired, from-the-heart blog posts, give Huddy some extra loving and cuddles, drink tons of water with apple cider vinegar, enjoy my freshly cleaned apartment, have a lazy afternoon stroll to Alfred for some rose iced tea, hit up Whole Foods, and regroup / gather myself before I head to yoga later and to dinner with my cousins.
Man, guys, can life be exhausting. Yesterday was just one of those days. It was all good stuff, but I was legitimately out & about from 9 a.m. until 10:45 p.m. It was a LONGGG a$$ day. I also had to be very "on" & in learning mode for teacher training, and "on" and in introspection mode during therapy, etc. Got home and went immediately to YouTube to start uploading something. I worked until my eyes burned. I looked in the mirror before bed and the skin under my eyes was 110% purple. The previous two days had been packed to the brim as well — and by the time this morning rolled around, I was like Holy F.
I had a huge headache. Could hear my heart pounding through my ears. Sore throat was on fiyah. Felt hungover from my late night computer staring sesh. Knew that I had two big deadlines today and that if I pushed them to mid-afternoon I'd be risking putting the work off until my sometimes hard-to-concentrate phase of the day.
But I didn't wanna miss out on my plans! My friend Lee was hosting a fun Soul Cycle class & brunch with a bunch of my fave blogger babes. I knew starting my day with them would only make my full day even more awesome and inspired — but I knew what I had to do. I had to listen to my gut, stay home and get my sh*t done.
I'll also mention that tomorrow, Saturday & Sunday are going to be FULL, full days of work, plans and teacher training. And on Monday I begin my Panchakarma prep, and 5 days later I start my Panchakarma (#YES!!!).
So staying home and taking care of myself was the way to go. I even had several hours of feeling like I was legit about to get a bad cold or the stomach flu. So yeah, I needed a rest. And after spending the whole morning working from bed — getting my stuff done and feeling super inspired and on top of it while doing so — I feel great!
My body is still kinda achey because I swear I've been fighting something off for a good 2 weeks now (WTF?), but I do feel recharged and ready for some yoga sculpt tonight. I feel clear-headed, and the best part is I feel CALM and productive because I got everything done that I needed to — and more.
That wellness tour post I've been putting off writing for weeks (I mean months…)? Wrote it! Deadlines? Done & donezo! Phone catch up with my mamacita? You betcha.
MANNNN are these days amazing. Even Hudson is happy as a clam. He has been "talking" to me all day in his cute, adorable squeaky lil kitty way. He has also been purring like a motorboat and won't leave my side. I think it's his way of saying "thank GOD you're home for the day and taking care of both of us the way you are supposed to be!"
And now, guess what? I have been so productive, I may even sit down on the couch and read for a while before yoga! Imagine that.
Oh, AND — I am starting to fill up my calendar for next week with exciting things I am really stoked about. And fun little midday workout plans with my fave people.
If I were still the over exhausted, "hungover" self that I was this morning with purple rings under my eyes having given myself no break, chasing down my deadlines with an unclear mind, I'd be like HELL NO about filling my calendar for next week.
Sometimes I've just gotta remember that slow is best. Life is not always a race to do everything, see everyone, please everyone. I'm not even just referring to this morning specifically, but in general. I live on such a HIGH, overstimulated wavelength most of the time. And I am really looking forward to spending more time in the middle — at a lower frequency — so I can breathe and be very mindful of my time and energy.
And guess what? True friends, awesome people, they always understand. And support. And they do the same thing — it's an admirable trait, really. To take care of ourselves. <3
Cheers to taking care of ourselves, listening to our bods, lots of tea for sore throats (and elderberry syrup!) and to PANCHAKARMA PREP BECAUSE OMG! I can't believe how soon I begin! Beyond excited about it. Love you guys. Anyone been in this boat recently of needing to slow down and take some time to yourself?
SELF CARE = SELF LOVE. Never forget it!