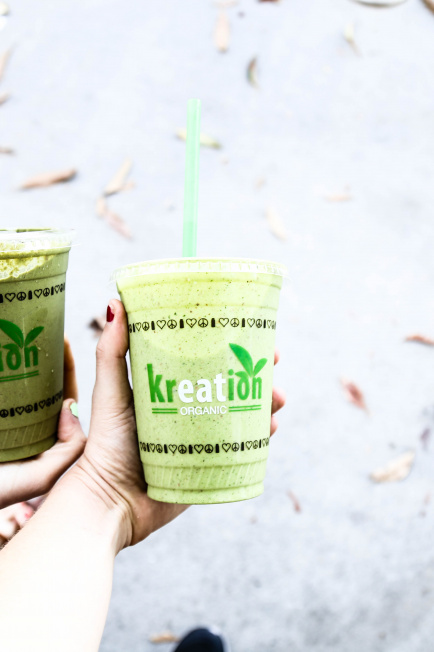 TBB Wellness Tour BEGINS!
Ahhh, guyyyyys!!! I am so excited right now I could jump out of  my seat. Probably also because I've had cold brew, rose iced tea (Alfred's, baby), AND coca pu-erh tea all in the last few hours (#yolo, #beveragey)… But MAINLY because I can finally, finally bring you this fun new blog series I have been working on for months now! You know me and keeping things under wraps — it legit doesn't happen — so you've definitely heard me mention (and mention again and again) the wellness tour, and nowwwww it's here! We are launching! Locked & loaded — and there is nothing I'd rather bring you guys than this type of insider wellness info.
Nothin'.
What is the wellness tour, you ask?!
Welp, it's basically my life in a nutshell. I think my life IS a wellness tour around L.A., and whichever city I happen to be in in that moment. When I traveled to Austin… wellness tour. Kauai? Wellness tour. Cruise around Italy and the South of France? Wellness tour. Sacramento, San Francisco, Napa, New York City, Costa Rica, Cabo — I find that wellness ish and I put it on blast.
Honestly you guys, I was more excited to see the original Whole Foods Market in Austin, TX than I was to go to bars on Rainey Street or lay out at the ever-iconic Barton Springs. Like, way more excited.
And living in Los Angeles, the wellness tour is never ending. My daily haunts certainly fall into the health & wellness category… Alfred Coffee, OrangeTheory Fitness, Whole Foods, M Cafe, Cafe Gratitude, Earthbar, Corepower Yoga… You know my drill.
But also — there is some guidance to be had! With the epic sea of options, we need a roadmap. For people visiting Los Angeles, yes of course you need a road map & I am stoked to provide it, but also for those of us who live here. I have my fave menu items, insider tips on where to park, what to do while you're nearby, all that jazz.
So, shall we get started?!?!
It was hard to choose the restaurant I wanted to kick off this tour with. I have so many favorites. So many killer places to share with you guys. And because I've been working on this (with the fab Christina's help — what up!) for the last 4-ish months, we have hit up a lot of places. We gots lots of pictures and lots of tips. But, I ended up choosing Kreation Juicery for a couple of reasons.
Reason #1: There is a Kreation in my hood, walking distance from my apartment actually, so I hit it up a lot. It's a part of my regular routine, so it couldn't possibly be more organic to share with you guys.
Reason #2: It was the FIRST juice bar in Los Angeles that I ever, ever tried. The Manhattan Beach location to be precise. 2012. Way before juice bars were a THING. I fell in love with their innovative flavors and their adorable branding. I brought people there every time they visited me. It's my special little spot.
Reason #3: They have sit-down restaurants AND grab-and-go juice + smoothie + food locations. I like the variety, and I am all about sharing that type of place with you! They have tons of vegan, gluten-free, organic, delish items and they ALSO have salads with chicken and other non-vegan things. Perfect for the balanced life, yo.
Kreation, I love ya!
Ok, let's get started. I am going to keep the wellness tour format really simple & easy to follow, because I am going to be posting a lot of these. I want you guys to be able to compile them & print them out (if need be) if you're traveling to LA. I don't want you to have to read through all my ramblings to get to the goods. You can read all my other blog posts for that type of thing. 😉 And my intros for crying out loud — 600 words of introduction! #ImInsane.
LOCATION: I love the Brentwood location on Barrington Ave (I'm partial to my hood!) but also the Montana, Abbott Kinney, West Hollywood, and Manhattan Beach locations are all awesome too. I am a huge fan in general. If you're looking for sit down style… Try WeHo, Venice or Montana. The Brentwood one is smaller, as you can see in photos!
WHERE TO PARK: There is a big parking lot directly across the street where you can park for free for 2 hours as long as you get your parking ticket validated! There is also usually street parking, so be sure to pay the meter! They watch those like a hawk in this neighborhood.
JORDAN'S MUST-HAVES: I absolutely love the MILF green juice — it has almond milk, hemp protein, cucumber, spinach, chia seeds & almond butter. It tastes like HEAVEN and is designed to promote longevity and fertility. It will hold you over between meals and could even be a meal replacement. Also LOVE the Loaded Gun for morning time (cold-pressed coffee, coconut oil, grass-fed butter), and every single one of their blended-on-the-spot smoothie options. Opt for 1/2 banana in some of those if you want to keep them more low-glycemic.
IF YOU'RE IN THE MOOD FOR DESSERT: Get one of their chocolatey smoothies or their cacao energy balls — I get them whenever I need a pick-me-up, and DAMN are they good. Also the Cacao Almond Yogi… It's basically like chocolate almond yogurt pudding… So many good things in one.
TAKE THESE THINGS TO GO: The MATCHA PUDDING, and any of their grab-and-go salads. I love the Happy Ending & the Kinky Quinoa! And the CHIA pudding makes an amazing breakfast!
SOMETHING SPECIAL: Their juices are never high pressure pasteurized, which means they deliver significantly more nourishment and health benefits than traditional juicing methods. All Kreation juices are made from Farmer's Market Certified Organic fruits and vegetables purchased locally in Santa Monica. They flood the body's cells with vitamins, minerals, and enzymes that cleanse, heal, and nourish. SWEET. Plus, I told you it was the first juice bar I ever discovered! ANNDDD they are GREEN — the cutest green grass outside you ever did see! Take some pics while you're there. 😉
WHAT TO DO NEARBY: Right next-door is a Burn 60 if you want to get your workout on. Across the street is a Lemonade (yummy food if you want a full-blown meal), and if you stroll down the street toward San Vicente there is tons of shopping, OrangeTheory Fitness, Alfred Coffee & more!
Overall, I am a huge fan! A++++ in my book. 
And thus concludes rou
nd 1 of the wellness tour. 😉 Coming in HOT. Let me know if there's more info about Kreation that you'd like to know, and I will keep that in mind for the future wellness tour posts that I do!! Lots of great stuff coming, from Moon Juice to Bottega Louie to Estrella on Sunset to Flower Child and sooooo much more.
MUAH!