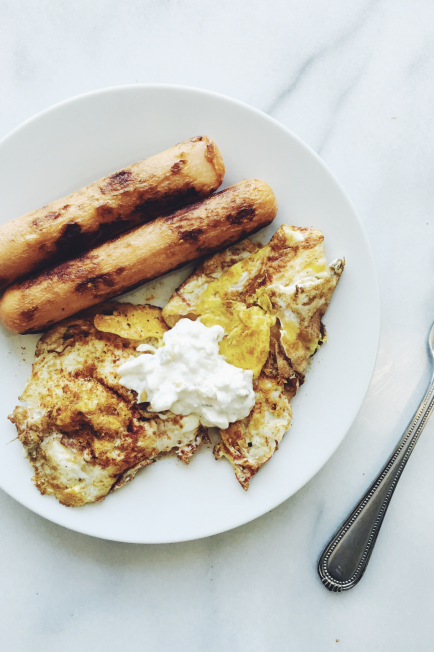 SOOO it's been a while since I've written a Loving Lately post, and it's about damn time to get back on the train! I absolutely love writing in list form about the ish I am currently into — you KNOW this — and after my Panchakarma my head is spinning with all the good stuff I just can't get enough of. There is a lot that I am loving at the moment, so I'm going to try to be briefer than usual on each thing so that I can squeeze a bunch in without making this post way too long for comfort. 🙂
Side note — be HONEST with me, would you guys like my posts to be a little shorter? Or are you cool with the typically long length? I know there is so much content on the Internet I don't want to inundate you with my LONGGG A$$ posts if you'd rather have them come in smaller bytes. Lemme know in the comments below. I'm here to please ya. 😉
Loving Lately, 9.15.16 Style
↠ ↠  Getting back into the swing of life post-Panchakarma: It's been rough & a true test of my patience coming back into the real world after my Panchakarma detox. I thoroughly prepared myself to slow down and rest for the prep week and for the detox itself, but I didn't fully account for how wiped out I'd be after the detox. It has taken me over a week to even start thinking about doing my usual workouts again and to eat anything other than steamed rice, veggies, oatmeal and ginger tea. Plus, with my yoga training and juggling all sorts of other things to catch up (like daily photo and video shoots this week – ah!), it's been very overwhelming to "come back to life." However, in the midst of that it's also been fun. I appreciate my friendships and my connections with likeminded humans even more than I did pre-Panchakarma, because I had so much time to reflect on who and what makes me happy. I also came to realize that I was working myself a little TOO hard (I knew this going into it, too…) so I have backed off a bit to live a more balanced existence. It's been awesome so far, and going for my first run in a few weeks yesterday truly felt like heaven. I think my body is going to perform so much better and FEEL so much better now after all the intense rest and detox — which is amazing.
↠ ↠ Speaking of coming back to life, training for my HALF MARATHON: I am super duper stoked to be running the Big Sur Half in November with a bunch of my best friends. I've had moments of feeling so stressed because of my teacher training & life in general that I've wondered whether signing up for this one was a bad idea timing-wise — but now that I am beginning to really train for it I remember (yet again) what an incredible outlet running is for me. I love to run with friends because it's such a great way to chat and catch up and spend genuine time with people I care about, and I also love to run alone because it becomes purely meditative for me. It's such a great compliment to yoga, too. And I can't even wait for our little Big Sur getaway because with TT right now I don't have a whole lot of time to travel this season! So I will be even more appreciative of our special weekend away. Plus, running gets my heart pumping like no other which is an inevitably addictive feeling for us adrenaline junkies. <3
↠ ↠ READING! Reading so much during my Panchakarma was such a calming and sacred experience, I can hardly even tell you. I LOVE to read… I adore it, and ever since I started blogging 3.5 years ago I have been reading books a lot less because so much of my free time now goes to reading blogs and being present on social media. I have still managed to read a lot of good books over the last few years, especially on vacation or when I discover a really good one out of nowhere, but it had been a long time since reading a good book before bed was really part of my routine. As a writer, reading has a profound impact on me. When I am immersed in a good book, either fiction or non-fiction (but usually fiction because I am such a lit nerd and love it), I am overall happier and more inspired. Reading I Know This Much is True was ridiculously inspirational for me as a writer AND as a reader, and I am definitely motivated to keep this reading before bed routine up. ALSO, I have a TBB Book Club post coming in hot later this week! Stay tuned! I even wrote it already and have it in my post drafts like a good organized blogger girl. 😉
↠ ↠ NOT STRETCHING MYSELF TOO THIN: Guys, this is big. I am the queen of overcommitting. And for the longest time I always said it's not that bad that I stretch myself so thin because everything I say "yes" to I really, truly want to do and am passionate about. But still, it doesn't make for a very manageable life when you have way too much on your plate. So right now I am really focusing on just trying to get the things done that I need to, enjoy life in the in-between, make plenty of time for the people who matter, make time to try new things, and say NO even to things that sound awesome but will be hard to squeeze in. A few things I said no to lately… Working out on Monday and Tuesday this week, which was a big deal for me because I was really excited to work out again after my post-Panchakarma rest. I ran out of time because my yoga assisting schedule is getting crazy, but guess what? I had time to clean my apartment! Organize my refrigerator! Open my box deliveries from that day without letting them sit around unopened all week! Give Hud some play time. It was so nice… The little things, you guys. The little things. Another thing I said no to was HARD because I would have loved so much to do it — a Maroon 5 concert in Sactown in October. But it would require me to fly in and out in less than a 24 hour period to be in LA for teacher training on both Sat & Sun. So I'm just foregoing it, and even though it's sad to miss it — I am enjoying my more stress-free life at the moment. 🙂
↠ ↠ FOOD BALANCE ATER PANCHAKARMA: I was worried at first that I might be really crazy about my food after my Panchakarma. In the past, after big detoxes and cleanses I was always really inclined to keep the strict regime going so I could continue feeling as pure and clean as possible. But this time I have been really excited to reintroduce new foods in a balanced, healthy way. I had a blast at Trader Joes the other night picking out new things — chicken sausage, free-range eggs, crunchy almond butter, gluten-free bread — things that normal healthy people eat but "cleansing Jordan" would not be able to eat. It's really nice to have come this far and to see that I can do a detox because it's good for me inside and out, and come out of it without feeling the pressure to remain "perfectly pure." I am very proud of myself and am LOVING playing around in the kitchen with healthy and balanced but not psychotically over-healthy recipes. Also, the detox kicked my little addiction to protein shakes and protein bars, which I am happy about because even though they are healthy in moderation — there are still additives and I'd rather just eat real food and whole meals instead of all of that powdery protein. That's what a reset is good for, yo! Even I need to detox from lil things like that!
↠ ↠ THE NON-PHYSICAL SIDE OF YOGA: I have always felt connected to yoga in a spiritual, energetic sort of way and not just in it for the athletics. I mean duh — yoga has been a way of life for me for a long time. But with my yoga studies right now I am really able to let go of the inner desire to get that sweaty vinyasa flow on all the time and have been able to embrace the spiritual side and the breath work. I've been studying a lot of Pranayama, chakras, subtle body, the Sutras, etc. and feeling so connected to the practice I could burst. I have a full post coming on it soon, but had to add it in because it's been awesome.
↠ ↠ PLANNING TRIPS! I have been so busy with TT and with the detox that this season really isn't a big travel season for me. But I do have a trip to NY coming up for my birthday and to connect with a lot of brands that I work with, and I could not be more excited to be back in my spirit city. I am also headed to Hawaii at the end of October to teach a yoga class at the Andaz Maui and I am THRILLED. Maui is my second home… and I hadn't been yet this year, so it was fate. And I have my Big Sur trip, and a trip to Bora Bora with my fam in February. It's not all super soon, but it is a lot to look forward to. And saying "no" to other things to focus on myself has opened up this free time to be able to say YES to all of those awesome opps. It's nice to be HOME with Huddy for a nice long time and plan my trips in advance instead of being gone what feels like all the time.
↠ ↠ THIS BUZZFEED ARTICLE! Not only was I thrilled, humbled, and flattered AF to be included in this article of inspirational IG's to follow, but I was REALLY HAPPY to see that almost all of the ladies on the list are my dear friends both on and off the Internet. The wellness blogging world has created so many special and lasting friendships in my life, and to see that all of us as a community are making an impact on cyberspace is SO COOL. It always feels awesome to see other genuine, passionate people reaching a wide audience with positive (healthy!). Blogging can be a competitive space, and I love seeing that those people who I have a feeling aren't in it for the right reasons are sort of dwindling out as far as having a loyal following goes. You guys make my life, as to the other ladies on this BuzzFeed list, so this was awesome! <3
↠ ↠ FEELING MORE LIKE MYSELF THAN EVER: Saving this one for a full on bloggy post, but at this stage in my life I am feeling more like myself than ever before. I have worked hard to get to this point, so it feels real good. I no longer have stale relationships in my life weighing me down, I am taking care of my body in a balanced and healthy way, I don't feel pressure to be more "normal" or be someone who I'm just not (by drinking, staying out late, being more extroverted or introverted or thinner or wearing more makeup or whatever the pressure feels like that day, etc.) and I am able to focus on what I love and what I want to create. It's a BEAUTIFUL feeling and I wish it upon everyone in the world — I know it will keep changing and ebbing and flowing and I'm def along for the ride.
↠ ↠ THESE SONGS ON MY SPOTIFY, BECAUSE… The emo music I was obsessed with in high school is literally bringing me life again. I rediscovered a BUNCH of old songs that I was beyond obsessed with back in the day when I was on a lil drive with someone I love mucho the other night. And now I am super happy about it and can't stop listening.
Thoughts?! What are YOU guys loving lately?