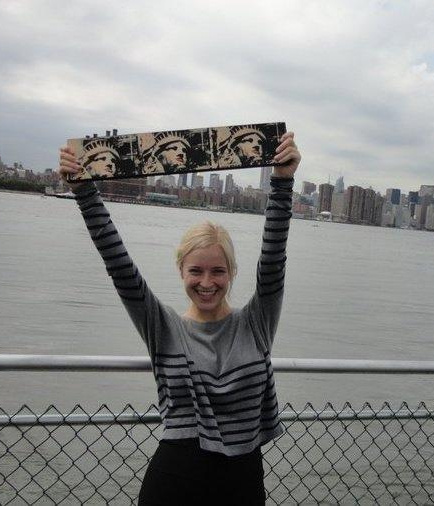 25 Things I Wish I Knew When I Was 20…
YO! In collaboration with American Express as they celebrate 25 years of the Membership Rewards program, I put together this handy dandy list of 25 things I wish I knew at 20.
It's pretty freaking awesome what American Express is offering for this anniversary! From tickets to Broadway's Hamilton (I'm still dying to see it… big time) to a private dinner inside of the Galleria dell'Accademia in Florence to granting 25 wishes with the Make-A-Wish foundation. Head over to the American Express Membership Rewards® page to learn more!
Speaking of learning more, you're about to learn a lot more about me.
I know that "20" was only a few years ago for me, but BOY have things changed in the last nearly six years. I think you'll feel like you know me quite well after this, haha. Or at least I hope!
Enjoy! And you 20-ish year olds out there… I hope you can take a few of these and apply them to your lives!
20 year old me… Not a whole lot has changed, LOL.
25 Things I Wish I Knew When I Was 20…
Your therapist is right. About everything. (Lol.)
You can still hang out with your friends every night without taking shots and/or heavily drinking. There is a way to be social without alcohol involved all of the time.
Letting go of people is hard, but holding onto stale relationships and energy-sucking friends won't do you any good. Let go of the people it doesn't feel right with!
After you get your yoga teaching certification, TEACH! The best way to get better at something is to practice, practice, practice.
Build credit. As soon as you're ready, sign up for a rewards card (like an American Express charge card) and start getting Membership Rewards points for everyday purchases!
No need to rush into grad school after you graduate. There are lots of fun things on the horizon for you that don't involve school or sitting at a desk, and you'll get to use that creative brain of yours every single day.
Meet Ryan Gosling and marry him while you have the chance. He'll be married with child come 2015… (Hehe)
You're going to discover that eating a plant-based diet makes you feel awesome. Maaaaybe don't be so quick to dive into the lifestyle and label yourself a vegan. Eat the plants, feel great, and remember that a little bit of balance goes a long way. A.K.A. eat a burger every once in a while and everything will be fine!
That play that you're going to write next year — don't give up on it. You'll meet the perfect actors to act in it, and it's worth putting the effort into producing it. Think about it… You could be a published playwright before you turn 22. 😉
When you choose a blog name, think about choosing something that is going to be super timeless. You probably think you're going to be a vegan forever, but what if things change? (Spoiler alert: they will.) You want to choose a blog name that will withstand the test of time! Something that will allow your blog to grow along with you. Plus, who only wants to blog about food?
On that note, start a blog. NOW. Like yesterday. And chat with other bloggers and interact with their content — one day they might just be some of your closest friends / inspirations.
Ombre hair really isn't your thing. You're going to want to try the trend out, but resist. Living in NYC in the dead of winter with practically pitch black roots isn't quite your look. Stick with the blonde — it suits you.

Spend a ton of time with your nieces and nephew while they're little. They are going to grow up really ridiculously fast and one day you're going to turn around and one of them will be in COLLEGE. It's special being a young aunt and being so close in age with them, don't take it for granted.
Choose organic. Always. In fact, look up what organic means and add it to your repertoire of things that are important to you. Yes, that means that you can't shop at the "C-Lion" on campus for groceries. Embrace your inner Whole Foods junkie. It's worth it!
Living in a house with a bunch of people probably sounds like it will be a ton of fun, but eventually you're going to want your own space. Live with one or two close friends for the last few years of college… You'll be so happy that you did.
Start learning Italian before you study abroad. If you can speak it well by the time you get there, you'll be able to interact so well and won't have to force your host family to speak English all the time. 😉
Italy life 🙂
Even though you kinda like your anxiety because it enables you to stay up all night writing and getting stuff done, living with anxiety is NOT fun. Try doing things that help keep you calm. Life feels a lot more stable and manageable that way.
Explore the healthy restaurants in Los Angeles! There are a lot more options than you think. But you will have to leave Marina del Rey every once in a while…!
If someone starts showing you their true colors, LISTEN! Your gut will always know whether people are trustworthy or not.
On that note, listen to your gut! Being in touch with your intuition is one of your strong suits, and will lead you to some of the best decisions in your life.
You're going to publish a BOOK by the time you're 25. Don't spend too much time fretting about whether anyone will ever appreciate your writing.
You will learn more from listening than from talking.
Wear a ton of sunscreen always, especially because you get burned so easily!
Start training for a full marathon — you can do it. But don't try to do it without training… That won't end very well. (Alexi, that goes for you too!)
When you feel like New York is calling your name, you are RIGHT. You will live there, and have one of the greatest years of your life. And just when you think you will never like living in L.A., you're wrong… You just need to move to a new neighborhood. Then you'll never want to leave. 🙂
To celebrate 25 years of Membership Rewards, American Express is offering Card Members the chance to use Membership Rewards points for unforgettable experiences and products. Visit AmericanExpress.com/MR25th This post is sponsored by American Express, but all opinions are my own.
Can't I just be 20 again…?! (For like a day.) We had so much fun!