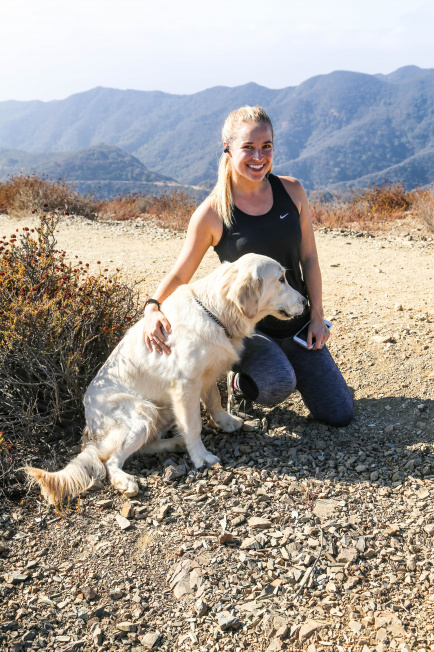 WORKOUT PLAYLIST + Must-have Workout Items
One thing I've found that helps keep me inspired to consistently exercise & push myself is a great workout playlist.
Another thing is having the proper gear + having the right mindset. Whenever I try to dash out the door on my busiest of days to go on a run or hit a sweaty yoga class… I often tend to forget something important that makes the workout actually enjoyable.
You know what I'm talkin' bout — like showing up to a yoga class without my mat towel so I slip and slide all over the place, or leaving for a run without headphones or my fave grippy lil' water bottle.
It is the WORST to be fully ready to sweat and get your heart pumping and then not have the things you need in order to make the workout comfortable, productive and worth your while.
Honestly, even sometimes if I'm not wearing comfortable enough pants in a yoga class my entire workout can be thrown off. Maybe I'm just really particular… Or maybe you guys can relate?
Either way, I have put together my staples for you below before I share my fave workout playlist so that we can ALL be on the same page when it comes to being ready for a good workout.
A few non-negotiables //
+ I try to take a deep breath & stop what I'm doing at least 20 minutes before I have to leave the house for a workout. I am SUCH the kind of person to try to squeeze in every little thing until I have about 30 seconds to get ready to leave… so I legit end up brushing my teeth, running a brush through my hair, throwing on whichever clothes are closest to me and sprinting out the door all in a 30 second period. NOT okay, lol. So I *try* to stop ahead of time and give myself the proper space to gather my things + get into the right headspace.
+ I always lay out the things I need for a good workout so I don't forget them. Those things are as follows…
+ my FAVE bluetooth headphones from Kohl's! These bad boys don't need to be connected to your phone, so you can flow through a sweaty yoga home practice or go for a run or a hike without getting your ish all tangled. They're also great for lifting weights or to wear while doing circuits in the gym! I am basically obsessed with these and they FIT INTO MY EAR PERFECTLY, which is so, so hard for me to find… I think I have small ears? Hehe. It also has a built-in microphone for phone calls ANDDD is sweat proof and incredibly lightweight. AND, they are highly reflective which is so important for safety and visibility at night. (My running coach highly approves of that last part… Right, JDF?!)
+ my wireless FitBit, also from Kohl's, because as you guys know I believe that knowledge is power when it comes to working out. No need to get too obsessed with the exact number of calories burned, but knowing the distance you've gone and the steps you've taken can be very empowering + motivating. I've found that once I hit 8,000 or 9,000 steps, I am SUPER motivated to keep going to cross the 10,000 step mark! It's a really fun thing to have, and this particular gold FitBit is SO PRETTY!
+ I never leave for a run without my running water bottle. Someone on my marathon team introduced me to these amazing grippy little water bottles, so you can keep them attached to your hand while you run! I know some people prefer to run without holding anything at all, but I've found that I need water on hand… I get super thirsty and it's comforting to me to know I have it right there. (Placebo effect perhaps? Lol.)
+ obviously GREAT FITNESS CLOTHES & SHOES, but that is a story for another post because there is so much detail that goes into both of those things! Anything Nike usually does the trick for me when it comes to clothes, and these ASICS are my go-to running shoes.
Okay, Now Workout Playlist Time!!!
SOOOO my go-to workout playlists are all on my SPOTIFY account, and this one is my current fave.
For now let's talk TBB TOP TEN RUNNING SONGS:
( FYI: You'll se the WIDE RANGE of my music taste here! Rap, old school remixes, super creepy amazing alternative music, and moooore )
+ 10 Victoria's Secret Models by MAX
+ Lemonade by Adam Friedman
+ Hallelujah by Panic! At the Disco
+ I Can't Stop by Flux Pavilion
+ Stole the Show by Kygo
+ SAIL – LED Remix by AWOLNATION
+ Ocean Drive by Duke Dumont
+ Never Gonna Leave this Bed – Acoustic by Maroon 5
+ You're the One That I Want by Lo-Fang
+ That's All – 2007 Remastered by Genesis
I also have my YOGA PLAYLIST that I am obsessed with! Follow it on Spotify if you wanna see the new-ness I'm always adding to it!
Thoughts?! Thanks so much to Kohl's for sponsoring this post… I am obsessed with all my new gear!