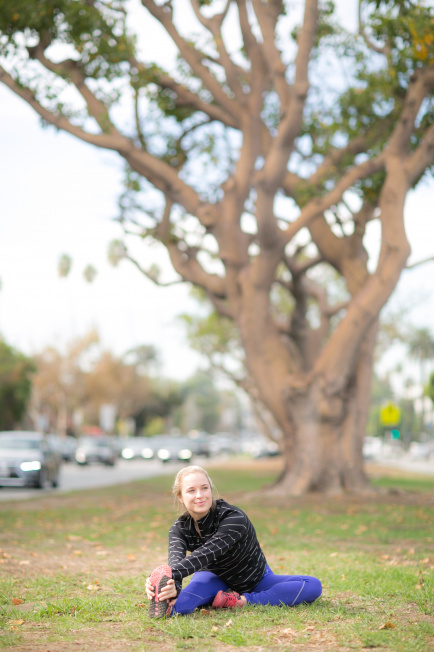 Remixing My Workouts in the Best of Ways
Hey guys!
I am so excited to have partnered with ASICS again (who remembers my ASICS Vine Body Sole Half Marathon with them, a.k.a best weekend ever?) — this time to participate in their super rad Remix Your Workout Challenge!
The cornerstone of this challenge is to try 5 new workouts in 5 days… and obvi, as a workout obsessed fitness freak, I took them up on that with no hesitation.
However, with my insanity schedule… it's been more like 5 new workouts over the duration of November in general, with a LOT of yoga mixed in to keep myself sane. 🙂
The other (and perhaps most exciting) cornerstone of this challenge is a CONTEST we are running to give away a pair of ASICS' brand new fuzeX TR™ sneaker! They have donated the shoes for this giveaway… so not sponsored by them, just legit realness!!!
THEY ARE SO COMFY, YOU GUYS. And supportive. I wore them for a bunch of my different remixed workouts this month, which I will share all about with you below!
But first… how to enter //
All you need to do is snap a photo or video of yourself remixing your workout and using the hashtags #RemixYourWorkout and #TBBmademedoit for a chance to win! I will be going through your photos and vids and choosing a winner who I think really extra killed it in the challenge.
I know you'll ALL kill it, as you always do, so I really can't wait to see what you come up with!
The reason why this challenge is near and dear to my fitness-lovin' heart is because I am someone who can REALLY and truly get stuck in a stagnant routine if I don't challenge myself to keep switching it up.
It took joining a marathon team with SIX very serious coaches (and one VERY, VERY serious coach who happens to be my next-door neighbor constantly checking in on me) to make running a regular part of my routine.
And it took committing to my 300-hr yoga training to re-dedicate myself to my yoga practice the way that I love to and that makes me feel best.
So, I imagine if it's hard for me to switch it up, then other people may experience the same problem?
Let's do this together & hold ourselves accountable! Whether it be 5 new workouts in 5 days, or ONE new workout this month… hop on it, my boos! I mean, you can win THESE SHOES — how cool?!
And if you live in LA… you can come take my class at So Cal Hot Yoga, or we can do CorePower or Playlist Yoga together! Endless options to keep it fresh & fun. 🙂
How I Remixed MY Workouts This Month //
This season has been a little funky for me with workouts. I am a self-certified exercise-a-holic. I mean, have you read my "Am I Even Fit?" blog post or my "Fitness Addict = Best Thing Ever" diatribe?
Yeah, you get the picture. I'm into it, and I'm pretty extreme.
So this season I actually chose to remix my workouts in a different, very self-care oriented way. I chose to SLOW it DOWN… which, honestly, has been a goal of mine for a very long time.
After the extremely wonderful self-care vibes during the entire week of my Panchakarma in September & after this podcast episode where Hudson straight up told me animal-communicator style that if I don't slow down I'll miss everything I want in life… I thought: shit, I *need* to slow down.
SO! Thanks to ASICS challenging me to mix it up, I thought HERE is my chance! Here are 5 new things I tried this November to remix my workout:
1. YIN YOGA: 
Okay, so this is a big one. I have never been one to get very into restorative yoga. As a yogi, I always felt self-conscious about this. Like, as someone who is so serious about the practice and traditions of yoga… WHY can't I relax into long, slow, juicy holds and get myself to go to a yin class on a Sunday night instead of power through a super sweaty 75-min vinyasa flow followed by a 5-mile run?
This month, I have gotten INTO the yin lifestyle. Not only have I taken several yin classes at studios in my neighborhood, but I have also been TEACHING yin, which I will get to below! The ultimate form of relaxation and self-care.
2. LIGHT JOGGING:
This is another big one for me. When I run, I tend to push myself as hard as humanly possible. I get sort of competitive with my times, so especially when it comes to a 5k or 10k race… I push, push, push.
The light jogging lifestyle is something I have always yearned for and thought would be so nice, but I always ended up pushing myself so hard on a run that it was anything but meditative!
This month, I've been challenging myself to keep my runs short, slow paced, and reflective. Since my LIFE has been so high-intensityand fast-paced lately, using jogging as a tool to reflect on the day, get creatively inspired for new projects, and brainstorm ideas has been AWESOME.
In HIIT studio classes, I have tried to be okay with the light jogging rather than sprinting on the treadmill. It's actually been VERY freeing!
3. PLAYLIST YOGA:
Playlist Yoga is THE BOMB! Yoga may not seem like a "remix" to my workouts, but you have no idea how routine I get with the yoga studios I go to! I have been going to YogaWorks and CorePower (and now So Cal Hot Yoga in my neighborhood) for YEARS… and almost never allow myself to switch it up because I'm a routine kind of gal — and because I usually only work out in Brentwood.
Playlist is sort of a drive for me because it's in West Hollywood. But I love the studio and find myself thinking all of the time WHY I don't go there more often! So this challenge was the perfect excuse for me to get my booty over there and take a sweaty, music-driven vinyasa class with their awesome instructor Jake!

4. TEACHING YOGA, vs. always practicing hardcore:
It has been such a DREEEAAAM come true to start teaching yoga in a studio! I have seriously fantasized and dreamt of this day since I was 14-years-old, but never fully took the plunge until immersing myself in my 300-hr training this year and beginning to teach at So Cal Hot Yoga this month.
It's been scary, exhilarating, challenging, exciting, soul-nourishing, sweaty (I mean, it's hot in there…!) and rewarding AF.
Because my schedule is nuts right now, whenever I commit to teach (I am mainly subbing right now, and I say "yes" to every sub opportunity hat I can) that usually means I forego my own workout for the day.
For a workout nut, do you have ANY idea how much of a remix that is? Committing to teach instead of practice? It means I've developed more of a consistent home practice… which is the ultimate letting go for me, since I always considered that to "not be a real workout" in the past.
It's also the ultimate form of self-care, because this has been a goal of mine for EVER. It feels pretty awesome to dive in, even though it's meant taking on a massive schedule shift for me!
5. DEEP STRETCHING POST-WORKOUT:
Since I am a go-go-go kinda gal, I usually tend to rush through my post-workout stretches — at the expense of being very sore and tight later on.
Through this ASICS challenge, I have committed myself to DEEP STRETCHING after every major workout… including yoga!
I did try some new workouts this month — boxing, barre and Zumba — and those required major stretching afterward.
It feels good to finally dedicate myself to something I know is so good for my body and so necessary for feeling my best in general as an athlete, a yogi, a runner, and a PERSON who is trying to keep it all together with a very insane schedule of current life commitments.
So guys!! JOIN ME & remix YOUR workout with ASICS this season! Share your workout photos + videos on social media with #RemixYourWorkout & #TBBmademedoit, and I will be choosing a winner by the end of the month!
XO
Photo credit to Ashley Streff for all of the beautiful photos in this post! And thank you to ASICS for sponsoring this blog post and getting me out of my usual bubble of high intensity!