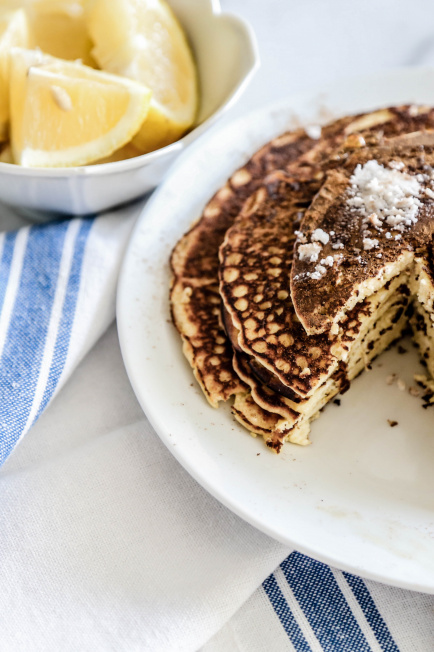 Chickpea Lemon Ricotta Pancakes
Guys, these are GOOD.
Like, so good, in fact, that I could not stop eating them once I started!
They literally taste like a savory crepe that you would get on the streets of Paris, but with one main distinction: they are HEALTHY.
I was actually surprised at how well they turned out, even if they look a little burnt. LOL – I obviously have some work to do on my pancake flipping skills…
Either way, they tasted so good, and I think I finally found a way to incorporate ricotta cheese into a yummy breakfast and keep it pretty darn healthy! Ricotta is one of the few cheeses that doesn't bother my stomach, so it is one of my go-to's with eggs, veggies, etc.
For people who are surprised that I now incorporate a bit of dairy into my diet, what I have to say to you is… Health is all about balance! Cheese tastes amazing (to most of us), and I found that milder white cheeses actually don't bother my stomach very much at all. It's the darker, stronger tasting cheeses like cheddar that do.
So, I've found what works for me! I don't eat cheese all day every day, but including a bit into one meal a day works for me.
ALSO… checks and balances! Have you heard my latest podcast with Kelly Leveque of BeWellByKelly? If not, you can listen here!
One of her huge tips that I really resonate with is to treat health like a checks and balance act. That mentality really helps us from falling into extremes in my opinion, because it gives us the chance to have some leeway without trying to force something extreme like a weeklong juice cleanse after "indulging" over the weekend.
The balance in this recipe is that yes, there is ricotta cheese, but there is also delicious gluten-free chickpea flour that is full of nutrients, protein, minerals, and won't aggravate a wheat-sensitive tummy.
This is the perfect breakfast to make for friends who are coming over for breakfast, for a big brunch party, or for a date morning for you and someone you love. 😉
To be honest, I made them for myself and enjoyed them all on my own !!!
I am so glad to have partnered with USA Pulses and Pulse Canada for their Pulse Pledge campaign, because it has gotten me playing around with chickpeas, lentils, black beans and so many other delicious ingredients to use in innovative ways rather than my usual super simple go-to's.
Also, the lemony flavor gives this a really delicious taste and texture that is pretty indescribable. I like to top mine with honey and coconut butter, but you can also use any type of organic syrup, maple, butter, ghee, or anything that you would normally top your pancakes with.
Also, the eggs also add to the yummy, savory flavor. No wonder I love it so much between the eggs, lemon and ricotta — I love anything with that combo. Whether it's in omelette form, pancake form, waffle form, or anything else form.
I hope you guys love this one as much as I did! Tag me in it if you happen to try! LOVE Y'ALL.
Recipe Tiiiiime!
Ingredients:
– 1 cup ricotta cheese (organic + grass-fed, if possible!)
– 4 organic eggs
– 1/2 cup gluten-free flour (I used chickpea flour)
– 2 tablespoons coconut sugar
– zest & juice of one lemon
– 1/2 cup almond milk (or milk of your choice)
Method:
Mix lemon zest and juice, chickpea flour, and eggs together in a large bowl. Add the almond milk, just a few tablespoons at a time so you can make sure the batter stays nice and thick as you mix it.
Heat a griddle or skillet, and when it's hot add cutter or coconut oil. Pour the batter in 1/4 cups onto the griddle. Feel free to flatten the pancakes slightly with the back of a spatula.
Cook over light to medium heat (this is where I went wrong! I cooked them over a bit too strong of heat), and VERY carefully (they can be crumbly if you don't want long enough) flip them over. They are delicate, keep in mind.
Cook an additional 3-4 minutes on second side or until golden brown.
Serve with syrup, coconut butter, or anything you'd like to put on top!


Annndddd voila!! They taste like the most perfect and heavenly CREPE in the world… savory blend of eggs, lemon, ricotta… OMG. Hope you enjoy! Also, check out the PulsePledge.com to get some inspiration to use pulses in your everyday cooking — it's pretty awesome. 🙂