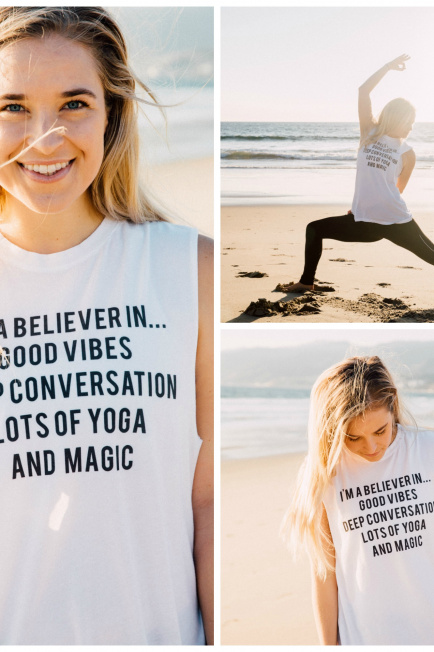 TBB Apparel Relaunch… it's Here!
HEY GUYS!
So, a lot of you who have been following for a long time have been wondering, and asking me… "What happened to TBV Apparel? Is it still a thing?"
First of all, YES!
You can shop our brand new styles HERE if you wanna skip the full story below (even though it's a goodie…). We relaunched THIS MORNING and I am kind of over the moon about our brand new STYLES (SO COMFY & TRENDY) and PHRASES!
Second of all, we took a little 5-6 month hiatus to figure ourselves out and get back to the root of what our brand was about.
Thirdly, we've changed our name to The Balanced Blonde Apparel, because DUH it fits us way better at this point, as the line is an extension of all things TBB & what I share with you guys on here.
Fourthly, story time.
Story, Story Time!
Tynan & I started TBV Apparel as The Blonde Vegan Apparel back in 2014 as an extension of my blog and an exciting new way to connect with you guys. At that time, selling merchandise on my BLOG was a foreign concept to me and every single little thing about having physical product to share with you guys made us over the moon happy and inspired.
( Check out our first blog post EVER about TBV Apparel with pics from our first ever shoot… talk about memory lane. 2014! )
All of our models were our friends, and our phrases ranged from "Oh Kale Yes!" to "Is Vodka Vegan?" to "Yoga Junkie." Our sales far exceeded anything we'd imagined they might be, so we kept going. And kept going. And creating new phrases and selling and shooting and selling!
Then Cole joined our team later that year, the boys printed and designed like crazy, and we tried out all sorts of things as far as growth and branding.
This year, we even went so far as to dabble with the idea of breaking into the actual fashion industry. We went to meetings downtown, checked out fabric houses and cut & sew factories, talked to a bunch of people who are killing it in the clothing space, and highly considered manufacturing our very OWN TBB shirts + styles.
Then… it hit us. Like a ton of bricks. We are not looking to get into the fashion industry. It's a whole separate business, and would require so much time and effort it would take us away from everything else that we do and love.
I am happy being a blogger full-time, and the exciting new endeavors with teaching yoga feel like the perfect addition to my brand. I don't know the first thing about fashion (that would be my mom!), but I do know that the main mission and purpose of my blog is to spread good vibes, happiness, health and wellness with all of YOU.
Our new LIST tee… I am obsessing. Hardcore.
So, fast forward to the present.
Once we decided we didn't want to break into the fashion industry, it took us some time to regroup. And to be honest — the hiatus was AWESOME and so refreshing. We all got to work on projects outside of TBB Apparel that set our souls on fire.
I started my podcast, dove into my 500-hour yoga training, traveled a ton, did my PANCHAKARMA, and soaked in more me-time. Tynan has been shooting weddings like crazy, making YouTube vids and even shot a killer music video. Cole went on a 250+ mile backpacking trip across the John Muir trail, and has found a passion for wilderness photography that is pretty out of this world.
Needless to say, we all have a lot of passions we were eager to explore. We started printing these tees on a whim, and we still love bringing them to you, but we needed to figure out the reasons WHY we loved bringing them to you.
I figured out my reason why — to continue spreading the inspiration & good vibes OFF of the Internet, in t-shirt form, that I try to spread here on the blog.
I took creating these new phrases very seriously, because now that the clothing line is DIRECTLY correlated to TBB (same name and everything!) I knew they had to reflect ideas + notions + musings straight from my heart.
So that's exactly what they do. From BE YOU to LOVE YOURSELF to CHILLIN WITH MY OMIES & some new fun lists of all of my favorite things in life… I hope these tees inspire you, make some good holiday gifts for your loved ones, and motivate you to live your happiest, healthiest, most inspired, most SOUL ON FIRE life. 🙂
That being said, once we sell out of these styles… our next move is up in the air! So we wanted to release these tees for the holidays, all with brand new and very TBB-esque phrases, so that you can shop & enjoy!
Get them while they're hot and while they're HERE. Once we start running out of sizes, well… as I said, up in the air! Spontaneity up in here.
Love you guys so much and thank you endlessly for following along in this journey and supporting. It has been an incredible ride these last three and a half years, and I am so excited to see where the journey continues moving. 2017 — BRING. IT. ON!
Oh, and shop your hearts out!!!! You will LOVE the new blends of our tees, and the muscle tanks are PERFECTION for everything from workouts to lifestyle to everything in between.
I die. I die.
Also say hi to our GORG MODEL, Carlyn Bryan, all over the new site!!! She is a rockstar, my little sister, and one of my dearest humans on earth. She KILLED ITTTT and is a true TBB girl.
Thoughts?! Questions?! Leave any and all below. Love all of you immensely.