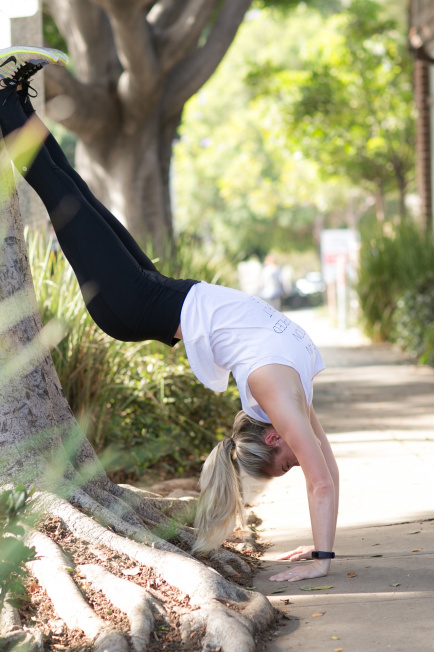 The Sleekest Lil' Fitness Tracking Band
You guys know that I always try to stay up to date on the latest wearable technology in the fitness world so that I can share with you guys what I love, what really works, and what I straight up just don't like.
Lately I feel like wearable tech has been all over the board. I tried some fitness tracking bands that didn't work well, were way too hard to figure out how to use (read: impossible), needed to be charged all the time when I seriously can hardly remember to charge my cellphone & laptop… you understand how it goes.
So, needless to say, I was pretty freakin' stoked when I heard that Garmin, a company I've loved & used trusty car navigators from since HIGH SCHOOL, had come out with an activity tracker band!
Basically, I my thoughts before trying it were, how could such a well-known and respected company like Garmin release a fitness band and not have it be super legit?
Answer: they couldn't! They know what's up.
Some Perks of Garmin's Activity Tracker that I LOVEEEE the Most //
* It is SLEEK, tiny & cute, and basically fits on your wrist like an Apple Watch or any other small activity tracker or bracelet… without getting in the way or being too bulky if you're taking an exercise class.
* The display screen is easy to read, easy to USE (thank god), and you can navigate between it showing your stats like steps, distance, calories, heart rate, floors climbed & activity intensity.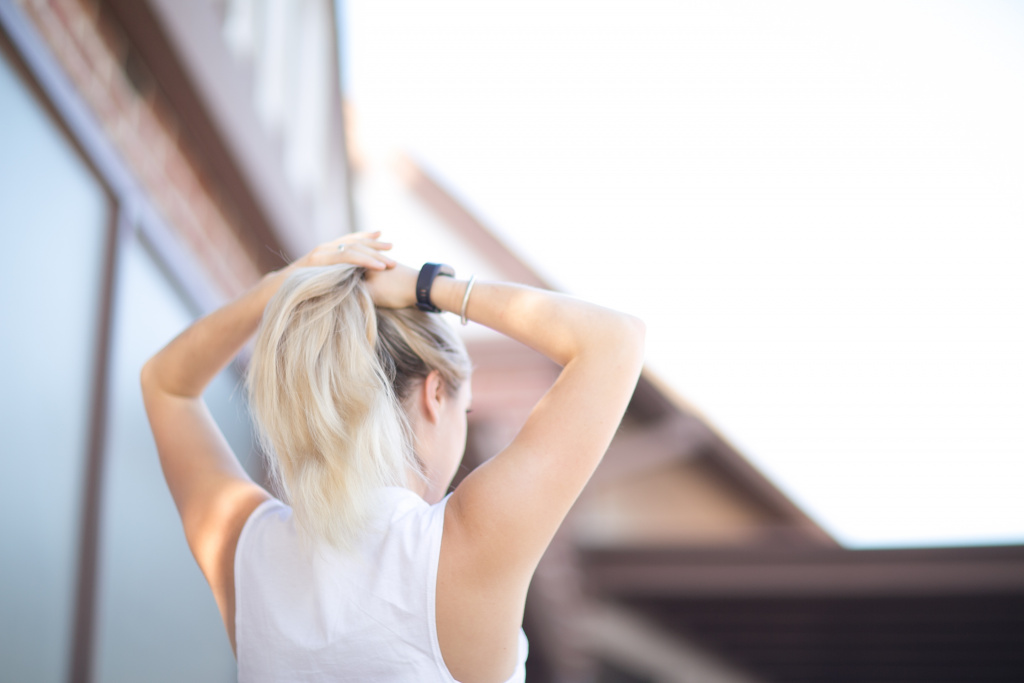 * I particularly love to track my steps… call me crazy, but it becomes addictive in a really fun way for me to track my steps and pay attention to when I have days that go above 10,000 (the average goal to hit for an active person).
Wanna know a secret, BTW? Lately I haven't been hitting 10,000 steps at all — but that's okay! I am doing SO MUCH YOGA, which doesn't really require very many steps, haha, unless you count stepping to the front of your mat. I'm being easy on myself which actually feels really good… part of my current self-care lifestyle vibes.
* The vivosmart HR can easily connect to your PHONE to receive calls, texts, email and basically any other type of notification you want to receive. Obvi we know I love receiving my texts while I workout… I am a text-a-holic. Email, I'm kind of more take it or leave it — I like to take email breaks while I sweat!
* There is a moving bar and vibration alert that reminds you to stay active if you've been sedentary for too long! I LOVE this reminder because as a writer who sits down for most of the day… I am a firm believer in getting up every 30 minutes to an hour to stretch and move around, even briefly. It's good for our hormones to do that, because sitting for too long messes with cortisol!
* Since the vivosmart HR tracks our heart rate & the intensity of our activity… it's GREAT to wear during yoga! I had never really come across a band before that works for yoga classes and actually tracks heart rate versus just distance / steps. So now… I get to see how hard I'm working in vinyasa classes, which has been eye-opening to see. (Spoilers: SO MANY CALORIES are burned in hot yoga, holy shit!)
* The vivosmart HR has also inspired me to STRETCH MORE after my workouts, because it's fun to watch my heart rate go down after an intense workout without totally coming to a standstill. They say that the faster your heart rate comes down, the more in shape you are… which I've always taken to heart. Good stuff to know! 😉
ALSO, after sitting out the Monterey Bay Half Marathon a few weeks ago to listen to my body and take it easy… I am now feeling super inspired to get out there and RUN more again.
I've really missed running in my life. It's like a fast-paced moving meditation, where I can jog out my thoughts and straight up let them go… all while getting super sweaty and getting my cardio & heart rate way up.
So, this activity tracker has INSPIRED me to get out there and run more often again, because I can track everything from my steps to my distance to my calories burned! Pretty awesome — knowledge is power when it comes to fitness… that's what I always say.
So! What do you guys think? Have you tried it, or is there any other wearable tech you've been into lately? Would love to hear!
FTC Disclosure: I was compensated by Garmin to write this post, but all opinions are my own after experiencing the product itself, as always!