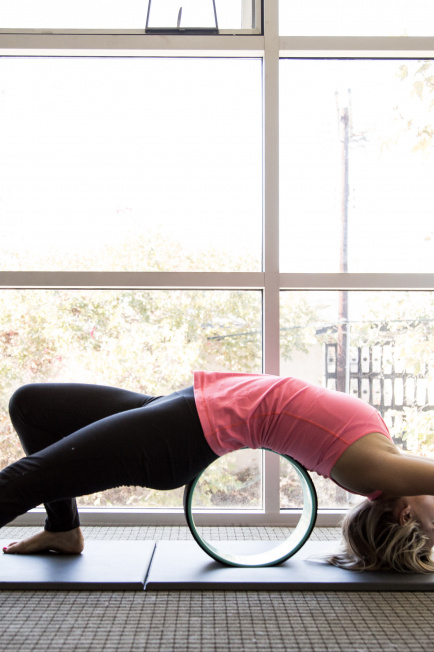 Healthy Holiday Gift Guide
Hello, hellooooo lovely humans! How is everyone doing with the holidays coming up so soon? I for one love the holidays — it is such a cozy time of year, and I look forward to going home to Sac and having my family all together basically all year long.
I know some people are less into the holidays and that's cool too. To each his/her own. 🙂
Regardless of how you feel about this time of year, I think most of us can agree that giving gifts to people in our lives is fun. It doesn't have to be about spending money or buying anything lavish… it could be a homemade card letting your friends/family know how much they mean to you, or a tray of their favorite cookies or brownies!
I. Love. Giving. Gifts.
It makes me really, really happy to think about what the people I love would most love to receive — and I usually try to be pretty obscure with it. I do not want to be that girl that gets everyone a scarf or a Starbucks gift card… however much they might actually LIKE that, lol.
But, since I have always been one to surround myself with a lot of close friends, and I have a pretty big family — I can't necessarily run out and go CRAZY shopping for people. It would get pretty nuts up in here.
So this year I am focusing on healthy holiday gifts, because let's be real… do people expect anything different from me? Probs not.
I've compiled a list of a bunch of my favorite wellness products for you to shop & check out this year. Let's do it!!!
TBB Healthy Holiday Gift Guide //
●  ●  ● Vital Proteins Collagen Peptide Stick Packs // These are cute for the holidays because they make the perfect stocking stuffers, and they are FULL OF NUTRIENTS for the peeps you love most. If you have women in your life who are into nourishing from the inside out, and are looking for skin, hair, tendon, cartilage, bone & join vitality… check these out. They are really something else. I use them EVERY DAY… in my Bulletproof Coffee!
I also have a full post coming on the health benefits if you want to wait & check that out first! I am a huge advocate for collagen — also stay tuned for my skincare episode on the podcast coming this Wednesday… we talk more about these too!
●  ●  ● Derma E Microdermabrasion Scrub // This is a super gentle scrub for how "intense" it may sound. I use this once or twice a week to scrub away the oil/dirt/sweat that gets stuck in my pores during the week, and I swear it has been working miracles. The scrub uses a crystal blend that includes Dead Sea Salt and Volcanic Sand (rich in Silica) to buff away dull surface cells, help diminish the appearance of fine lines, wrinkles and acne scars, and absorb excess skin oils. I have oily skin AND a few acne scars, so this stuff has really worked for me. Also, it's a cute stocking stuffer or lil' gift for the ladies in your life!
Lastly… it's 100% vegan, cruelty-free, paraben-free, sulfate-free, mineral oil-free, lanolin-free, gluten free, and GMO-free. SCORE.
●  ●  ● The Balanced Blonde Apparel tees // I mean, I have to share our new tees with you! So much love and effort went into the creation of these brand new phrases, and to be honest — once we sell out of these, we are probably going to retire the TBB clothing brand for a while. It is something we started almost 3 years ago, and our lives have gone in a totally new (and exciting) direction since then.
So we poured our love and energy into these new styles, sourcing our blank t-shirts from Good Hyouman (THE BEST, COZIEST, SOFTEST, MOST STYLISH) because we wanted you guys to be able to share these inspirational + wellness-based phrases with your loved ones this season. 🙂
●  ●  ● YOGA MATS! // I get asked a lot which yoga mats I most highly recommend. I have a few favorites, and these make amazing gifts for people for the holidays! They last FOREVER (literally, some Manduka mats have a lifetime warranty) and are something durable and special… because people will use them every day! Also, a new mat might inspire a new spiritual or physical practice for someone you love, which is the greatest gift of all.
My favorite mats are: the Manduka PROlite, the Jade Harmony mat, and if you're looking for something different and totally special + soft/durable… Maui Yoga Mats. They are made out of eco-friendly natural tree rubber, which feels AWESOME to practice on! I get compliments every time I use it (and the couple who makes them is awesome). But I truly love all 3 options!
●  ●  ● YOGA MAT CLEANER // I have a few favorite yoga mat cleaners. Because if you're going to get someone a yoga mat… I would recommend either also getting them a cleaner or at least telling them about a cleaner they can purchase to keep their mat super spiffy clean! I love Manduka's because it's all natural and smells great (especially this Ginger Grass one), and is made with organic essential oils.
My girlfriend Danielle also makes a yoga mat cleaner (and she has a whole yoga essentials kit!) that is environmentally friendly, smells great and of course was created by a local LA yoga teacher — so has my points and love big time! It's called Cuccio Somatology, check it out here!
●  ●  ● Rootz Nutrition protein powder! // I am specifically obsessed with their Chocolate Banana Nut variety that tastes like a straight up muffin (the healthy kind, duh). The awesome thing about this company is that the founder, Harrison, is a good friend of my friends' Alicia & Nick! I love a good small world story — so when I found out about his company, I couldn't wait to try. I was thrilled when the package arrived and their branding was ON POINT, the ingredients were all clean, paleo, nutrient-rich and natural.
Great sources of protein from egg white, hemp, and sacha inchi, combined with a blend of all natural superfoods — UP MY ALLEY! Check them out on Amazon or here on their site!
●  ●  ● ESSENTIAL OILS // I have been extremely into essential oils lately. They help with so much from reducing anxiety to staying physically healthy. I have been using Thieves on the bottoms of my feet every day ever since one of my readers recommended it to me to stay healthy and to stop catching colds! I spray my apartment with peppermint oil for immunity and relaxation, and I use Frankincense and Clary Sage to keep my anxiety down.
Also, anything with Eucalyptus is amazingly relaxing. I have been using Eucalyptus in my yoga classes with savasana adjustments, and I thinkkkk my students have been pretty happy. 🙂
●  ●  ● YOGI TOES Skidless Towel // Anyone who practices yoga can benefit from having a YogiToes… we have all slipped and slid all around our mats, and this is a great stocking stuffer or main gift for someone! This is the best brand of mat towel by far in my opinion… I have had some of mine since 2006… LITERALLY. Now I have like 15 because I use them every single day!
●  ●  ● BOOKS!!! // Okay guys, this one is big. Because there are SO MANY that I love that are all wellness/fitness/spiritual related. I am going to list them below, so check them out and take your pick (and buy them for yourself, heck!):
– The Universe Has Your Back, Gabby Bernstein // I can't say enough amazing things about this book! It changed my perception of spirituality, "Spirit," and all things universal. I am so much more in touch with myself due to this book and I would highly recommend it to anyone and everyone! Also very easy read for a book on spirituality, and you get to know Gabs in the process!
– Breaking Vegan, Me // If you haven't read my memoir about transitioning from a very strict, uber-healthy (read: orthorexic), 100% clean plant-based life to a life of balance and healing, then you may be interested in checking it out! This is my first book and my baby, and it released last November but is very relevant to the orthorexia-rampant world that we currently live in. I get questions every day about my journey, and all of the answers are in this book! There is also a guide to finding balance, and 25 healthy recipes. 🙂
Oh & ignore the angry vegan reviews — they're out of control… zero of them read the book, so yeah, that was awesome when those started rolling in by the hundreds. #Not…. #ButImOverIt #TheyAreNotHappyHumans
– Anatomy of the Spirit, Caroline Myss. // This will change the way you view your spirit and its relationship with the universe. It is a comprehensive guide to energy healing that focuses on the chakras, and the hidden stresses, beliefs and behaviors that cause illness. LIFE CHANGING / GAME CHANGERRRR for real!
– The Power of Now by Eckhart Tolle, The Alchemist by Paulo Coehlo, A New Earth by Eackhart Tolle, and Essentialism by Greg McKeown (ALL GAME CHANGERS and will shake up your life + routine int he best of ways!)
●  ●  ● Yummy candles! // I am super obsessed with this eucalyptus spearmint stress-relief candle right now, and also this pure vanilla beeswax candle because it's natural, organic, homemade and SO YUMMY smelling. I am a big fan of sweet and minty smells, as you can see. 🙂
●  ●  ● DHARMA YOGA WHEEL // Christina got me this for my birthday and I am madly in love with it! I use it every single day. Any yogi in your life is sure to fall in love.
Hope you guys like the guide!! And most importantly hope it helps you pick some goodies for your loved ones. <3 And YOURSELF… treat yoself!! XO