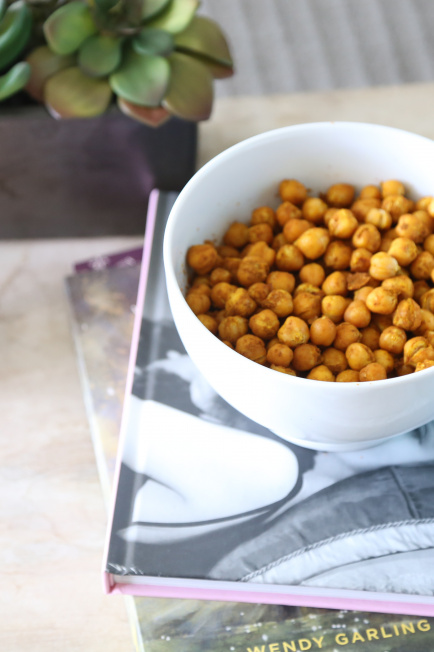 Turmeric Roasted Chickpeas…Yum!
Soooo, I may have come up with the absolute B-E-S-T popcorn alternative for movie nights / Netflix & chill nights (is that still a thing?) / or if you're like me… a good solo binge watching session of Westworld or Stranger Things. 😉
( Sidenote: WHO is watching Westworld?! Did you see the finale? HOW INSANE? I really can't handle it. Ed Harris. Can we please discuss? Also, Evan Rachel Wood has super short hair in real life, who knew? I have gotten so used to her being Dolores, I almost died when I watched a recent real-life interview of hers! )
Anyway, whatever it is that you're watching — maybe it's reality TV like Vanderpump Rules because I have to be honest and say that I am SO into that show right now… I feel like I know all of them… I want Stassi on my podcast, too much?? — we all like to have fun, yummy snacks to munch on while we kick back and relax.
But, if you're like me, you want those snacks to be healthy. Like epically healthy and full of protein and nutrients, because… wellness junkie life.
Why not popcorn, Jordan?
I haven't eaten popcorn in years. Not because I have anything against it or even think that it's particularly unhealthy (it's really not bad, and there are lots of healthy popcorn brands out there), but it's one of those foods that I happen to eat so mindlessly (like chips & dip), I could easily demolish a bottomless bowl and feel really crappy afterwards.
So, it's one of those foods that I just stay away from. Not in a restrictive sort of way. But in an "I don't really care about it that much anyway, I'd rather eat something else" kind of way. And if I'm going to indulge at the movie theater, you'd better believe M&M's or Junior Mints are going down. Not buttery popcorn (that sh*t actually makes me very sick — movie theater popcorn). CANDY.
So when I'm at home and have the luxury of making my own movie-night or TV-night treat, I am going to play around with healthy varieties of our traditional faves.
Enter turmeric roasted chickpeas, a.k.a the protein-rich, nutrient-dense, HEALTHY AS ALL HECK alternative to POPCORN!
You can pop these bad boys in your mouth as easily as popcorn, they're the same cute little shape, they are yellow (thanks turmeric) in a very real-food color kind of way, and you can add as much Himalayan pink sea salt as your snackin' heart desires!
They also have that roasty toasty goodness that we all love so much about popcorn.
Thanks again to my partnership with USA Pulses and Pulse Canada for their Pulse Pledge campaign, because I have been inspired all year to play around with PULSES! A.k.a chickpeas, lentils, black beans, black eyed peas… all that goodness. And it's really gotten me back on the cooking at home train.
RECIPE TIME!
Turmeric Roasted Chickpeas
Ingredients:
3 cups organic chickpeas
2 tablespoons turmeric (I like Simply Organic)
1 tablespoon coconut oil
1 teaspoon Himalayan pink sea salt
Method:
Preheat oven to 350 degrees Fahrenheit
Grease a baking sheet with coconut oil, and then pour chickpeas, coconut oil, sea salt and turmeric onto the sheet.
Mix with your hands until well mixed throughout.
Roast for 45-50 minutes, or until golden brown.
Enjoy!
THOUGHTS? Are you as into this as I am? I am very proud of myself for this one because not all healthy alternatives still have the same crunch / texture amazingness as traditional less healthy foods. I am happy about this one!
Most importantly — WESTWORLD? Who is watching? I can't believe next season doesn't come out until 2018… wah!
Also, check out the PulsePledge.com to get some inspiration to use pulses in your everyday cooking — it's pretty awesome. 🙂