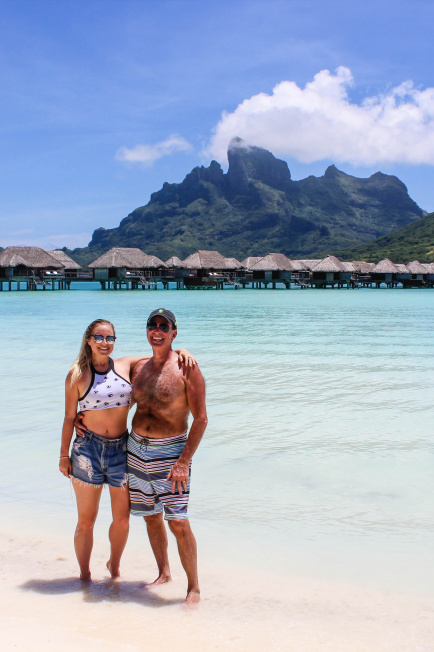 Coming back from a trip is always one of the most bittersweet feelings. Leaving Bora Bora was hard… not only did I fall in love with the stunning scenery and living in an overwater bungalow on top of the glistening turquoise ocean, but I also fell in love with the people and the culture and so much more.
People in Bora Bora are so NICE, warm, welcoming, familial and loving. My parents and I couldn't have felt more taken care of while we were there. The Four Seasons Bora Bora truly is something else. At the restaurant in the mornings we were greeted with almond milk and peanut butter for our Keto OS smoothies, and everywhere we went we were welcomed with, "Family Younger!"
We even learned some Polynesian phrases like Ma Ru Ru for 'thank you' and Ia Orana for 'hello / how are you?'.
Basically, I fell in love. And I want to go back again and again!
But the sweet part of the equation in the bittersweetness of coming home again is that coming home to L.A. feels… well… also amazing. I missed Hudson (my kitty) SO much that I squeezed his face off when I returned, went to the greatest Vinnie Marino yoga class with my best friend in the world the night I got back, and got to spend Valentine's Day with my sweet valentine which made my heart melt with happiness.
So yeah, I feel like a lucky girl. Being away in one of the most gorgeous locations in the world was fantastic and so awe inspiring, and coming home is equally (well, ALMOST equally… lol) special and incredible. Now THAT is a good feeling, because I didn't always have that sort of joy upon returning to L.A. It took me years upon years to cultivate a family here, a routine, a cozy home life that made traveling and returning that much sweeter.
Travel Bug //
On the topic of traveling — being in Bora Bora officially reignited my travel bug in a big way. For a while after Hudson came into my life I tried not to travel very much. Especially after he told Miranda, the animal communicator (podcast episode 4!) that he hates how much I'm gone and misses me terribly while I'm away.
But now that the Hudster is no longer a baby and also LOVES staying with his auntie Christina nearly as much as he loves having me here (okay, maybe more at times…!), it's easier for me to leave without feeling guilty.
So yes, being in Bora Bora reignited that travel spark inside of me like crazy. I think it was the first time I've traveled to somewhere I'd never been before in a long while — especially outside of the U.S. Usually, I am pretty routine with my trips to Maui, Cabo, NYC, etc. So this was OUT OF THE BOX and amazing.
I've given a lot of thought as to why traveling excites my soul in such a special way, and I've come up with the below //
Top reasons I love to travel…
1. My creative mind & imagination run wild. I have a deeply creative inherent way about me, so traveling and seeing new places ignites a fire in my soul that simply doesn't happen when I am at home and in my routine. Seeing new places, meeting new people, and ultimately being out of the day to day and being able to relax and explore creates the space for new ideas to take form and LOTS of writing to go down.
2. Meeting new & inspiring people. I don't know about you, but when my family and I travel we like to bond and spend a lot of time with the people that we meet. From the youngest age I can remember I made *lifelong* friends at hotels that we would travel to, and at the age of 26 it really isn't any different. Everyone at the FS Bora Bora from the head trainer at the gym Romain (new BFF), to the GM Maria, to the waiters and waitresses in the restaurants, to the head of marketing Brad… are all so. insanely. nice and welcoming. We had so much fun getting into a routine with everyone at the hotel, and will sincerely miss our morning smoothies / afternoon pool bar lunches / workouts and yoga seshes / photoshoots / massages / cocktails with them!
3. It allows me to relax & unwind. Let's be real – I am a high strung girl. I wish I weren't. I wish I were one of the cool, laid-back, goddess-vibe type of gals like the How You Glow duo who are on my podcast today (they're AMAZING — give the episode a listen!). Quite the contrary, I am an OCD insomniac workaholic with tons and tons of things running through my mind at all time. When I travel and take myself out of the day to day, the insanity of my mind begins to shut off. I sleep with ease, and I wake up with no worries. It's a sensational feeling that I always manage to bring back with me for at least a few weeks after I travel.
4. It reminds me what is important in life. When I got home I told my best friend Jill that being in Bora Bora made me realize that I work too often. It's pretty much ridiculous. I enjoy working hard, and I am a happily self-proclaimed workaholic (and a love-my-job-a-holic), but MAN oh man could I benefit from a break once in a while. Life is meant to be enjoyed. Emails are not meant to be responded to within milliseconds. Books are meant to be read. Oceans are meant to be frolicked in. (A little much? I don't care. It's true!). I want to continue to SEE the world and immerse myself in all of the stunning and exotic places our earth has to offer, and I want to do it all the time. I have had so many great travel opportunities but I think I am finally at a point in my career where it's sustainable to travel more often than not.
5. Exercise becomes more about movement + exploring than about a butt-kicking "workout." This is one of the first vacations I've ever been on where I can safely say that I did not do your typical exercise routine every morning. I went to the gym a lot, yes, but mainly to host Instagram Live yoga sessions (which were SO FUN), do partner workout videos and photos with Romain, and go on short pre-breakfast treadmill jogs with my parents. What I mainly did was move my body outside… yoga on my incredible oceanside deck in the overwater bungalow, FaceTime yoga dates with a special someone, lots of yoga photos in the sun and under the palm trees, and tons of walking around the resort and exploring. As a result… I felt amazing every day! Full of energy and not fatigued. My body felt stretched out and relaxed. I think that is the way life is supposed to be… we are meant to move our bodies, but not get stuck in the utter craziness that is LA workouts.
6. It inspires all of my wildest & most thrilling ideas. I have some ideas up my sleeve after traveling… and they all have to do with thinking BIG. More info to come, but I am thinking yoga retreats, a year of LOTS of exotic travel, getting serious about working on my next book, and writing a yoga eBook (shhhh… I am so freaking excited!) and so. much. more.
7. Time with LOVED ONES. This one almost goes without saying, but spending so much quality time with my parents was truly a treasure. As much as I wish (and hope and believe) that my parents will be around FOREVER, in reality — my dad is 70. We've had a rough few years in some ways that maybe one day I will get into on here. Getting to spend this time together, soak in so much beauty from around us and have thought-provoking, remember-forever conversations in paradise… is… everything. Everything. I feel so lucky to have had this trip with them both.
8. Perspective. Sometimes being home it's easy to get caught up in a bubble. Especially with everything going on in the world, I have definitely spent days scrolling Facebook and getting depressed about where our world is headed. Being out and about in a brand new place, surrounded by loving and well-intentioned, kind, warm people — was so eye-opening. The world is a BEAUTIFUL place, and the more we believe it, the more we can spread those vibes back into the universe.
9. Of course, appreciating what we have at home. Like I began with, it's an amazing feeling when you leave an absolutely incredible, life-altering trip in a STUNNING location, and you are EXCITED to be home. That's when you know your home life is wonderful. I got to squeeze my kitty, flow in my favorite yoga class of all time with my bestie, spend Valentine's Day with my incredible human, and be welcomed back into my lovely Brentwood hood with open arms and love. I feel so endlessly lucky.
If anyone is thinking about going to Bora Bora, I would HIGHLY BEYOND HIGHLY recommend the Four Seasons.
The Four Seasons is truly more like a family than anything else. We got to have so many incredible conversations with the staff, many of whom have worked within the company for 20+ years and have lived ALL over the world. I can only hope I should be so lucky to visit ALL of the FS locations in my lifetime!! Next up… Seychelles? Bali? Egypt? ALL OF THE ABOVE?
Love, love all of you and endlessly grateful for you always. XX